View all news
Q&A: Welcoming Michael Ford QC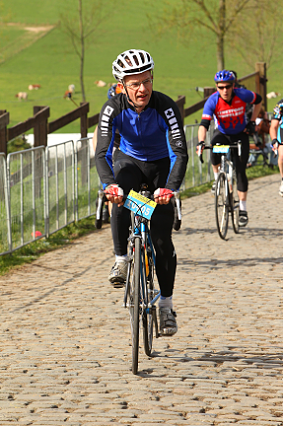 1 October 2015
A renowned employment barrister, a one time member of the GB international cycling team, and a legal champion for workers' rights, why has Michael Ford QC returned to academic life?
This time last year Michael Ford QC was one of the leading employment law barristers in the country - and a legal champion for workers' rights. Today he is a Professor of Law at the University of Bristol Law School. A Bristol alumnus (LLB 1986 and BSc in Biology 2010), Michael's specialist areas include equal pay, industrial action, working time and trade union law as well as judicial review, human rights, data protection, health and safety, and public inquiries. From this September he will be teaching employment law and contract at the University. Here we find out about the man behind the wig – and a previous career as a cyclist.
For many becoming silk would mark the pinnacle of their career. What led you to take the path back to academia?
I always had it at the back of my mind to return to academia. With more than 20 years in practice and writing on labour law I now feel I can make a significant contribution. Employment rights are increasingly taking a poor second place to economic interests and access to justice is becoming a major problem. In theory, there are many legal rights, but in practice fewer and fewer people have the money, knowledge or support to enforce them. Other means of ensuring fairness at work, such as collective rights, are under siege. This opens up huge opportunities for research both for me - and for the students who I hope to challenge in this area.
Beyond research, how else are you planning to support students as they prepare for a career in law?
I've worked as a solicitor in the City, at two sets of chambers at the Bar and, certainly in the beginning, covered a wide range of areas in law. I've also been involved in work for NGOs, such as the TUC and The Equality and Human Rights Commission. With this experience I feel I can help students gain a solid understanding of what both sides of the profession are like – from the richest to the poorest – and what other areas of work a law degree can lead to. I'm particularly keen to support the University of Bristol Law Clinic, a great initiative that provides students with real-life experiences of law.
You've been involved in many high profile cases. Which one made you most proud and why?
I'm very proud of being part of the team involved in developing the arguments for the European Court of Justice in Williams v British Airways – a case affecting the holiday pay of all workers in the EU. The Court of Appeal had said our arguments were hopeless, but the Court of Justice and the Supreme Court upheld them. I'm equally proud, however, of being involved in cases at the other end of the system. In particular, I think of an equal pay litigation case for 1000s of women employed by local authorities in Wales, taking place in Cardiff employment tribunal. This involved working for several months in a small team, gathering evidence and working through difficult legal arguments, always against a side with ten times the resources.
You spent many years cycling full-time. What came first, your love for cycling or your interest in law?
My love of cycling came first by a long way. I had no interest in law at all when I was 18. I was supposed to go to Oxford to read English, not Law, but I'd had enough of studying and decided I'd rather race cycles instead. I spent about four years racing pretty much full-time, and rode all over Europe - in Belgium, Holland, France, Germany and Poland. After a while, though, I realised that it might be a good idea to go to University and I didn't have the talent of the very best cyclists. So I applied to read law at Bristol and that's how I came to discover what a great city Bristol is, and what a great place Bristol University is to study. That's why I'm here now.
What advice would you give a first year student?
My advice to a first year law student? I remember finding the subject very difficult when I arrived at Bristol, perhaps because I'd spent too long crouched over a bike. My advice would be to read as much as you can, even if some of it doesn't make sense at first, just to start to follow the unique style of legal reasoning. Above all, you should think critically about it. Don't be daunted by the amount of material, law isn't about memory. And don't just accept the apparent authority of the judge or academic – I've seen all too often how judgments (or arguments) advanced with great certainty have been torn apart once analysed loosely. Importantly, make sure you do plenty in the first year other than just law. There's so much else to a University, both academic and social, and you should benefit from this great opportunity. Finally, get to know what a great city Bristol is!
Who inspired you as you progressed through your career?
It was my tutors here that got me properly interested in law, several of whom I've stayed in touch with almost 30 years later. Professor John Parkinson was a close friend for many years until his untimely death. I've also been lucky enough to do some important cases on labour law, and to work with some brilliant lawyers – John Hendy QC, Jane McNeill QC and others – from whom I learnt a lot. Mostly, though, it's not inspiration you need but support, because the Bar is a tough and demanding place, and I've been lucky enough to have that – from friends, colleagues and above all parents and partner (though not my boys, who've done nothing but undermine me!).
Finally, what do you do to escape work?
I still cycle about 200 km a week, and spend a fair bit of time watching my boys play football in the local U-7s and U-9s leagues. I'm also trying to learn Spanish.
Biography:
- In 1986, Michael graduated from Bristol University Law School with one of only two Firsts that year in Law. During this time he had discovered a natural talent for advocacy and debating and won the University debating competition, the Winston Cup.
- Following two years with a top City law firm, Slaughter and May, Michael did a degree in Socio-Legal Studies at Sheffield and then spent two years teaching law at Manchester University.
- Michael started his career at the Bar at Doughty Street Chambers which, at the time, was one of the few chambers with expertise in human rights claims. There he did crime, employment and much else besides.
- In 2001 Michael moved to Old Square Chambers which is widely regarded as one of the foremost Chambers in the UK for employment and discrimination law. Members of Old Square Chambers, including Michael, have appeared in many of the most significant employment cases of the past 30 years.
- Michael was made an Employment Judge in 2002, was Employment Junior of the Year in 2012, and became a Silk in 2013. This year he's been nominated for employment Silk of the year.
Most recent cases
- Appearing in various leading cases in European Court of Justice on working time (Lock v British Gas, British Airways v Williams)
- Appearing in European Court of Human Rights in a leading case on right to strike (RMT v United Kingdom)
- Acting for Equalities and Human Rights Commission in the judicial review challenging fees in employment tribunal (R(UNISON) v Lord Chancellor) and in the first appellate case on caste discrimination (Tirkey v Chandhok)
- A much-publicised test case on thousands of holiday pay disputes under Working Time Regulations (Wood v Hertel) – which led to immediate legislation to try and limit its effect.
- Applications to the ILO challenging the privatisation of the probation service and to the Court of Human Rights on the abolition of Agricultural Wages Board
- Acting for unions in several nationwide strike injunctions.