View all news
Studying our way to innovation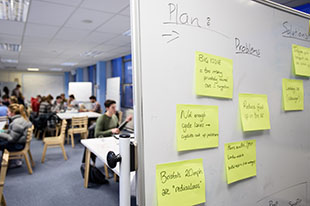 17 September 2018
In this opinion piece, Jasmine (History with Innovation student class of 2020) shares her perspective on education today and how the Centre is supporting her in 'studying her way to innovation.'
In today's climate, corporations are consistently daring to be 'cutting edge' and make innovative and awe-inspiring changes to transform their companies. The challenge they face is sourcing such innovative thinkers and bringing them into their companies before the creative minds run off developing their own start-ups. Alongside this context runs an ageing idea that jobs in this world are only attainable through a University degree. But this is no longer the case. Therefore, Universities need to find new ways to attract students, with such powerful pulls that the extortionate debt that may face them three to four years following, seems meaningless. Institutions are instead establishing degrees that are not only academic but aim to teach key employability skills, one of course being innovative thinking.
But, can we really teach innovation? Is what's already out there working?
As a student of Innovation at the University of Bristol, I know there is not a black and white answer to this. There is no teaching the right or wrong way to innovate. In the case of innovation 1 x 5 = 5 but 5 x 1 ≠ 5. Arguably already innovative minds are attracted to explore the newly created degree course, that then aid and enhance such explorative minds.
At Unbound London a panel of University lecturers, creatives and graduates debated whether Universities were doing enough to prepare students for the business world and the increasingly tech-focused world. The 'Next Gen Innovators' panel discussed topics ranging from encouraging more women in entrepreneurial roles and into the tech-based industry, to how Universities can best facilitate the growth of student start-ups. Interestingly, the panel raised the point of how to maintain academia alongside gearing students for the workplace, in a way that doesn't detract from the purpose of academic studies. This is where the Bristol students amongst us shared a grin. Our interdisciplinary courses, ranging from Physics and Computer Science with Innovation through to History and Film and Theatre with Innovation, expand creative innovators alongside academic subjects. Bristol University has found a way to incorporate academic skills into the innovative sphere of studies. We can explore our start up concepts within our degree, and not risk having to drop out of education to develop our ideas.
And what about other universities?
More and more are building 'entrepreneurship and management' as courses. However, what should be remembered is we all need a grounding. We all need a core to structure our arguments. So many student start-ups fail because their findings are not grounded in a wider contextual knowledge. Therefore, by encouraging students to work with varied disciplinary teams, all learning from each other and having slightly different core thinking's, ideas can be grounded on a secure knowledge base.
Universities need to learn from each other. If they wish to maintain gaining £9,000 a year per student, it's about time they started listening to what their customer wants. A course that not only gives them academic credibility but also skills that sell their real potential in the workforce. Collaboration and communication should be adapted by Universities. It was clear from the panel at Unbound, other universities were not aware of what Bristol University's Innovation Masters course was creating for students.
But this is naïve of me. Universities today are businesses, for them to collaborate would threaten their position in the already competitive education industry.
It's about time Universities recognised and admitted this fact. They are selling a service. We, the students, are customers, we have needs and wants, if one cannot deliver these then undoubtedly elsewhere will.
Employers are seeking innovative thinkers and creatives. It's time Universities generated them.
This is a repost LinkedIn Pulse published on 4 September 2018
Further information
Jasmine is studying History with Innovation (MArts). This programme allows students to pursue a subject specialism in history in a way that empowers them to become innovators and entrepreneurs who bring positive changes to their world.