View all news
Dave's Music with Innovation Story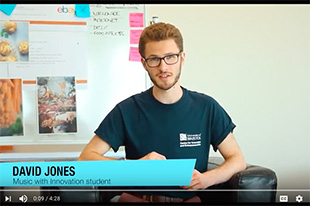 27 June 2018
After Dave chose the University of Bristol's Music with Innovation (MArts) programme, he often heard the same two questions: What is innovation? Where does music fit in? He answers these questions and more in this short video.
Dave has just completed his first year of a four-year Music with Innovation degree. On the 'Innovation side' of his degree, he works in the Centre for Innovation and Entrepreneurship tackling real-world challenges in teams alongside students from History, Computer Science, Psychology and a number of other disciplines. On the 'Music side,' he studies topics such as music history, composition or performance alongside other music students.
Dave created this video (filming with Tal, a second-year Film and Television with Innovation student) to share experiences from his first year and answer some key questions about studying Music with Innovation at the University of Bristol.
Further information
Dave is studying Music with Innovation (MArts). This programme allows students to combine an in-depth subject specialism in music with breadth in interdisciplinary teamwork, design thinking and entrepreneurial skills. This mix empowers students to translate their ideas for creative enterprises into reality on either a social or commercial level.