The Cabot Project - Schools Group
In 2012 The Cabot Project set-up a group to introduce its research to Bristol school children, stimulate interest in the city's maritime history and engage local pupils in historical research.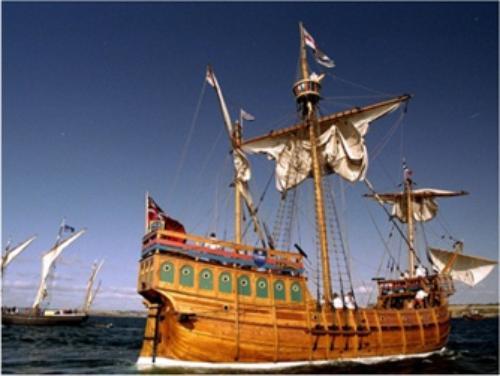 The group was led by Dr Evan Jones, with major inputs from Dr Richard Stone, Harriett Webster (now at University of Wales), Paul Seage and a team of undergraduate and postgraduate volunteers from the University. Funding was provided by Gretchen Bauta, the patron of the Cabot Project, with further inputs from the University of Bristol's 'Widening Participation' scheme.
Activities to date have included:
'Enrichment sessions' aimed at Year 4-6 pupils, provided free-of-charge to local primary schools. These sessions lasted about two hours, at which the pupils are introduced to 'Cabot's Bristol' through drama, creative writing and exercises in Tudor maths and geography. We are not currently offering these sessions due to cost constraints.
Group research projects for Year 7-8 secondary school students, which focused on Bristol's maritime history (1400-1800). The projects were supervised by undergraduate history students and are aimed primarily at those deemed 'Gifted and Talented'. The group projects culminated in conferences held at the University, where the children presented their findings. Participant schools included: Redland Green School, Cotham High School, Bristol Grammar School and St Mary Redcliffe. Funding limits mean we are not currently running this scheme.
In June-July 2014, Dr Jones ran a series of three 'Introduction to 16th-17th Century Paleography' classes for history teachers. The aim was to provide teachers with skills that can be used to support advanced students who wish to undertake work (such as Extended Project Qualifications) using manuscript sources, as well as to enable teachers to introduce more general classes to early modern manuscript material. He is happy to offer more such training sessions, free of charge, to small groups of history teachers from local schools.
In July, Dr Jones ran an afternoon session with South Bristol Youth, consiting of a lecture at the University, a walking tour of Cabot's Bristol and an educational harbour cruise on the Matthew of Bristol. A similar tour and cruise took place in March 2016 with students from City of Bristol College.
In July 2019, Dr Jones ran three sessions on 'Pirates and Smugglers of the River Avon' for Year 8 children at St Katherine's School, Pill. These consisted of a class, a walking tour and a cruise of the Matthew.
In Sept 2019, Dr Jones ran two classes for Year 5 children at Henbury Court Primary Academy on 'John Cabot and the Matthew'.
Dr Jones continues to offer one-off talks about the Cabot Project and Bristol's maritime history to students in Bristol - either at their school or in the University. If you are a teacher at a Bristol school, primary or secondary, and are interested in receiving talks or engaging in one-off activiites of the type listed above, please contact Dr Evan Jones.
We have also produced a short illustrated book about our research aimed at a general audience: Cabot and Bristol's Age of Discovery (2016). If you are a teacher at a Bristol school and wish to claim a free copy of this book for your library, please contact Dr Evan Jones.
Comments on secondary school research project and conference in 2013:
'I wanted the students to have the chance to do some 'proper' history and I think they did get this experience.', Jo Thurston, St Mary Redcliffe and Temple School, April 2013.
'I hoped that the students would engage with an aspect of Bristol's history; gain experience of what it was like to work as a 'proper' historian, using primary evidence to approach enquiry questions...my expectations were met.', Kate Armstrong, Cotham School, April 2013.
'The Cabot Project helps schools to instil a passion for history amongst their pupils at an early age...particularly high-performing pupils whose need for additional challenge in their progress has recently been highlighted by Ofsted. The Cabot Project's establishment of a schools group is a pioneering approach to raising aspirations amongst pupils to achieve, and promoting greater integrated working between universities and schools.', Chris Skidmore M.P. , Vice Chair of the All Parliamentary Party Group on History and Archives and member of the House of Commons Education Select Committee, 2013.
For the full responses of the teachers listed above, see: ' Cabot Project Schools Group: questionnaire responses of secondary school teachers, April 2013 (Office document, 13kB)'.