For student volunteers
We couldn't function without our student volunteers, and hope that volunteering with the Bristol Classics Hub is enjoyable and rewarding for our students.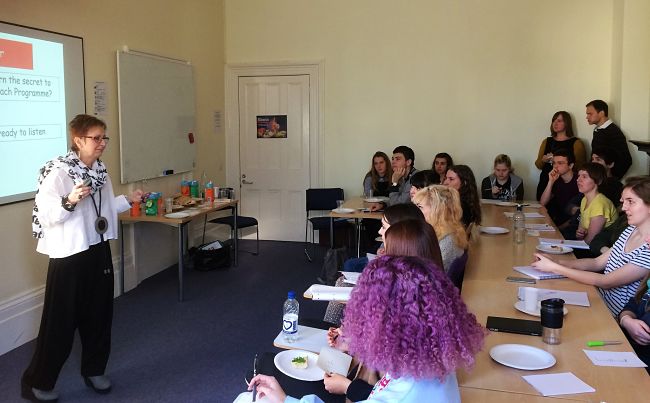 Current Bristol students (both undergraduates and postgraduates) are involved with the Hub in two ways:
1) Volunteering
Each year we need student volunteers to deliver workshops to local school children, both at big events like our annual Classical Civilization and Ancient History conference, and as one-off events. These workshops are a valuable part of what we offer schools: they present the classical world to students in an accessible, fun format, and current Classics students are good role-models for school children. We use these workshops particularly to give a taster of Classics to students who have not had the chance to study the subject before, and to complement the more traditional lectures at our conferences. Student volunteers will receive teacher training from a qualified professional at Bristol's Graduate School of Education. Not only is this fun and rewarding work, but it also potentially a valuable addition to a CV.
This year we are also looking to recruit students in non-teaching roles such as administration, photography, film-making, social media etc.
2) Classics Teaching as a Career
We also promote Classics teaching as a career, particularly in the state sector. Of course, a good way to get a taste of what teaching might be like and to build your CV in preparation for applying for a PGCE is to volunteer to run workshops with the hub.
2017/18 Schedule
TEACHING BLOCK 1:
Monday 9th October (6–7.30pm): An Introduction to Classics Outreach and Teaching. Our introductory event for 2017/18, for any current undergraduate or graduate student who has even the slightest curiosity about teaching Classics or being involved in our outreach programme this year. There will be talks from practising Classics teachers in both the state and independent sectors, more details about the outreach programme for this year and the opportunities for you to be involved, and a taster of the mini-teacher training programme that volunteers will undertake before delivering workshops to schools. Refreshments will be provided. Please email william.guast@bristol.ac.uk if you plan to attend.
Wed 8th November pm: Teacher training for volunteers 1
TEACHING BLOCK 2:
Wed 7th Feb pm: Teacher training for volunteers 2
Wed 21st Feb pm: Teacher training for volunteers 3
Wed 7th March pm: Teacher training for volunteers 4
Thursday 8th March (9.30am - 3pm): Classical Civilization and Ancient History conference for schools
On-going: schools workshops
For further information, please contact william.guast@bristol.ac.uk