Building resilience to Peru's attritional natural hazards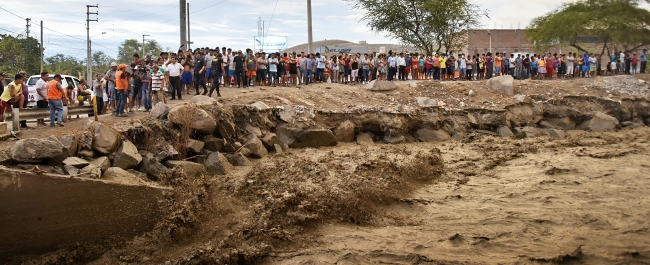 The damaging effects of localised 'everyday' hazards affect the most marginalised and critically limit development. But they often escape the wider world's gaze.
The challenge
Peru's Pacific coast is regularly struck by energetic flash floods known as huaicos. Caused by intense annual rainfall, huaicos worsen during strong El Niño years. The Coastal Niño of 2017 triggered a series of severe huaicos that directly affected more than a million people and led to well over 100 deaths and $3 billion of economic losses. In 2020, even without serious El Niño activity, at least 80 people died.
Huaicos are an urgent priority for disaster risk reduction (DRR) in Peru. Decades of rural-to-urban migration, exacerbated by conflict, has resulted in communities moving to areas threatened by mudslides and flash floods. Physical defence measures aren't always the solution, and people can't be resettled in other places without considering their livelihoods and wellbeing. We can, however, support them to prepare for natural events.
What we're doing
Our collaborative and multidisciplinary project, involving hazard scientists, mathematicians, social scientists, engineers, affected communities, institutions charged with managing huaico risk and an international NGO, will co-design an early warning system for four communities in the Rimac basin outside Lima.
We'll use new mathematical modelling to understand how huaicos initiate and cause damage. We'll work with each community to learn about their experiences of hazards and their capacity for responding to them. We'll hear from a range of stakeholders to assess governmental and institutional readiness and responses to huaicos. And we'll use all this research to co-develop early warning systems and actions that enhance preparedness.
This approach gives agency to voices often missing from DRR activity – those who live with the threat and repercussions of everyday hazards. To maximise the project's effectiveness, we must value the knowledge, perspectives and experiences of all stakeholders equally.
How it helps
Bringing together and sharing knowledge between at-risk communities and the institutions protecting them strengthens their capacity to jointly manage everyday risks. The predictive model and early warning system we co-develop will help anticipate and mitigate huaicos, and the web-fronted modelling tools that we leave in place can continue to be used locally and nationally in Peru.
By working with local people to turn research into practice, we want to make these new, collaborative methodologies applicable to other frequent hazards in Peru and beyond. Ultimately, this project hopes to play a part in reducing risk and supporting sustainable development of Peruvian people affected by huaicos.
Image credit: Michiel van Nimwegen, Flickr, (CC BY-NC-ND 2.0).
Collaborative research partners
Dr Jeremy Phillips (Principal Investigator, School of Earth Sciences)
Professor Andrew Hogg (School of Mathematics)
Dr Mark Woodhouse (School of Earth Sciences)
Professor Anna Juncos Garcia (School of Sociology, Politics and International Studies)
Practical Action (Latin America)
Universidad Tecnolόgica del Perú
Servicio Nacional de Meteorología e Hidrología del Perú
El Centro Nacional de Estimación, Prevención y Reducción del Riesgo de Desastres
Instituto Nacional de Defensa Civil (all Perú)
Dr Teresa Armijos, University of East Anglia (UK).
Funders
Global Challenges Research Fund