FITNET-NHS: Information for clinicians
FITNET-NHS Trial and COVID-19 - key messages:
The FITNET-NHS research trial is continuing - both for recruiting new patients and continuing to treat and follow up those already in the trial.
The reason we can continue, where many other research studies and clinical services are unable to operate as normal is because the trial is about the digital delivery of specialist treatment.
This research trial is even more important in the current environment as more and more services are looking at how to deliver treatment online.
We also expect more children will have fatigue that needs treatment because of COVID-19
Teenagers aged 11 to 17 years with CFS/ME who have no access to a local specialist service can now have specialist treatment at home in the FITNET-NHS Trial of online therapy.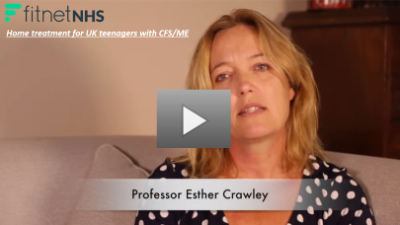 FITNET-NHS is a point of care trial, meaning you can make a normal clinical referral to the team at the Bath Specialist Paediatric CFS/ME Service who will take care of the rest. The Bath team have accepted referrals from across the UK for years, but with this trial, patients are offered the chance to receive specialist treatment without having to travel.
For more information about the trial treatments, see recruitment flow diagram, below, and also: Information for families
‌If you are a paediatrician wanting to refer a patient:
Review the child/young person and if appropriate provide a diagnosis of CFS/ME
Ensure that all the screening blood tests listed below have been performed
Ask the GP to refer to the Bath Specialist Paediatric CFS/ME Service via NHS e-Referral (formerly 'Choose and Book')
Make sure the GP knows you have made a diagnosis of CFS/ME and that the GP has all the screening blood test results
If you are a GP wanting to refer a patient:
Make sure the child or young person has been assessed by paediatrician and has received a diagnosis of CFS/ME
Make sure they have had all the NICE recommended screening blood tests listed below
Refer to the Bath Specialist Paediatric CFS/ME Service using NHS e-Referral Service (formerly 'Choose and Book') - details below
Confirm that the young person has been seen by a paediatrician and the screening bloods are normal when you refer
-----------------------------------------------------------------------------------------------------------------------------------------
Screening blood tests required (according to NICE):
FBC
PV/ESR
CRP
UREA
CREATININE AND ELECTROLYTES
THYROID FUNCTION TESTS (TSH and free T4)
CREATINE KINASE
COELIAC SCREEN (TTG)
LIVER FUNCTION TESTS
FERRITIN
RANDOM BLOOD GLUCOSE
CALCIUM
VITAMIN D (if housebound)
-----------------------------------------------------------------------------------------------------------------------------------------
To refer, use the NHS e-Referral Service (formerly 'Choose & Book')
Refer to the PAEDIATRIC CFS/ME SERVICE:

Select: Children and Adolescent Service
Clinic type: Neurology
Post code: BA1 3NG
Requirements: Screening bloods, CFS/ME diagnosis, completed referral proforma
For help with anything else, contact the trial team: fitnet-nhs@bristol.ac.uk
Further information:
Read our published protocol paper and more recent update:
NIHR study information page: https://www.journalslibrary.nihr.ac.uk/programmes/hta/14192109#/