Spring and summer events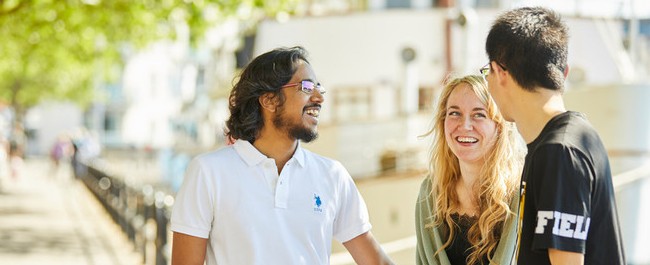 Our series of spring and summer events will help you find out all you need to know about postgraduate study at Bristol.
Anyone considering postgraduate study, including current students, applicants and offer holders are welcome to join us at the events below.
Online: Subject Q&A webinars
Global Wildlife Health and Conservation
Monday 23 May, 5.30 pm - 6.30 pm
Immersive Arts
Wednesday 25 May, 5.30 pm - 6.30 pm
MSc Psychology of Education
Wednesday 25 May - 6 pm - 7 pm
Social Work
Wednesday 8 June - 6.30 pm - 7 pm
International Security
Thursday 9 June, 12 pm - 12.30 pm
Online: Student services and support Q&A webinars
Careers Service
Tuesday 24 May, 1 pm
Join our Careers Service expert to hear about the support available to you as a postgraduate student at Bristol.
Student Funding
Thursday 26 May, 1 pm
Meet our Student Funding expert to find out more about financing your postgraduate studies.
Student Support and Wellbeing
Wednesday 1 June, 1 pm
Learn about the range of support available to University of Bristol students and ask our experts about the things that matter to you.
Admissions - Top Tips for your Application
Tuesday 7 June, 1 pm
Ask an expert about the Admissions process, and get advice on making your application.
Student Panel
Monday 20 June, 6 pm
Hear from our current postgraduate students and ask the questions that matter to you.
Accommodation
Tuesday 12 July, 6 pm
Learn about finding accommodation as a postgraduate student in Bristol.
Online: Postgraduate taught studies - online Q&A text chat
Our online text chat gives you the opportunity to ask questions to staff and students about postgraduate studies at Bristol.
Tuesday 14 June, 5:30 – 6:30 pm
Thursday 30 June, 5:30 – 6:30 pm
Campus tours
You can arrange a personal or group campus tour, led by students, for an insight into what it is like to study at Bristol.
Email us with the date and time you would like to visit, and the programme you would like to study: postgraduate-recruitment@bristol.ac.uk.