Policy Research Briefings and Reports
PolicyBristol brings together policy-relevant work from across the University to make it more accessible to research users outside academia so that it can inform and shape policy.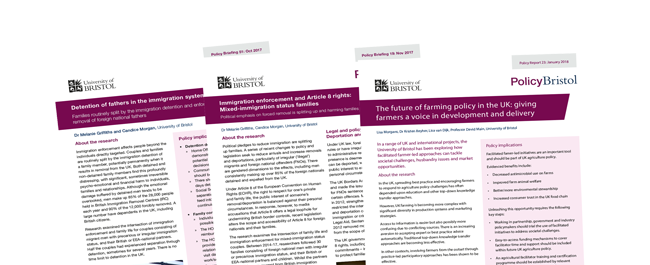 Search for Policy Research Briefings by theme:
Arts & Culture Business & Economy Education Energy & Environment
Health & Medicine Politics & Society Technology
If you can't find the briefing you are looking for, try searching through our earlier briefings here.
Below is a series of our most recent policy research briefings and reports based on the work of researchers across the University of Bristol. Use the search box to find Policy Briefings by title, author, date and keywords (e.g. education, Brexit).
Date
Title of project
Authors
Keyword

Nov 2023

Implementing the 'Liberty Protection Safeguards' is an urgent priority

Series, Lucy
Politics and Society, Liberty Protection Safeguards care, human rights, Mental Capacity Act 2005, deprivation of liberty safeguards, DLOS

Nov 2023

Yates, Robert; Edwards, Scott
Politics and Society, UK, ASEAN, Southeast Asia, UK foreign policy, Indo-pacific tilt

Nov 2023

Paediatric incontinence: early identification and treatment needed to prevent mental health problems

Joinson, Carol et al
incontinence, mental health, child health, Bladder and Bowel UK, ERIC, Davina Richardson, Juliette Rayner, Sarah Fowler, Alina Lynden

Oct 2023

The use of sexual behaviour evidence in rape trials: challenging legal reasoning and decision-making

Conaghan, Joanne; R

ussell, Yvette

Politics and Society, RASSO, Rape and Serious Sexual Offence, legal, law, trials, evidence, sexual violence, justice, Law Commission, prosecutions, rape myths, legal reasoning, decision making, Joanne Conaghan, Yvette Russell

Oct 2023

Meals on Wheels: awareness-raising of the service and its benefits is needed to aid prevention in adult social care

Papadaki, Angeliki

Health and medicine, adult social care, meals on wheels, prevention, disability, care, carer, independence, awareness raising, policy, commissioning, service, Angeliki Papadaki, Miranda Armstrong, Paul Willis, Ailsa Cameron

Oct 2023

Trauma-informed approaches in healthcare: piecemeal implementation needs UK-wide leadership, strategy and evidence

Lewis, Natalia

Health and Medicine, trauma, organisational change, TAP CARE, Bristol, Adverse Childhood Experiences

Oct 2023

Souto, Laiz

Energy and Environment, renewable energy, resilience, decarbonization, energy systems, renewable energy

Sept 2023

Walker, Sarah-Jane et al

Health and medicine, domestic abuse, domestic violence, violence against women, medication, chemical control, Sarah-Jane Walker, Marianne Hester, Elizabeth McCarthy, Women's Aid, criminal justice, coercive control, psychological abuse, financial abuse, emotional abuse, sexual abuse, physical abuse

Sept 2023

Jago, Russ et al

Education, children, physical activity, covid-19, Department for Education, Russ Jago, Dani House, Ruth Salway, Robert Walker, prevention, health, MVPA, policy, physical activity guidelines, physical activity strategy, sedentary time, socio-economic status, targeted support, girls, primary schools, PE & Sport premium

Sept 2023

Court, Jill

Education, adult learners, ESOL, integration, migrant, refugee, Jill Court, teacher training, policy, policymaking, DfE, English for Speakers of Other Languages

Sept 2023

Buckland, Genevieve; et al

School food, education, child health, Eatwell Guide, ALSPAC, Caroline Taylor, Pauline Emmett, Kate Northstone, cardiovascular disease, heart, health

July 2023

Bakopoulou, Ioanna

Education, oracy, primary, early years, teaching, Ioanna

Bakopoulou,

spoken language skills, wellbeing, speaking, listening, schools, professional development, learning culture, evidence base, policy, training

July 2023

Millner, Naomi; et al.

Biodiversity Conservation, Environment, Best Practice, Guidelines, International

June 2023

'Substituted parenting' in the family courts: "too much" support for parents with learning disabilities considered harmful for children.

Tilbury, Nadine; Tarleton, Beth
Politics and society, substituted parenting, family courts, family law, learning disabilities

June 2023

Guaranteeing public sector adoption of trustworthy AI - a task that should not be left to procurement

Sanchez-Graells, Albert

Business and Economy, public sector, AI, Artificial Intelligence, procurement, AI regulation, regulation, Data Protection and Digital Information Bill, automated decision making, policy,

June 2023
Jennings, Doug
position paper, contextual offers, students, Bristol
June 2023

What happens when migrant pupils turn 16?: A scoping study of 16+ provision for young migrants in the UK

Sharples Robert; Godfrey, Jules; Ahmed, Syd
Education, Politics and Society, migrants, migration, post-16 education, young people, UK
June 2023

How green jobs and skills can ensure a just transition for young people

Atkins, Ed
Energy and Environment, Green Jobs and Skills, Just Transition, Young People
May 2023
Practical and financial advice within suicide prevention services can make them more effective

Farr, Michelle; et al

health and medicine, suicide prevention, Hope,

Jon Banks, Joni Jackson, Theresa Redaniel, Marina O'Brien, Christian Costello, Hope project, Second Step

May 2023
Improving the social acceptability of Highly Protected Marine Areas (HMPAs)

Pieraccini, Margherita

Energy and Environment, conservation, coastal, marine, social acceptability, Highly Protected Marine Areas, HPMAs

May 2023
Inequality in action sports: How marketing and media can help foster inclusion

Spotswood, Fiona; Hurcombe, Martin; Marsh, Barney

health and medicine, sports, Fiona Spotswood, Martin Hurcombe, Barney Marsh

May 2023
Services to support family and friends affected by someone else's gambling should be included in strategic commissioning plans

Collard, Sharon; Davies, Sara; Cross, Katie

Politics and Society, gambling, mental health, wellbeing, Sharon Collard, Sara Davies, Katie Cross

Apr 2023
Let's talk about death: All children in England should receive grief education at school

Dawson, Lesel

Education, grief, death, bereavement, children, PHSE

Apr 2023

How the Great British Insulation scheme can help the most vulnerable

Atkins, Ed

Energy and Environment, Energy Efficiency, Just Transition, Vulnerable, Great British Insulation scheme

Mar 2023
Encouraging take up of low carbon heating solutions requires better information provision, new value creation and financing models

Chitchyan, Ruzanna

Energy and Environment, low carbon heating solutions, net zero

Mar 2023
Universal free school meals in secondary schools are a feasible and acceptable way to address food insecurity

Kidger, Judi; Carlisle, Vicky; Jessiman, Tricia; Breheny, Katie et al.

Education, Health & Medicine, Rona Campbell, Russ Jago, Steve Strong, Marcus Robinson, universal free school meals, food poverty, Universal Credit, Hammersmith and Fulham, secondary schools

Feb 2023
Skills required for future 'smart local energy systems' need new approaches

Bird, Caroline; Chitchyan, Ruzanna

Education, Technology, Energy and Environment, Smart Local Energy Systems, training and qualifications

Feb 2023
Women refugees impacted by narrow definitions of torture

Canning, Victoria

Politics and society, torture, refugees, women
Jan 2023
Local Action for the Global Goals: A Case Study of Bristol

Macleod, Allan; Fox, Sean; Aguirre, Raquel

Sustainable Development Goals, Voluntary Local Review, Bristol
Jan 2023
Generational attitudes to facial recognition: How retailers and policymakers should approach the use of developing facial recognition technology
Pantano, Eleonora; Marikyan, Davit; Vannucci, Virginia

Politics and Society, facial recognition, technology, CCTV, generational attitudes
Dec 2022
Successful procurement digitalisation requires more data, in-house expertise, and improved governance mechanisms

Sanchez Graells, Albert

Politics and Society, digitalisation, procurement
Dec 2022
Alternative Rites of Passage: What is their role in FGM/C abandonment?

Van Bavel, Hannelore; Hughes, Lotte; Kaul, Arunav; Newell-Jones, Katy

Politics and Society, health, FGM/C, Alternative rites of passage, East Africa
Dec 2022
From mothers for mothers - supporting financial resilience through user centred services
Angsten Clark, Anne; Royall, Claire
Politics and Society, Financial Resilience

Dec 2022

The response to Covid-19 in Northern Uganda should be disability-inclusive

Sandhar, Jassi Kaur

Health and Medicine; Politics and Society; Uganda; Covid-19; disability; disabilities; inclusivity

Nov 2022

Reform Development Finance Institutions (DFI's) grievance mechanisms to uphold human rights
Ferrando, Tomaso
Politics and society, Business and economy, Development Finance Institutions, human rights

Nov 2022

Digital Inclusion in the energy system
Chambers, Joseph; Robinson, Caitlin; Scott, Matthew
Energy and Environment, Digital Inclusion

Nov 2022

After a decade of austerity, urgent changes are needed to improve prison services
Ismail, Nasrul
Politics and Society, austerity, prison services, prison reform

Nov 2022

Urgent reforms are needed for prison healthcare services after a decade of austerity
Ismail, Nasrul
Politics and Society, Health, Prisons, prison healthcare, austerity. prison reform

Oct 2022

Community-centred services support residents to build financial resilience
Angsten Clark, Anne; Collard, Sharon; Holme, Caitlin; Jenkins, Daniella; Ahmed, Moustapha; Dimitrui, Claudia; Duucale, Elmi; Osman, Iqbal; Dora, Lisa; Ramakrishnan, Hari
Politics and Society, Economy, financial resilience, community

Oct 2022

Regulating digitisation of critical infrastructures
Michalec, Ola; Milyaeva, Sveta; Rashid, Awais
Technology, digitisation, critical infrastructure, regulation, Operational Technologies

Oct 2022

Tackling precarious work through financial regulation and private debt relief
Gouzoulis, Giorgos; (Takis) Iliopoulos, Panagiotis; Galanis, Giorgos
Business and Economy, precarious work, financial regulation, debt relief

Oct 2022

Mental Capacity, Self-Neglect, and Adult Safeguarding Practices: Evidence Synthesis and Agenda for Change
Miles, Flora; Lariviere, Matthew

Health and Medicine, mental capacity, self-neglect, adult safeguarding, Safeguarding Adult Reviews

Oct 2022

Targeted support needed for researcher wellbeing
Hammett, Jessica; Garcia-Reyes, Karina; Nunan, Claire

Arts and Culture, Health and Medicine, Politics and Society, wellbeing, mental health

Oct 2022

'We shouldn't have to shout to be heard': Valuing Parents as Experts
Charnock, Hannah; McLellan, Josie; Hutchen, Jude; Evans, Sharon; Selassie, Jendaye; Hussein, Muna; Whittmore, Becky; Hamid, Roofi

Politics and Society, COVID-19, Parenting, pandemic, children, education, mental health, wellbeing

Oct 2022

Climate Change education: A "world-leading strategy" would benefit from being research-informed
Howard-Jones, Paul; Dillon, Justin
Education, Climate Change, school, teachers, research

Sept 2022

Implementing the UK's Indo-Pacific Tilt in Southeast Asia through equitable and sustainable partnerships
Edwards, Scott; Yates, Robert
Politics and society, Southeast Asia, security, UK, strategy

July 2022

Fostering art-science collaborations to tackle environmental challenges
Oyarzún, Fernanda; Pinochet, Carla; Valdés, Catalina; Pohl, Nélida; Merchant, Paul
Arts and Culture, art-science collaboration, Chile, environment,environmental challenges

July 2022

Time to make it count: Implementing the UK's new maritime security strategy
Edmunds, Timothy
Politics and Society, maritime, security, UK, strategy

June 2022

Air navigation services should be funded as a public good
Turnbull, Peter; Thomas, Huw; Harvey, Geraint
Politics and Society, COVID-19, Civil Aviation Industry, airlines, Air Navigation Service Providers

May 2022

Offer choice of different emollient types and support their use in children with eczema
Ridd, Matthew; Best Emollients for Eczema study team
Health and Medicine; eczema, dermatitis, BEE

April 2022

Tackling digital exclusion for survivors of modern slavery
Malpass, Alice; Horwood, Jeremy; McLeod, Hugh; Farr, Michelle et al.
Health and Medicine; Politics and Society

March 2022

Hennessy, Lauren; Kelly, Lucy; Kelly, Catherine

Education, schools, diary, wellbeing, teachers

March 2022

Davies, Amy; Humphries, Kerry; Sharp, Gemma; Southby, Lucy; Wren, Yvonne

Health and Medicine

Feb 2022

Haines, Dan

Politics and Society, India, Pakistan, Indus River, Indus Water Treaty, Kashmir

Feb 2022

Karlsen, Saffron; Retief, Angelique; Jirde, Sado

Politics and Society, health, COVID-19, community, ethnicity

Dec 2021

Gouzoulis, Giorgos; Galanis, Giorgos

Business and Economy, definancialisation, workplace regulation, public health, policy

Dec 2021

Eating disorder symptoms and self-harm are linked to higher levels of depression and anxiety during the COVID-19 pandemic

Warne, Naomi; Heron, Jon; Mars, Becky; Kwong, Alex; Solmi, Francesca; Pearson, Rebecca; Moran, Paul; Bould, Helen

Health and Medicine, ALSPAC, Children of the 90s, eating disorders, self-harm, covid-19, coronavirus, pandemic, mental health, wellbeing

Nov 2021

Regulating digitisation of critical infrastructures: we need diverse experts to translate cyber security risks into the sector-specific contexts

Michalec, Ola; Milyaeva, Sveta; Rashid, Awais

Energy and Environment, cyber security, digital innovations, critical infrastructure

Nov 2021

Prior, Lucy; Jerrim, John; Thomson, Dave; Leckie, George

Education, Progress 8, COVID-19, qualifications, secondary school

Nov 2021

Undertaking reviews of monuments and street names: Processes to guide public bodies

Stephenson, Ben; Burch Brown Joanna; Gournet, Marie-Annick

Politics and Society, reviews, monuments, street names, public bodies

Nov 2021

An opportunity to rethink opiate addiction treatment policy and practice?

Hines, Lindsey; Kesten, Joanna

Health and Medicine, opiate, addiction, treatment

Oct 2021

Risks of childhood statelessness for the children associated with alleged 'foreign fighters' detained in Syria and Iraq

Pougnet, Rachel

Politics and Society, statelessness, childhood, children, foreign fighters, Iraq, Syria

Oct 2021

What are the odds? The appeal of gambling adverts to children and young persons on twitter

Rossi, Raffaello; Nairn, Agnes

Politics and Society, Business & Economy, Technology, gambling

Oct 2021

Seen but not heard: addressing the silent epidemic of child maltreatment in India

Fernandes, Gwen
Health and Medicine, children, India, maltreatment

Oct 2021

Autistic students' poor mental health: staff training needed to improve outcomes

Sedgewick, Felicity
Health and Medicine, autism, mental health

Oct 2021

Securing a just transition to a climate resilient Bristol: obstacles and opportunities

Dietzel, Alix; Venn, Alice

Politics and Society, climate, Bristol, just transition

Sept 2021

Telling Local Stories: New routes of climate change and nature communication in Bristol

Atkins, Ed

Energy and Environment, climate change, nature, communication, Bristol

June 2021

Evaluating risk level in cities to support tourists and inhabitants during COVID-19

Pantano, Eleonora; Scarpi, Daniele; Vannucci, Virginia; Bilotta, Elenora; Pantano, Pietro

Politics and society, COVID-19, risk, cities, tourism, travel

June 2021

Multiple adolescent risk behaviours should be targeted to prevent cancer risk in young adults

Wright, Caroline

Health and Medicine, cancer, adolescent, prevention

June

2021

Tschalaer, Mengia

Politics and Society, asylum, women, Istanbul Convention, LGBTQI+

May 2021

Kunz, Sarah

Politics and Society, immigration, investor visa

May 2021

Tackling teenage sexual violence: history shows culture, not just technology, should be addressed

Charnock, Hannah

Politics and Society, teenage sexual violence, culture, technology

Apr 2021

Online information and advice to carers during the Covid-19 pandemic

Lloyd, Liz; Bezzina, Agnes; Willis, Paul; Ali, Becky

Politics and Society, COVID-19, social care, online information

Mar 2020

COVID-19: Local coordination delivered emergency food, but food plans must address food insecurity

Lucas, Patricia; et al
Politics and Society, COVID-19, food provision, food insecurity

Feb 2021

A consultancy habit? The use of external management advice in the NHS

Sturdy, Andrew; Kirkpatrick, Ian; Veronesi, Gianluca
Politics and Society, management, consultancy, NHS

Feb 2021

We can't prevent childhood obesity by education alone: lessons from the evidence base

Nobles, James; Jago, Russ; Moore, Theresa; Summerbell, Carolyn; Brown, Tamara
Health and Medicine, childhood, obesity, education, evidence

Jan 2021

Not on the buses: reduce inequality by subsidising bus travel for Bristolian children

Layard, Antonia; McNab, Finlay; Room 13 Hareclive and Ingrid Skeels
Politics and Society, inequality, Bristol, transport, children

Jan 2021

Allport, Tom; Mace, Jessica; Farah, Fatima; Yusuf, Fatima; Mahjoubi, Lamine; Redwood, Sabi;

Jaeckle, Sally

Politics and Society, refugees, child development

Nov 2020

von Hinke, Stephanie; Fichera, Eleonora
Politics and Society, health, nutrition, food

Oct 2020

We need better data to address regional race disparity

Karlsen, Saffron; Retief, Angelique; Kirde, Sado
Politics and Society, South West, race, data

Oct 2020

Can management consultancy be regulated?

Sturdy, Andrew

Politics and Society, management, consultancy, regulation

Sept 2020

Menopause in the workplace: Employers' role is critical

Beck, Vanessa; Nelson, Rosie

Politics and Society, menopause

Sept 2020

Approved Mental Health Professionals' views on the role of relatives in compulsory mental health admissions: Challenges and opportunities

Laing, Judy; Dixon, Jeremy; Stone, Kevin; Wilkinson-Tough, Megan

Health and Medicine, mental health, family

Sept 2020

Regulating digitisation of critical infrastructure
Michalec, Ola; van der Linden, Dirk; Milyaeva, Sveta; Rashid, Awais
Technology, infrastructure, cyber security

Sept 2020

Responding to child neglect in schools: messages for inter-agency safeguarding practice
Sharley, Victoria
Education, child neglect, schools, safeguarding practice

July 2020

Kept Apart: Immigration system needs reform to stop traumatic separation of families and couples
Charsley, Katherine
Politics and Society, immigration, families

July 2020

Extreme weather and their impacts under climate change
Lo, Eunice; Mitchell, Dann
Energy and Environment, extreme weather, climate change

July 2020

Atmospheric measurements improve global emissions reporting
Hoare, Tilly; Rigby, Matt
Energy and Environment, atmospheric measurements, global emissions reporting

July 2020

Professional understandings of child neglect in Namibia
Sharley, Victoria; Ananias Janetta; Rees, Alyson; Leonard Emmerentia
Politics and Society, child neglect, Namibia

July 2020

Children in informal care arrangements with extended family: messages for best practice in Namibia

Sharley, Victoria; Ananias Janetta; Rees, Alyson; Leonard Emmerentia
Politics and Society, fosterage, family, Namibia

Jun 2020

Returning to growth: the role of management practices in productivity

Burger, Katharine; Pitts, Harry; Smart, Palie

Business, productivity, management, leadership

Jun 2020

The memories of marginalised communities need to be part of peacebuilding and transitional justice in Colombia

The MEMPAZ Collective
Politics and Society, Colombia, peacebuilding, transitional justice

Jun 2020

The Effects of COVID-19 on Queer Asylum Claimants in Germany

Tschalaer, Mengia
Politics and Society, Covid-19, Asylum claimants, Germany, LGBTQI+

Jun 2020

Tschalaer, Mengia
Politics and Society, Asylum claimants, Germany, LGBTQI+

Jun 2020

Torrance, Josh; Khouja, Jasmine; Crick, Emily
Politics and Society, drug use, South West

Jun 2020

Hines, Lindsey
Health and Medicine, drug use, young people

Jun 2020

Klantschnig, Gernot;

Frowd, Philippe; Apard, Elodie

Politics and Society, West Africa, drug policy, drug trafficking, irregular migration

Jun 2020

Thomas, Clare
Health and Medicine, Drug use, Hepatitis C

Jun 2020

Martin, Richard; Relton, Caroline; Wade, Kaitlin; Richmond, Rebecca; Yarmolinsky, James
Health and Medicine, cancer, policy

Apr 2020

Berridge, David; Luke, Nikki
Politics and Society, Education

Mar 2020

Edmunds, Timothy; Edwards, Scott
Politics and Society, Brexit, maritime security

Mar 2020

Sweeting, David; Hambleton, Robin; Oliver, Thom
Politics and Society, Bristol, Mayor

Mar 2020

Hendry, Katharine
Energy and Environment;Arctic Ocean;climate;ocean

Mar 2020

Hendry, Katharine
Energy and Environment, Arctic Ocean, climate, ocean

Mar 2020

Provide women with information about the risk of pregnancy to increase contraceptive demand

Valente, Christine

Politics and Society, pregnancy, fertility, women

Jan 2020

How depression relates to academic achievement in adolescence and early adulthood: identifying high risk points

López-López, José

Health and Medicine, depression, Education, disability, adolescence

Jan 2020

Nolden, Colin

Technology, energy and environment