Policy Research Briefings and Reports
PolicyBristol brings together policy-relevant work from across the University to make it more accessible to research users outside academia so that it can inform and shape policy.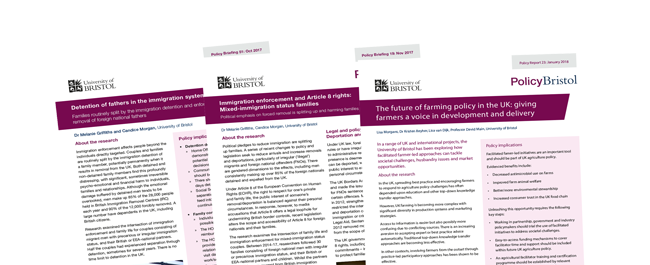 Search for Policy Research Briefings by theme:
Arts & Culture Business & Economy Education Energy & Environment
Health & Medicine Politics & Society Technology
Below is a series of our most recent policy research briefings and reports based on the work of researchers across the University of Bristol. Use the search box to find Policy Briefings by title, author, date and keywords (e.g. education, Brexit).
Date
Title of project
Authors
Keyword

June 2021

Evaluating risk level in cities to support tourists and inhabitants during COVID-19

Pantana, Elenora; Scarpi, Daniele; Vannucci, Virginia; Bilotta, Elenora; Pantano, Pietro

Politics and society, COVID-19, risk, cities, tourism, travel

June 2021

Multiple adolescent risk behaviours should be targeted to prevent cancer risk in young adults

Wright, Caroline

Health & Medicine, cancer, adolescent, prevention

June

2021

Tschalaer, Mengia

Politics and Society, asylum, women, Istanbul Convention, LGBTQI+

May 2021

Kunz, Sarah

Politics and Society, immigration, investor visa

May 2021

Tackling teenage sexual violence: history shows culture, not just technology, should be addressed

Charnock, Hannah

Politics and Society, teenage sexual violence, culture, technology

Apr 2021

Online information and advice to carers during the Covid-19 pandemic

Lloyd, Liz; Bezzina, Agnes; Willis, Paul; Ali, Becky

Politics and Society, COVID-19, social care, online information

Mar 2020

COVID-19: Local coordination delivered emergency food, but food plans must address food insecurity

Lucas, Patricia; et al
Politics and Society, COVID-19, food provision, food insecurity

Feb 2021

A consultancy habit? The use of external management advice in the NHS

Sturdy, Andrew; Kirkpatrick, Ian; Veronesi, Gianluca
Politics and Society, management, consultancy, NHS

Feb 2021

We can't prevent childhood obesity by education alone: lessons from the evidence base

Nobles, James; Jago, Russ; Moore, Theresa; Summerbell, Carolyn; Brown, Tamara
Health and Medicine, childhood, obesity, education, evidence

Jan 2021

Not on the buses: reduce inequality by subsidising bus travel for Bristolian children

Layard, Antonia; McNab, Finlay; Room 13 Hareclive and Ingrid Skeels
Politics and Society, inequality, Bristol, transport, children

Jan 2021

Allport, Tom; Mace, Jessica; Farah, Fatima; Yusuf, Fatima; Mahjoubi, Lamine; Redwood, Sabi;

Jaeckle, Sally

Politics and Society, refugees, child development

Nov 2020

von Hinke, Stephanie; Fichera, Eleonora
Politics and Society, health, nutrition, food

Oct 2020

We need better data to address regional race disparity

Karlsen, Saffron; Retief, Angelique; Kirde, Sado
Politics and Society, South West, race, data

Oct 2020

Can management consultancy be regulated?

Sturdy, Andrew

Politics and Society, management, consultancy, regulation

Sept 2020

Menopause in the workplace: Employers' role is critical

Beck, Vanessa; Nelson, Rosie

Politics and Society, menopause

Sept 2020

Approved Mental Health Professionals' views on the role of relatives in compulsory mental health admissions: Challenges and opportunities

Laing, Judy; Dixon, Jeremy; Stone, Kevin; Wilkinson-Tough, Megan

Health and Medicine, mental health, family

Sept 2020

Regulating digitisation of critical infrastructure
Michalec, Ola; van der Linden, Dirk; Milyaeva, Sveta; Rashid, Awais
Technology, infrastructure, cyber security

Sept 2020

Responding to child neglect in schools: messages for inter-agency safeguarding practice
Sharley, Victoria
Education, child neglect, schools, safeguarding practice

July 2020

Kept Apart: Immigration system needs reform to stop traumatic separation of families and couples
Charsley, Katherine
Politics and Society, immigration, families

July 2020

Extreme weather and their impacts under climate change
Lo, Eunice; Mitchell, Dann
Energy and Environment, extreme weather, climate change

July 2020

Atmospheric measurements improve global emissions reporting
Hoare, Daniel; Rigby, Matt
Energy and Environment, atmospheric measurements, global emissions reporting

July 2020

Professional understandings of child neglect in Namibia
Sharley, Victoria; Ananias Janetta; Rees, Alyson; Leonard Emmerentia
Politics and Society, child neglect, Namibia

July 2020

Children in informal care arrangements with extended family: messages for best practice in Namibia

Sharley, Victoria; Ananias Janetta; Rees, Alyson; Leonard Emmerentia
Politics and Society, fosterage, family, Namibia

Jun 2020

Returning to growth: the role of management practices in productivity

Burger, Katharine; Pitts, Harry; Smart, Palie

Business, productivity, management, leadership

Jun 2020

The memories of marginalised communities need to be part of peacebuilding and transitional justice in Colombia

The MEMPAZ Collective
Politics and Society, Colombia, peacebuilding, transitional justice

Jun 2020

The Effects of COVID-19 on Queer Asylum Claimants in Germany

Tschalaer, Mengia
Politics and Society, Covid-19, Asylum claimants, Germany, LGBTQI+

Jun 2020

Tschalaer, Mengia
Politics and Society, Asylum claimants, Germany, LGBTQI+

Jun 2020

Torrance, Josh; Khouja, Jasmine; Crick, Emily
Politics and Society, drug use, South West

Jun 2020

Hines, Lindsey
Health and Medicine, drug use, young people

Jun 2020

Klantschnig, Gernot;

Frowd, Philippe; Apard, Elodie

Politics and Society, West Africa, drug policy, drug trafficking, irregular migration

Jun 2020

Thomas, Clare
Health and Medicine, Drug use, Hepatitis C

Jun 2020

Martin, Richard; Relton, Caroline; Wade, Kaitlin; Richmond, Rebecca; Yarmolinsky, James
Health and Medicine, cancer, policy

Apr 2020

Berridge, David; Luke, Nikki
Politics and Society, Education

Mar 2020

Edmunds, Timothy; Edwards, Scott
Politics and Society, Brexit, maritime security

Mar 2020

Sweeting, David; Hambleton, Robin; Oliver, Thom
Politics and Society, Bristol, Mayor

Mar 2020

Hendry, Katharine
Energy and Environment;Arctic Ocean;climate;ocean

Mar 2020

Hendry, Katharine
Energy and Environment, Arctic Ocean, climate, ocean

Mar 2020

Provide women with information about the risk of pregnancy to increase contraceptive demand

Valente, Christine

Politics and Society, pregnancy, fertility, women

Jan 2020

How depression relates to academic achievement in adolescence and early adulthood: identifying high risk points

López-López, José

Health and Medicine, depression, Education, disability, adolescence

Jan 2020

Nolden, Colin

Technology, energy and environment
Dec 2019

Lessons from political opinion polls: using surveys to value non-market goods such as human life

Thomas, Philip

Technology, Politics and Society, nuclear, polling, surveys
Oct 2019
Queer Asylum in Germany: Better visibility and access to legal and social support needed for LGBTQI+ people seeking asylum in Germany

Tschalaer, Dr Mengia;
Dr Nina Held

Politics and Society, Queer asylum, LGBTQI+, asylum seekers, human rights, gender identity
Oct 2019
Policy Briefing 77 Oct-2019 Germany queer asylum German version (PDF, 336kB)

Tschalaer, Dr Mengia;
Dr Nina Held

Politics and Society, Queer asylum, LGBTQI+, asylum seekers, human rights, gender identity
Oct 2019
Work and workers should be central in the UK national food strategy

Ferrando, Dr Tomaso; Vicki Hird;
Deirdre Woods

Business and Economy, Energy and Environment, Politics and Society, food, Agricultural Bill, UK workers, national food strategy
Sept 2019
Sri Lanka: Responding to new challenges for peace in the shadow of the Easter Sunday attacks

Algar-Faria, Gilberto; Anupama Ranawana; Rosanna Carver

Politics and society, Sri Lanka, peace, poverty, peacebuilding, reconciliation, Easter Sunday attacks
Aug 2019
Biddable Youth. Twitter sports and esports gambling adverts: action required to protect children

Nairn, Agnes ; Josh Smith

Politics and society, health and medicine, education, gambling, esports, children, Twitter, betting
April 2019
The importance of being Dad: services working with families should recognise and support all fathers, including those with learning difficulties

Tilbury, Nadine; Jon Symonds; Beth Tarleton

Politics and society, health and medicine, fathers, learning difficulties, support services
June 2019
The fight for financial inclusion: free access to cash must be guaranteed across the UK

Tischer, Daniel; Jamie Evans; Sara Davies

Politics and society, business and economy, ATMs, AvCash, Access to Cash Review, cash, financial inclusion, money, PFRC
June 2019
Privacy implications of pet wearables

van der Linden, Dr Dirk; et al

Technology, Politics and society, Business and economy, pet wearables, data, data tracking, cybersecurity, GPS, GDPR, data capture, Barney Craggs, Professor Awais Rashid, Anna Zamansky, Irit Hadar
May 2019
Higher Education in South Africa: addressing inequalities experienced by students from rural contexts

Timmis, Dr Sue; et al

Education, politics and society, schools, rural students, South Africa, SARiHE, higher education, widening participation, Thea de Wet, Sheila Trahar, Lisa Lucas, Karen Desborough,
Kibbie Naidoo, Patricia Muhuro, Emmanuel Mgqwashu, Gina Wisker
May 2019
National and local policies still need strengthening: findings from the Learning Disabilities Mortality Review

Heslop, Professor Pauline; Chris Allen

Health and medicine, politics and society, learning disabilities, Learning Disabilities Mortality Review, LeDeR
Apr 2019
Rewarding food businesses that promote healthier and sustainable eating: Lessons learned from the Bristol Eating Better Award evaluation

Papadaki, Dr Angeliki; et al

Health and medicine, politics and society, food, Bristol Eating Better, Sugar Smart, nutrition, food businesses, Chelsea Alventosa, Zoi Toumpakari, Clare England, Simon Sebire, Laura Johnson, Grace Davies, Brianna O'Malley, Wendy Parker, Sally Hogg
Apr 2019
Economic and social well-being in the UK: how living standards should be measured

Patsios, Dr Demi; Dr Marco Pomati

Politics and society, Business and economy, living standards, well-being, material deprivation, income, financial situation
Apr 2019
Addressing older men's experiences of loneliness and social isolation in later life

Willis, Dr Paul; et al

Politics and society, health and medicine, loneliness, older men, older men at the margins, OMAM, social isolation, social engagement, Alex Vickery, Jackie Hammond, Jon Symonds, Tricia Jessiman, David Abbott
Mar 2019
Academy Trusts need better support to promote health

Jessiman, Tricia; et al

Education, health and medicine, schools, academies, Academy Trusts, health, health promotion, Rona Campbell, Russ Jago, Dorothy Newbury-Birch, Esther Van Sluijs
Mar 2019
Common Cause: action needed to create fair and mutual research partnerships between universities and Black and Minority Ethnic Communities
Dunleavy, Katherine
Education, politics and society, research partnerships, BAME, Black and Ethnic Minorities, BAME Communities
Mar 2019
Ensuring trans people in Wales receive dignified and inclusive health and social care in later life: The Trans Ageing and Care (TrAC) project, 2016-18
Willis, Dr Paul; Dr Michele Raithby
Politics and society, health and medicine, trans, transgender, inclusive health care, gender, LGB&T
Mar 2019
Reimagining refugee rights: addressing asylum harms in Britain, Denmark and Sweden
Canning, Dr Victoria
Politics and Society; refugees; asylum seekers; deportation centres; refugee rights
Mar 2019
Universities should review support, assessment and contextual offers for widening participation students
Thomas, Professor Sally; Dr Lei Zhang; Professor Harvey Goldstein
Education;universities;higher education;widening participation;accessibility;value-added;contextual offers;students;

Mar 2019

PolicyBristol Policy Report 48 Feb 2019 FGM safeguarding Somali version (PDF, 917kB)

Karlsen, Dr Saffron; Dr Natasha Carver; Dr Magda Mogilnicka; Prof Christina Pantazis

Politics and Society; Health and Medicine; FGM; Female Genital Mutilation; Safeguarding; Somalis

Mar 2019

"Stigmatising" and "traumatising" approaches to FGM-safeguarding need urgent review

Karlsen, Dr Saffron; Dr Natasha Carver; Dr Magda Mogilnicka; Prof Christina Pantazis

Politics and Society;Health and Medicine;FGM;Female Genital Mutilation;Safeguarding;Somalis

Jan 2019

NHS managers: part of the solution, not the problem

Veronesi, Professor Gianluca; Professor Ian Kirkpatrick ; Associate Professor Ali Altanlar

Health and Medicine;Politics and Society;NHS;NHS Long Term Plan;Managers

Jan 2019

The Government's Progress 8 school performance measure needs to account for pupil background

Leckie, Dr George; Professor Harvey Goldstein

Education; schools; Progress 8; measures;ALSPAC

Jan 2019

Understanding integration processes: informing policy and practice

Charsley, Dr Katharine; Dr Sarah Spencer

Politics and society; integration; Integrated Communities Strategy Green Paper; migrants

Dec 2018

Minimising the risks of major industrial accidents

Taylor, Dr Richard; Dr John May; Dr Neil Carhart; Richard Voke

Politics and Society; Technology; nuclear; industrial accidents; risk management

Nov 2018

Delivering public health outcomes: vending machines should stock healthier food and drinks

Papadaki, Dr Angeliki; Dr Zoi Toumpakari; Dr Laura Johnson

Health and Medicine; Politics and Society; food; vending machines; obesity; obesogenic food

Nov 2018

Fetal alcohol spectrum disorder: prevention, identification and support need more resources

McQuire, Dr Cheryl; Professor Shantini Paranjothy

Health and Medicine; Politics and Society; FASD; children; Fetal alcohol spectrum disorder;ALSPAC

Nov 2018

A UK right to food law could tackle food poverty and environmental degradation

Ferrando, Dr Tomaso; Kath Dalmeny

Politics and Society; Health and Medicine; food; poverty; Agricultural Bill 2017-19

Nov 2018

More than a medical symptom: the need for holistic care of breathlessness

Carel, Professor Havi; et al

Health and Medicine; breath; life of breath; breathlessness; COPD;

Jane Macnaughton;Alice Malpass; Kate Binnie; Coreen McGuire; Gene Feder; James W. Dodd; Jordan Collver; Elspeth Penny

Nov 2018
Universities should be accessible to everyone, with lifelong learning at the heart of their work
Sperlinger, Professor Tom; Professor Josie McLellan; Professor Richard Pettigrew
Education; universities; lifelong learning; accessibility
Oct 2018
Young people with continence problems need
better support at secondary school
Joinson, Dr Carol; Dr Katie Whale; Juliette Randall
Health and Medicine; continence; young people, ERIC

Oct 2018

Mapping the 'soft properties' of cities for effective policy interventions
Barter, Edmund; Thilo Gross

Energy and Environment, soft properties, physical infrastructure, cities, mapping

Oct 2018

How should health policy respond to the growing challenge of multimorbidity?
Salisbury, Professor Chris; Bruce Guthrie; Peter Bower; Stewart W Mercer

Health and Medicine; NHS; Multimorbidity

Oct 2018

Industrial Sustainability and the Role of Research in Addressing the UK Industrial Strategy's Grand Challenges

Smart, Professor Palie

Technology, Politics and Society, Industrial Sustainability, Industrial Strategy

Oct 2018

All parents should be offered the opportunity to engage with the review of their baby's death
Burden,

Dr Christy; et al

politics and society; Health and medicine; perinatal death; stillbirth; PMRT programme, PNMR review; parents; bereavement;Danya Bakhbakhi;Mary Lynch;Laura Timlin;Claire Storey;Alexander Heazell;Dimitrios Siassakos

Sept 2018

Enhancing the integration of Pakistani migrant husbands

Charsley, Dr Katharine

Politics and Society; Education; integration; migrant;QED

Sept 2018

Transnationalizing Modern Languages: Reframing language education

Burdett, Professor Charles; Professor Jennifer Burns; Professor Derek Duncan; Professor Loredana Polezzi

Arts and Culture, Education, Politics and Society, TML project, languages

Sept 2018

Sustainable fisheries, food security: lessons from tilapia fish in Tanzania
Genner, Professor Martin; et al
Energy and Environment; Sustainable fisheries; Tanzania;tilapia; cross-breeding

Sept 2018

Measures of school performances are biased by genetic differences between students

Morris, Dr Tim; et al

politics and society; Health and medicine; genetics; CVA; genetic data; school performance; school league tables

June 2018

Increasing the duration of repeat prescriptions may save NHS money and improve care
Payne, Dr Rupert; Dr Sarah King; Dr Ed Wilson; Dr Céline Miani
Health and Medicine;prescriptions; NHS England; repeat prescriptions; medication;
June 2018
Refugee and Asylum-Seeking Women's Advocate

Bates, Dr Lis; Dr Geetanjali Gangoli

Politics and Society; refugees; asylum-seekers; sexual violence; gender violence; women; ASVARW
June 2018
Loneliness and isolation: the need for community-led action

Barke, Dr Jenny; et al

Politics and Society;social isolation; loneliness; community; Connected Communities; BS3 Community; Ben Crawford, Helen Manchester and Morag McDermont; James Duggan; Ruth Green; Simon Hankins; Steve Franks; Carol Jubb; Alan Nye; Alexandra Pickford
May 2018
Policy report 33 - May 2018 - Words matter (PDF, 185kB)
Dowling, Sandra; Joe Webb; Val Williams; Marina Gall
Politics and Society;Disability Rights UK; Getting Things Changed; Dept of Health and Social Care
May 2018
Policy report 32 - May 2018 - Universities (PDF, 410kB)
D'Evelyn, Stephen; et al
Politics and Society;Disability Rights UK; Getting Things Changed; Universities; Victoria Mason-Angelow; Wendy Merchant; Sue Porter; Stuart Read; Sheila Trahar
May 2018
Policy report 31- May 2018 - Actors with learning disabilities (PDF, 315kB)
Richards, Beth; Mike Steel, Victoria Mason-Angelow
Politics and Society;Disability Rights UK; Getting Things Changed; Equity; The Arts Council
May 2018
‌Policy report 30 - May 2018 - Family-focused support (PDF, 411kB)
Tilbury, Nadine; Beth Tarleton; Danielle Turney; Wendy Merchant
Politics and Society;Disability Rights UK; Getting Things Changed
May 2018
Policy report 29 - May 2018 - Open up Music (PDF, 385kB)
Gall, Marina; Val Williams; Joe Webb, Sandra Dowling
Politics and Society; The Music Education Council; Disability Rights UK; OpenUpMusic
May 2018
Policy report 28 - May 2018 - Hospitals (PDF, 391kB)
Read, Stuart; et al
Politics and Society;Hospitals;Hospital Trusts;Clinical Commissioning Groups;Care Quality Commission;Pauline Heslop; Caroline Miles; Victoria Mason-Angelow; Sue Turner; Chris Hatton
May 2018
Policy report 27 - May 2018 - Commissioners and co-production (PDF, 632kB)
Sass, Bernd; Anna Denham
Politics and Society;DPO's;Adult Social Care; Local Authorities; Commissioners
May 2018
Policy report 26 - May 2018 - Dementia (PDF, 518kB)
Webb, Joe; Val Williams, Sandra Dowling and Marina Gall
Politics and Society;dementia;Dept of Health and Social Care; Local Authorities; service providers
May 2018
Peace capacity building
Juncos, Dr Ana E; Gilberto Algar-Faria; Natalie Jester
Politics and Society;marginalised groups;conflict prevention;peacebuilding;PeaceCapacity
Apr 2018
Calculating the value of human life: safety decisions that can be trusted (PDF, 1,000kB)
Thomas, Professor Philip
Politics and Society;Medicine;J value;VPF;value of a prevented fatality;life expectancy value;cost-benefit analysis;health and safety;risk management
Mar 2018
Prabhat, Dr Devyani

Politics and Society;Immigration;Citizenship;Home Office;Brexit;British citizenship;EEA;ILR;Britishness;Belonging and Citizenship

Feb 2018

Encounter, conversation and interaction: Improving
community relations through religious education

McKeown Jones, Dr Shelley, et al;
Politics and Society;children;religious education;NATRE;Westhill;community relations;UK; Dr Janet Orchard;Dr Amanda Williams;Dr Kathryn Wright;Ms Kate Christopher;Dr Rachael Jackson-Royal
Feb 2018
Management consultancy and inefficiency in the NHS

Sturdy, Professor Andrew; Gianluca Veronesi; Ian Kirkpatrick

Health and Medicine;Business and Economy;NHS;patient;care;health;GP;NHS Trust;management consultancy
Jan 2018
The future of farming policy in the UK: giving farmers a voice in development and delivery

Morgans, Lisa; Dr Kristen Reyher; Lisa van Dijk; Professor David Main

Health and Medicine;Energy and Environment;livestock;animal welfare;Brexit;UK farming;farmer-first;AHDB;SAC Consulting; ADAS;veterinary practices
Jan 2018
Farm animal welfare
Mullan, Dr Siobhan; Professor David Main; Dr Jessica Stokes
Health and Medicine;Politics and Society;Energy and Environment;livestock;animal welfare;Brexit;UK farming;Red Tractor;RSPCA;Assured and Organic
Jan 2018
Mixed-immigration status families
Griffiths, Dr Melanie; Candice Morgan
Politics and Society;Immigration;Deportation;Home Office;families;Article 8;European Convention on Human Rights;ECHR;mixed-immigration status
Jan 2018
Detention of fathers
Griffiths, Dr Melanie; Candice Morgan
Politics and Society;Immigration;Deportation;Home Office;families;detention centres;IRCs;fathers
Jan 2018
Operation Nexus
Griffiths, Dr Melanie; Candice Morgan
Politics and Society;immigration;operation nexus;deportation;Home Office;Foreign National Offenders;FNOs;families
Jan 2018
Rates of giant liver and rumen fluke in cattle: implications for effective control in Tanzania
Eisler, Professor Mark; et al.
Health and Medicine;politics and society;energy and environment;Tanzania;cattle;drug-resistant infection;Rose Vineer;Coles;Kassuku;Nzalawahe;parasites;livestock;community;fluke;fasciolosis
Dec 2017
Preventing suicide in Sri Lanka: Supporting vulnerable populations
Knipe,

Dr Duleeka

; et al.

Health and Medicine; politics and society;suicide;pesticides;Metcalfe;Lambert;Gunnell;Jayamanne;Rajapakse;Dass

Dec 2017
Policy report 20 - Sinhala version (PDF, 253kB)
Knipe, Dr Duleeka; et al.

Health and Medicine; politics and society;suicide;pesticides;Metcalfe;Lambert;Gunnell;Jayamanne;Rajapakse;Dass

Dec 2017
Policy report 20 - Tamil version (PDF, 457kB)
Knipe, Dr Duleeka; et al.
Health and Medicine; politics and society;suicide;pesticides;Metcalfe;Lambert;Gunnell;Jayamanne;Rajapakse;Dass
Nov 2017
Developing inclusive care homes for older people who identify as lesbian, gay, bisexual and trans (LGBT)
Willis, Dr Paul; Professor Trish Hafford-Letchfield; Professor Kathryn Almack; Dr Paul Simpson
Health and Medicine;politics and society;arts and culture;LGBT;care homes;inclusion;ageing;equality
Nov 2017
Children growing up in the care of relatives in the UK‌
Wijedasa, Dinithi

Arts and Culture;Politics and Society;children;kinship;relatives;UK

Nov 2017
Online GP consultation systems need further development and careful implementation to realise benefits
Farr, Michelle; et al.
Health and Medicine;NHS;patient;care;health;GP
Nov 2017
Poo Patrol: Community-led science and action to reduce dog fouling and improve child health
Watson, Dr Debbie; Clare Marshall; Professor Eric Morgan
Energy and Environment;Health and Medicine;Arts and Culture;Politics and Society;child health;dog poo;Poo Patrol;public health
Nov 2017
Advising in Austerity: The value of good advice
McDermont, Professor Morag; Ben Crawford; Sue Evans

Politics and society;austerity;citizen's advice; funding; legal rights; Productive Margins;advice;infographic;Anna

Oct 2017
Comparing Chilean school performance: improving fairness in the classification of schools
Muñoz-Chereau,

Dr Bernardita;

Professor Sally Thomas
Politics and Society;Chile;School;education;

accountability;value-added

Oct 2017
Pregnancy loss: consistent bereavement care pathways needed
McGuinness, Dr Sheelagh; Dr Karolina Kuberska; Dr Danielle Fuller
Health and Medicine;

pregnancy;guidelines;bereavement;

Human Tissue Authority;HTA;NHS;patient;care;health


Oct 2017
Advice to eat fish at least twice a week during pregnancy lost in confusing guidelines
Taylor, Dr Caroline; Professor Jean Golding, Professor Alan Emond
Health and Medicine;pregnancy;mercury;fish;dietary guidance;ALSPAC
Oct 2017
Cleft lip and palate: Improve centralised model of care to ensure best outcomes for children
Ness, Andy; et al.

Health and Medicine;Cleft Care UK;cleft lip;cleft;NIHR; NHS;health;children;child

Sept 2017
An evidence informed response to the Taylor Review (PDF, 452kB)

Bales,

Dr Katie; Professor Alan Bogg; Professor Tonia Novitz
Politics and Society;

Business and economy;work;labour;gig;economy;zero-hours;contracts;labour rights

Sept 2017
Appropriate Adults: Protecting the rights and welfare of vulnerable adults in custody

Jessiman,

Tricia; Ailsa Cameron
Health and Medicine;

Politics and society;vulnerable adults;safeguarding;police;welfare;criminal justice system;appropriate;appropriate adults

Sept 2017
Data sovereignty: How can we control our personal data? (PDF, 180kB)
Howard, Marilyn; et al.
Arts and Culture;

Politics and society;

Data;Productive margins;women;community;Knowle;3G;Merthyr Tydfil;KWMC
July 2017
Delivery is just as important as content in sex and relationship education
Pound, Pandora; Rona Campbell,

Health and Medicine;

Sex;Relationship;Education;school;teacher;SRE;NHS;
July 2017
EU maritime capacity-building in the Horn of Africa
Ejdus, Filip
Politics and society;EU;peace building
June 2017
Getting girls active: Reducing gender inequality in physical activity
Sebire, Dr Simon; Professor Russ Jago, Kate Banfield, Professor Angie Page
Arts and Culture;Health and medicine;exercise;physical activity;gender;adolescence
May 2017
Advising in Austerity: How Citizens Advice can adapt to uncertain times
McDermont, Professor Morag; Ben Crawford
Politics and Society;austerity;citizen's advice; funding; legal rights; Productive Margins
April 2017
What can we expect from a metro mayor?
Sweeting, Dr David; Professor Alex Marsh
Politics and Society;Bristol;metro mayor;governance;West of England Combined Authority
Feb 2017
Improving sheep and goat health: community-led monitoring and targeted treatment
Morgan, Dr Eric; et al.
Health and Medicine;parasites;drug-resistant infection; livestock;community
Jan 2017
Another shake-up of school league tables: how should we measure and hold schools accountable for the progress of their pupils?
Leckie, Dr George; Professor Harvey Goldstein
Politics and Society;education;schools;league tables;progress measures
Jan 2017
Managing change without the use of external consultants: how to organise consultant managers
Sturdy, Professor Andrew; Dr Nick Wylie
Business and Economy;management consultancy;consultant manager;TESI;change
Dec 2016
The 'public value' of research: creating long-term conversations between universities and communities
Facer, Professor Kerry; Dr Bryony Enright, Katherine Dunleavy
Politics and society;collaboration;university;Connected Communities;research
Dec 2016
Preventing and responding to conflict: Improving EU civilian capabilities must be prioritised
Juncos, Dr Ana E.
Politics and Society;EU;conflict prevention;peacebuilding
Nov 2016
Too many takeaways? How the food environment affects the health and wellbeing of communities
Webster, Kitty
Arts and Culture;Health and Medicine;Politics and society;diet;wellbeing;community;productive margins;planning;food
Nov 2016
Priorities for suicide prevention: balancing the risks and opportunities of internet use
Biddle, Dr Lucy; et al.
Health and medicine;suicide prevention;internet;crisis;online help
Oct 2016
Planning Ahead: EU crisis management interventions require local ownership at the earliest stage
Ejdus, Dr Filip
Politics and society;EU;crisis management;CSDP;security;peace building
Oct 2016
Bursaries are an important component of widening participation in Higher Education and their funding should be maintained
Harris, Richard; Sara Davies
Politics and society;schools;inequality;education;participation;finance
Oct 2016
Researchers and mathematics teachers must collaborate to overcome barriers to student participation in Higher Education
Sutherland, Professor Rosamund; et al.
Politics and society;schools;inequality;education;participation
Oct 2016
Active after-school clubs are important for improving children's physical activity
Jago, Professor Russell; Dr Simon Sebire and Dr Emma Solomon-Moore
Health and medicine;children;obesity;physical activity;wellbeing;education;schools
Oct 2016
Good Practice Guidance on working with parents with a learning disability must be updated and placed at the heart of practice
Tarleton, Beth; Nadine Tilbury
Politics and society;Disability;Family;Social care;guidance
Oct 2016
Stakeholders' participation: a fundamental prerequisite for equitable and functional Marine Protected Areas
Pieraccini, Dr Margherita
Energy and environment;
July 2016
Brexit: clarity is essential before the UK pulls the Article 50 trigger
Syrpis, Dr Phil
Politics and society;Law;Brexit;Foreign Affairs;European Union;EU
July 2016
Conflicts of interest in healthcare: NHS procurement rules must be clarified
Sanchez-Graells, Dr Albert
Health and medicine;Politics and society;nhs;public services;healthcare
July 2016
Clean water linked to rising birth rates in Africa: why development initiatives must consider women's reproductive services
Gibson, Dr Mhairi; Dr Tigist Grieve
Health and medicine;International development;reproductive services;technology
June 2016
Widening access to university: Step change needed to support talented learners from disadvantaged backgrounds
Tikly, Professor Leon; et al.
Politics and society;inequality;education;participation
June 2016
Life chances: Re-imagining regulatory systems for low-income families in modern urban settings
Watson, Debbie; et al.
Politics and society;benefits;low income;poverty;community;Productive Margins
May 2016
Living near the next Fukushima: public perception of risk affects property value
Coulomb, Dr Renaud; Dr Yanos Zylberberg
Energy and environment;house prices;risk analysis;property
Apr 2016
Trident Renewal: future vulnerabilities must be taken seriously
Edmunds, Professor Timothy; et al.
Politics and society;security;nuclear;trident;technology
Apr 2016
Women at the top: women in senior positions can help boards achieve social goals
Ellwood, Professor Sheila; Dr Javier Garcia-Lacalle
Business and economy;Politics and society;Gender;CSR;Diversity;Leadership
Apr 2016
Marriage and Migration: facilitating the integration of migrant spouses
Charsley, Dr Katharine; et al.
Politics and society;citizenship;family;gender
Apr 2016
Fear of Fracking: earthquakes linked to shale gas exploration cause house prices to fall
Gibbons, Professor Steve; Dr Stephan Heblich, Esther Lho, Professor Christopher Timmins
Energy and environment;fracking;energy;house prices
Apr 2016
Children's British Citizenship: exposing the barriers to registration
Prabhat, Dr Devyani; Ms Jessica Hambly, Ms Solange Valdez
Politics and society;citizenship;children;immigration;law
Mar 2016
China's Investment in Europe: labour management practice in the electronics industry requires overhaul
Andrijasevic, Dr Rutvica; Dr Devi Sacchetto, Dr Jan Drahokoupil
Politics and society;Labour rights;international trade;investment;CSR
Mar 2016
Recognising the complexity of urban governance and leadership is critical for sustainable future cities
Bird, Caroline; Professor Andy Gouldson, Gary Topp
Politics and society;future cities;Bristol;urban;governance
Mar 2016
Trident renewal: Strategic utility and trade-offs must be made explicit
Dorman, Professor Andrew; Professor David Dunn, Professor Timothy Edmunds
Energy and environment;Politics and society;
Jan 2016
Extending initial teacher education to raise standards and improve teacher retention
Orchard, Dr Janet; Professor Christopher Winch
Politics and society;education;teaching;ITE
Nov 2015
The Quipu project: Participatory story-telling can help rebuild community in post-authoritarian societies
Tucker, Dr Karen; Dr Matthew Brown
Arts and culture;Politics and society;human rights, community; technology;Peru
Nov 2015
Policies that reduce greenhouse gases can improve human wellbeing
Hiscock, Dr R.; et al.
Energy and environment;greenhouse gases;climate change;wellbeing
Nov 2015
Registering children as British citizens: current laws require overhaul
Prabhat, Dr Devyani; Ms Jessica Hambly, Ms Solange Valdez
Politics and society;children;citizenship;education;PRCBC;finance;legal
Sep 2015
Widening participation in the digital age: can online networks and technologies support underrepresented students in succeeding at university?
Timmis, Dr Sue; Ms Wan Ching Yee, Dr Bernie Munoz Chereau
Politics and society;technology;education;university;social media;inequality;access
June 2015
Energy planning in cities requires holistic assessment of both environmental and health impacts
Friedrich, Professor Rainer; et al.
Energy and environment;city;global;electricity;climate change
Apr 2015
Fresh approach needed towards regulation and support of 'green' social enterprises in the emerging new economy
Morgan, Professor Bronwen; Caroline Bird, Declan Kuch
Energy and environment;business;governance;community
Apr 2015
One size won't fit all: Buildings have diverse effects on health and the environment across Europe and China
Niittynen, Marjo; et al.
Politics and society;energy and environment;
Mar 2015
Teenage Kicks: Cultural policy and practice needs to reflect the views, lives and ideas of young people
Manchester, Dr Helen
Arts and culture;young people;diversity;culture;digital;participation
Mar 2015
Mayoral governance in Bristol: An initial assessment of impacts
Sweeting, Dr David; Professor Robin Hambleton
Politics and society;Bristol;mayor;local governance;mayoral governance;Bristol Civic Leadership Project
Mar 2015
Employment tribunal claims: debunking the myths
Busby, Professor Nicole; Professor Morag McDermont
Politics and society;employment tribunal;legal aid;fees;unfair dismissal;Productive Margins
Jan 2015
Enhancing spaces for Muslim women's engagement
Aabe, Nura; et al.
Politics and society;muslim;women;inclusivity;participation;public spaces
Dec 2014
Strategic Defence and Security Review 2015: Defence Must Close the Civil-Military Gap
Dorman, Professor Andrew; Professor David Dunn, Professor Timothy Edmunds
Politics and society;defence;armed forces;organisational culture
Dec 2014
Care homes need urgent review
Manchester, Dr Helen; Dr Liz Loyd
Politics and society;ageing;care homes;care workers;integration
Oct 2014
A directly elected mayor can enhance visible city leadership
Sweeting, Dr David; Professor Robin Hambleton
Politics and society;mayoral governance;devolution;civic leadership
July 2014
Employment tribunal fees deny workers access to justice
Busby, Professor Nicole; Professor Morag McDermont
Politics and society;employment tribunal;fees;employment disputes
May 2014
Improving urban neighbourhoods for all: Don't rely on the middle classes
Bridge, Professor Gary
Politics and society;middle classes;participation;urban policy;neighbourhoods;segregation
Feb 2014
Afghanistan: no holds barred. If sustainable peace is to be achieved, negotiations must be open to all
Algar-Faria, Mr Gilberto
Politics and society;peacekeeping;international;negotiations;Afganistan
Dec 2013
The success of 'naming and shaming': league tables have a positive impact on performance of schools and hospitals
Bevan, Professor Gwyn; Dr Deborah Wilson
Politics and society;education;hospitals;league tables;targets
Nov 2013
Biofuels and sustainable development: can sustainability standards stop 'land grabbing'?
Fortin, Dr Elizabeth; Dr Benjamin Richardson
Energy and environment;international development;sustainability;land
Sep 2013
The 2008 Global Financial Crisis: effects on mental health and suicide
Gunnell, David; et al.
Health and medicine;unemployment;suicide;mental health;recession