About
Resources for science teachers, created in a collaborative project between the University of Bristol, and science teachers and educators in Bristol.
This project is led by the Department of Philosophy and supported by Public Engagement .
The Department of Philosophy is well-known for its strength in philosophy of science and hosts the Centre for Science and Philosophy, which promotes the interpretation of science through collaboration with other disciplines.
History of the project
In November 2016, the Department of Philosophy, supported by the Public Engagement team, hosted a knowledge-sharing event in which science teachers and philosophers of science exchanged ideas about possible ways to collaborate.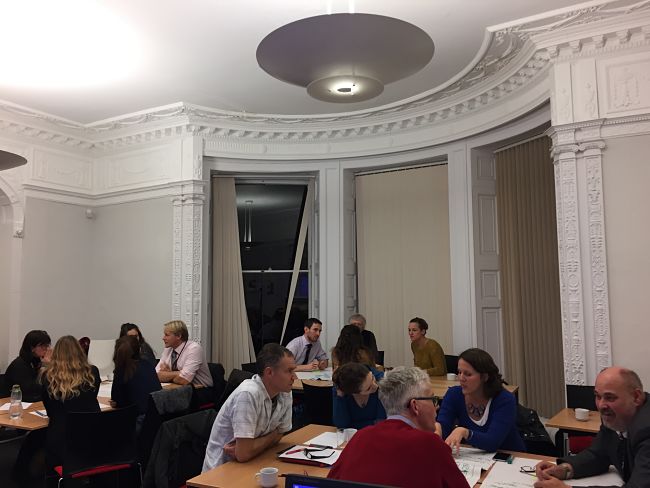 Over the following year, the Department of Philosophy and Public Engagement team worked closely with a consultant teacher to devise philosophy of science resources linked to the KS3 science curriculum. Drawing upon teacher feedback from the knowledge-sharing workshop, the decision was made to create resources that were easy to use in the classroom and could be delivered as a ten-minute activity.
The project sought feedback on the resources at every stage of development, running workshops and gathering written feedback. The University of Bristol School of Education, the University of Bristol Secondary Science PGCE Cohort of 2016-17 and science teachers from the Cabot Learning Federation all contributed to the development of the resources by testing the resources in the classroom and giving feedback.

The resources were completed at the end of 2017 and in January 2018 they were shared nationally and internationally.
About the resources
The Thinking Science resources come in the form of questions designed to provoke thinking and discussion, to consolidate and extend core curriculum knowledge and understanding.
The topics link to the KS3 National Curriculum and there are resources for physics, chemistry, biology and working scientifically.
The resources can be used as a stand-alone activity and require no preparation, although there is Teacher Guidance to accompany each set of questions. Teachers can choose to use the questions in different ways in the classroom, for example as a starter, plenary, introduction to a new topic, for consolidation at the end of a topic, or as revision. They can be used as a ten-minute activity or extended to a dedicated lesson. Teachers can choose to work through every question or just focus on one or two.
The Teacher Guidance tells teachers what information the students need to know before discussing the questions. There are not differentiated levels for each set of questions because the discussion level will be set by students. Teachers can however adapt the level of difficulty by using the prompt and challenge questions and by adapting how the questions are used. ‌‌