View all news
£1.4 million funding to bring innovations to life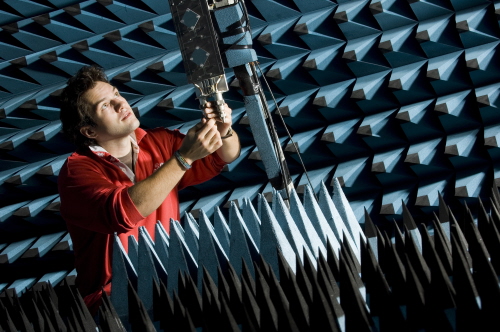 Press release issued: 26 June 2015
Science and engineering businesses in the region are being encouraged to work with the University of Bristol thanks to a £1.4 million grant to aid innovation.
The new funding aims to make innovative ideas a reality through collaborations between academics and external organisations.
It's part of the Impact Acceleration Account (IAA), awarded by the Engineering and Physical Sciences Research Council (EPSRC).
Almost 50 new projects at the University have been supported since the first funding round in November 2012, including the creation of four new companies.
An extension to the scheme, including a further £1.4 million funding injection, has just been announced and will be available from October 2015 to March 2017, with up to £50,000 available for each project.
Partnerships to date have included working with the BBC and ARRI, the largest manufacturer of motion picture film equipment in the world, to make video images appear more lifelike; with Rolls Royce on modelling stress in composites materials; with Arup on Future Cities; and with the National Composites Centre on advances in structural composites.
Other successful collaborations and innovations developed with smaller companies have included working with ET Enterprises to develop new sensors and Portishead-based BIRAL on a device to isolate and analyse airborne particles.
Bristol University is encouraging businesses to approach its Research and Enterprise Department (RED) with ideas which might benefit from academic input and expertise.
Dr Andrew Wray, Knowledge Exchange Development Manager in RED, said: "The projects supported through the University's Impact Acceleration Account involve a wide range of businesses and public bodies, small and large.
"Many of them have involved secondments into the University and from the University out to the organisation, enabling people to work together to solve real-life industry problems and commercialise research."
Partners may include businesses, public sector bodies or NGOs, in the UK or internationally.
Projects can involve prototype commercialisation, strategic engagements with industry, collaborations for doctoral students and business fellowships.
The scheme was introduced by the EPSRC to help the UK's most pioneering scientists and engineers create successful businesses from their research, improve industrial collaboration and foster greater entrepreneurship.
A total of £30 million is being given to 33 universities across the country this year. This builds on the £60 million allocated in 2012, which gave awards ranging from £600,000 to £6 million to 31 universities across the UK.
Businesses interested in working with the University should contact Frances Frith, Lucy Stephens or Andrew Wray in the University's Research and Enterprise Development team: frances.frith@bristol.ac.uk, lucy.stephens@bristol.ac.uk and Andrew.wray@bristol.ac.uk.
Further information
Research and Enterprise Development (RED) works with academics, researchers, students and entrepreneur communities within and also outside the University of Bristol. Whether you are an organisation or individual entrepreneur, a world-leading or early-career researcher, or a student entrepreneur with exciting ideas you will find that RED has people with the experience, knowledge, networks and expertise to assist.
Case study: Immersive Video Formats

Professor Dave Bull, from the Bristol Vision Institute, worked with the BBC to improve the quality of experience that visual media can deliver. It's shown that increasing the dynamic range of displayed content can make images appear more lifelike. High dynamic range (HDR) content means there's a wider range between the whitest whites and the blackest blacks in the pictures. A secondment has enabled them to understand the workflow and coding aspects of HDR content.
The project has led to a strong relationship with ARRI, the world's leading camera manufacturer, and recognition from the Academy of Motion Picture Arts and Sciences who said 'the future of the motion picture art form depends on it (this work)'.
The Engineering and Physical Sciences Research Council (EPSRC)
As the main funding agency for engineering and physical sciences research, our vision is for the UK to be the best place in the world to research, discover and innovate.
By investing £800 million a year in research and postgraduate training, we are building the knowledge and skills base needed to address the scientific and technological challenges facing the nation. Our portfolio covers a vast range of fields from healthcare technologies to structural engineering, manufacturing to mathematics, advanced materials to chemistry. The research we fund has impact across all sectors. It provides a platform for future economic development in the UK and improvements for everyone's health, lifestyle and culture.
The EPSRC works collectively with partners and other Research Councils on issues of common concern via Research Councils UK.