View all news
2013/14 Engagement Award winners announced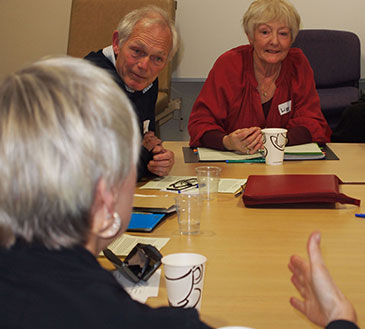 16 June 2014
The winners of the University of Bristol's 2013/14 Engagement Awards, judged by the Engaged University Steering Group, have been announced.
The annual competition is run by the University's Centre for Public Engagement. Awards are given for outstanding achievement in engagement and applications can be from individuals or groups of researchers at any stage of their careers.
This year's recipients are Tom Sperlinger (Department of English), Dr Richard Pettigrew (Department of Philosophy) and colleagues; Dr Rachael Gooberman-Hill and colleagues (School of Clinical Sciences); and Olivia Maynard (School of Experimental Psychology).
Tom Sperlinger, Dr Richard Pettigrew and colleagues received their award for their work on the Foundation Year in Arts and Humanities. This programme aims to diversify the Bristol student body by focusing on students with unconventional educational backgrounds who might otherwise be unable to access higher education. In the words of one student, 'The course has, quite simply, changed my life. I no longer feel like I am going to be stuck in a dead-end job for the foreseeable future; instead I am going to get an education, a degree, and pursue interests I have held my entire life.'
On making the award, the Engaged University Steering Group commended the programme's ambitious aims, commenting on how much had been achieved in a short space of time. The programme was deemed 'an inspiring example of engaged teaching that has involved a wide range of people from across the Faculty, not to mention the tangible impacts [the programme has had] on the students themselves'.
Dr Pettigrew said: 'It has been a great honour to work in a team with staff from many different parts of the University to make the Foundation Year work. The first cohort of students have been the best possible pioneers for this project. Their enthusiasm and energy has made this a tremendous year for everyone involved.'

Dr Rachael Gooberman-Hill and colleagues were honoured for their work in musculoskeletal research, developing a patient and public involvement group called PEP-R (Patient Experience Partnership in Research). In their application they were able to demonstrate impact on group members, University staff and activities. Dr Gooberman-Hillsaid: 'Close engagement between the University, North Bristol NHS Trust and patients is central to our research in the Musculoskeletal Research Unit. Patient and public involvement means that research is truly based on patients' own experience and priorities.'
The judging panel was impressed by the demonstrable breadth of impact that PEP-R has had, both on the people involved and the University's research, citing the project as 'an excellent example of patient and public involvement that has been embedded into University practice'.

Olivia Maynard, an early career researcher who has consistently engaged with policymakers, third-sector groups, the media and public audiences throughout her PhD studies and post-doctoral research, won her award for her work on the effects of plain cigarette packaging. She has found that such packaging increases attention to health warnings on cigarette packages and is studying how behavioural science can be used to develop novel interventions to improve population health.
The judges commented on the reach of her work and praised her accomplishments as an early career researcher, particularly the ways in which she has engaged a range of audiences.
Maynard said: 'I feel extremely honoured to have won this award, given the fantastic engagement work that is being carried out by researchers across the University. Thank you to my PhD supervisor Marcus Munafò, and our Head of School, Jan Noyes, for nominating me. I plan to continue engaging policymakers and the public with my research and I will be going to the House of Commons shortly to present my research to MPs. I will also be taking a public engagement stall to the Green Man festival this summer.'
Professor Guy Orpen, Pro Vice-Chancellor and Chair of the Engaged University Steering Group, said: 'As always, the judging panel was impressed and delighted by the breadth of entries in our annual Engagement Awards competition. We offer our congratulations to those who emerged as winners from a strong field of contenders. From inspiring students to embrace new learning opportunities, to encouraging a range of audiences to engage with University research, the winning entries are exemplars of best practice and show how public engagement has become a fundamental aspect of our academics' work.'
The awards will be presented at the Enterprise Dinner in November.