View all news
Bristol research wins Science of Risk prize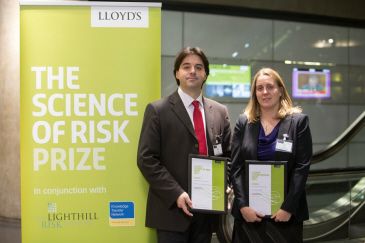 Press release issued: 3 December 2014
A research paper published earlier this year in Nature Communications has been awarded a Science of Risk prize by Lloyd's at a ceremony last week [27 November].
The research, led by Dr Juliet Biggs of the University of Bristol, looked at satellite imagery data for 500 volcanoes worldwide, monitoring which volcanoes were deforming to establish statistical evidence of their eruption potential.
Further testing of this link could eventually develop into a forecast system for all volcanoes, including those that are remote and inaccessible.
Volcanic deformation can be caused by magma moving or pressuring underground. Magma rising towards the surface could be a sign of an imminent eruption. On the other hand, many other factors influence volcano deformation and, even if magma is rising, it may stop short, rather than erupting.
Dr Juliet Biggs and colleagues in the School of Earth Sciences: Dr Susanna Ebmeier, Professor Willy Aspinall, and Professor Stephen Sparks, collaborated with fellow academics Dr Matthew Pritchard from Cornell University, Dr Tamsin Mather from the University of Oxford and Dr Zhong Lu from Southern Methodist University.
The work was co-funded by the UK Centre for Observation and Modelling of Earthquakes, Volcanoes and Tectonics (COMET) and STREVA, a research consortium aimed at finding ways to reduce the negative consequences of volcanic activity on people and their assets.
Papers written by Professor Willy Aspinall and Professor Jon Bamber also reached the final five in the Climate Change category of the competition.
Lloyds' Science of Risk prize looks for the best research from UK academics, with the goal to better understand the world around us to effectively mitigate risks.
Paper
'Global link between deformation and volcanic eruption quantified by satellite imagery' by J. Biggs, S.K. Ebmeier, W.P, Aspinall, Z. Lu, M.E. Pritchard, R.S.J. Sparks, T.A. Mather in Nature Communications
Further information
COMET is the UK Natural Environment Research Council (NERC)'s Centre for the Observation and Modelling of Earthquakes, Volcanoes and Tectonics, based at the Universities of Leeds, Bristol, Oxford, Cambridge, Reading, Newcastle, and UCL.
STREVA is an interdisciplinary project funded by the NERC/ESRC Increasing Resilience to Natural Hazards in Earthquake-prone & Volcanic Regions programme involving the Universities of East Anglia, Bristol, Oxford and Leeds, the British Geological Survey and the Overseas Development Institute.
About the Cabot Institute:
The Cabot Institute carries out fundamental and responsive research on risks and uncertainties in a changing environment. It drives new research in the interconnected areas of climate change, natural hazards, water and food security, low carbon energy, and future cities. Its research fuses rigorous statistical and numerical modelling with a deep understanding of social, environmental and engineered systems – past, present and future. It seeks to engage wider society by listening to, exploring with, and challenging its stakeholders to develop a shared response to 21st Century challenges.