View all news
Could a common blood pressure drug slow down the progression of Alzheimer's?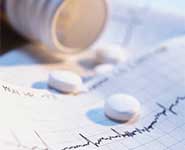 Press release issued: 5 March 2013
A groundbreaking trial that hopes to discover if a drug commonly used to treat high blood pressure could slow down the progression of Alzheimer's disease (AD) will begin shortly thanks to funding of nearly £2 million by the Medical Research Council (MRC) and managed by the National Institute for Health Research.
The multi-centre clinical trial, hosted by
North Bristol NHS Trust
and led by a group of academics from the University of Bristol,
University of Cambridge
and
Queen's University Belfast
, will find out if losartan, a well-tolerated drug for high blood pressure, can complement current treatments for AD. The researchers believe the drug could slow down the progression of AD by improving brain blood flow and altering chemical pathways that cause brain cell damage, brain shrinkage and memory problems in AD.
Alzheimer's disease (AD) is the cause of more than half of the cases of dementia that affects approximately 800,000 people in the UK. It profoundly affects memory and brain function in older individuals. It is a slow progressive disease that can last for a number of years and is heart-breaking, exhausting and often a costly reality for family and health services.
Thanks to funding of nearly £2 million by the Medical Research Council (MRC) and managed by the National Institute for Health Research*, the double blinded placebo-controlled randomised trial, known as RADAR (Reducing pathology in Alzheimer's Disease through Angiotensin taRgeting), will recruit approximately 230 participants from a number of sites across the UK over two years.
The study will use brain imaging at CRICBristol and other locations around the country to measure if losartan helps to reduce brain shrinkage that researchers know is strongly linked with reduced memory function whilst also measuring if the drug can help improve people's memory and quality of life.
Dr Pat Kehoe, Reader in Translational Dementia Research and Joint Group Head of the Dementia Research Group in the School of Clinical Sciences, who will lead the trial, said: "With an ageing population, AD health care provision needs will significantly rise. At the moment, existing AD treatments only temporarily treat specific imbalances in the brain but as yet there is no cure for AD.
"The trial, which involves leading dementia research centres in at least ten cities in the UK, including those across England, Scotland and Wales, should provide the first real evidence of losartan's potential benefit in AD."
The research team want to study losartan because it is well known from previous human and animal studies that reduced brain blood flow is a very common and early feature in AD and contributes to memory failure.
Losartan, and other related drugs working in a similar way, have been found to block a small naturally occurring chemical (angiotensin II) which improved memory problems in mice designed to have Alzheimer's features and in people given chemicals to temporarily affect their memories. Losartan is thought to stop angiotensin II from preventing the release of vital memory chemicals in the brain.
Researchers recently found that people who have previously taken losartan, or similar drugs, have a lower risk of developing AD compared to other blood pressure drugs. These drugs may also slow the rate of deterioration in patients with Alzheimer's. Some older clinical trials of losartan and related drugs in people with high blood pressure have shown little evidence of a reduced risk of general cognitive decline or dementia in general. However, these studies did not include or specifically identify AD patients and would have had many patients with mainly vascular dementia patients which may not have benefited – the RADAR trial will be the first such study in a trial specifically designed for people with AD.
Dr Kehoe concluded: "Without wishing to get ahead of ourselves, the beauty of this drug, if it is found to work as we expect, is that it is already available and is cheap. People who have high blood pressure could be prescribed this much earlier in life when we know that some of the early changes of AD can occur but currently cannot easily detect because the memory problems haven't yet manifested in people."
Funding for this study was announced by Health Secretary Jeremy Hunt on 20 December 2012 as part of the Prime Minister's Challenge on Dementia.
The Dementias and Neurodegenerative Diseases Research Network (DeNDRoN) has worked in partnership with researchers on eight of the 21 studies announced by the government to receive funding, including the RADAR clinical trial.
DeNDRoN will work with sites across the UK to actively recruit 230 participants for the RADAR clinical trial over the next two years. Those regions involved are Oxford, Leicester, Reading, Brighton, Exeter, as well as three sites in Scotland and one in Wales.
Recruitment for the clinical trial will begin in August 2013. If members of the public are interested in participating in the study, please email dementia-research@bristol.ac.uk or visit www.dendron.nihr.ac.uk to find out more.
Thanks to the support of several of the University alumni pioneers, Dr Pat Kehoe and his team have been able to employ a research associate to investigate links between blood pressure tablets and dementia. The alumni pioneers generous donations, totalling £50,000, also made it possible for Dr Kehoe and his team to apply to the Medical Research Council for the £2 million grant in order to further their work in this area.
Further information
*The study is funded by a research grant awarded by the Efficacy and Mechanism Evaluation (EME) Programme, which is funded by the Medical Research Council (MRC) and managed by the National Institute for Health Research (NIHR).
About the Dementia Research Group
The Dementia Research Group at the University of Bristol, headed by Professor Seth Love and Dr Patrick Kehoe, is focused on the molecular epidemiology and pathogenesis of Alzheimer's disease and related dementias. The group's research programme attempts to translate a number of interwoven research themes using molecular genetics, biochemical, cell culture-based and neuropathological approaches to the study of dementia into the identification and development of new lines of therapy.
The research group is part of the University of Bristol's School of Clinical Sciences and is based in the John James Laboratories at Frenchay Hospital, Bristol.
About CRICBristol
CRICBristol, Bristol's Clinical Research and Imaging Centre, is a joint venture between the University Hospitals Bristol NHS Foundation Trust and the University of Bristol.
The Imaging Analysis for the study will be co-ordinated from CRICBristol in collaboration with University College London.
About the Medical Research Council
The Medical Research Council has been at the forefront of scientific discovery to improve human health. Founded in 1913 to tackle tuberculosis, the MRC now invests taxpayers' money in some of the best medical research in the world across every area of health. Twenty-nine MRC-funded researchers have won Nobel prizes in a wide range of disciplines, and MRC scientists have been behind such diverse discoveries as vitamins, the structure of DNA and the link between smoking and cancer, as well as achievements such as pioneering the use of randomised controlled trials, the invention of MRI scanning, and the development of a group of antibodies used in the making of some of the most successful drugs ever developed. Today, MRC-funded scientists tackle some of the greatest health problems facing humanity in the 21st century, from the rising tide of chronic diseases associated with ageing to the threats posed by rapidly mutating micro-organisms.
The MRC Centenary Timeline chronicles 100 years of life-changing discoveries and shows how our research has had a lasting influence on healthcare and wellbeing in the UK and globally, right up to the present day.
About the National Institute for Health Research Efficacy and Mechanism Evaluation Programme
1. The Efficacy and Mechanism Evaluation (EME) Programme supports later-phase "science-driven" clinical trials and evaluative studies, which seek to determine whether a health intervention (e.g. a drug, diagnostic technique or device) works and in some cases how or why it works. The EME Programme is funded by the MRC and NIHR, with contributions from the CSO in Scotland, NISCHR in Wales and the HSC R&D Division, Public Health Agency in Northern Ireland.
2. The National Institute for Health Research (NIHR) is funded by the Department of Health to improve the health and wealth of the nation through research. Since its establishment in April 2006, the NIHR has transformed research in the NHS. It has increased the volume of applied health research for the benefit of patients and the public, driven faster translation of basic science discoveries into tangible benefits for patients and the economy, and developed and supported the people who conduct and contribute to applied health research. The NIHR plays a key role in the Government's strategy for economic growth, attracting investment by the life-sciences industries through its world-class infrastructure for health research. Together, the NIHR people, programmes, centres of excellence and systems represent the most integrated health research system in the world.
3. The Medical Research Council is dedicated to improving human health through excellent science. It invests on behalf of the UK taxpayer. Its work ranges from molecular level science to public health research, carried out in universities, hospitals and a network of its own units and institutes. The MRC liaises with the Health Departments, the National Health Service and industry to take account of the public's needs. The results have led to some of the most significant discoveries in medical science and benefited the health and wealth of millions of people in the UK and around the world.
About North Bristol NHS Trust
North Bristol NHS Trust provides hospital and community healthcare to the residents of Bristol, South Gloucestershire and North Somerset and we are also a specialist regional centre for major trauma, neurosciences, plastics and burns, orthopaedics and renal services.
About the Dementias and Neurodegenerative Diseases Research Network (DeNDRoN)
The National Institute for Health Research (NIHR) Dementias and Neurodegenerative Diseases Research Network (DeNDRoN) is funded by the Department of Health to support high-quality clinical research to take place in the NHS, so that patients can benefit from new and better treatments. DeNDRoN has helped researchers on 8 of the 21 funded research applications. An example of how DeNDRoN has supported the DTC is the PROVIDE study.
If patients want to hear about how they can get involved in these studies they can register their interest with DeNDRoN.