View all news
Judge's copy of Lady Chatterley's Lover acquired by the University of Bristol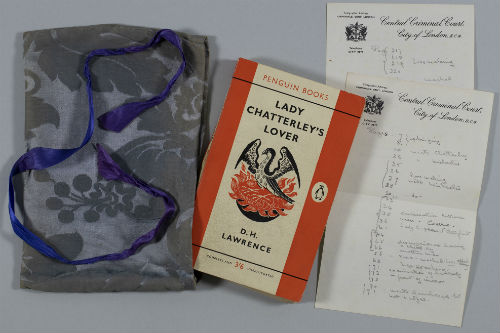 Press release issued: 30 September 2019
The Law School is delighted that the physical copy of Lady Chatterley's Lover by DH Lawrence which was used by the judge in the landmark obscenity trial of 1960 has been acquired by the University and will be held in its Special Collections as part of the Penguin Archive.
R v Penguin Books Ltd [1961] Crim LR 176 was a test case brought to assess the boundaries of the law and here it was the publisher rather than the author who faced a prosecution for obscenity. This copy of the novel was used by the judge during the trial and includes annotations made by Dorothy Byrne and added to by her husband Mr Justice Laurence Byrne.
Sold at auction by Sotheby's in October last year to a private individual in the USA, this special copy of Lawrence's novel, became the subject of export deferral by the UK Government. A process was initiated to find a UK buyer who would match the auction price and provide access to the book for researchers and the public.
Professor Lois Bibbings, who worked with the University Library in constructing the University's successful bid to acquire the novel said:
"It is wonderful to know that the judge's copy of Lady Chatterley's Lover is coming to Bristol. Special Collections is where it belongs, where it can rest alongside the Penguin Archive and, more crucially, the trial papers of Michael Rubinstein, the solicitor who acted for Penguin Books Ltd in the obscenity trial.
"I am looking forward not only to studying the novel's annotations myself but also to using the judge's copy in specialist postgraduate teaching workshops later this term. For the first time our students will be able to view it alongside the transcripts of the trial and the defence notes."
Further information
Lois Bibbings is Professor of Law, Gender and History at the University of Bristol Law School. Amongst other things, her research has focused upon gender, sexuality, rights, crime and the First World War. Her last book, Binding Men: Stories About Violence and Law in Victorian England examined five important legal cases, focusing on crime and Victorian attitudes to sex, violence and gender. Most recently she has been writing about pardoning, war resistance and conscientious objection. She leads the Criminal Law teaching team at Bristol and also teaches: Criminal Justice; Sex, Gender and the Law; and Advanced Legal Research Methods.