View all news
#FerryGate: Dr Albert Sanchez-Graells submits written evidence to House of Commons Committee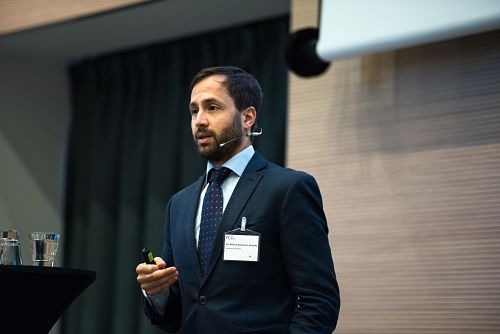 Press release issued: 17 January 2019
As part of its December 2018 'No-Deal Brexit' preparations, the Department of Transport issued contracts for additional shipping freight capacity - in what Twitter swiftly labelled #FerryGate. The Law School's Dr Albert Sanchez-Graells has submitted written evidence to the House of Commons Transport Select Committee in the inquiry on "Freight and Brexit", addressing the potential illegality of these contracts.
In his written evidence, Dr Albert Sanchez-Graells focused on the likely breach of UK public procurement rules and EU State aid law in the award of contracts for additional shipping freight capacity by the Department for Transport in December 2018.
Dr Sanchez-Graells urged the Transport Committee to undertake a detailed assessment of the award of these contracts, as they can evidence underlying Governmental trade-impeding policies that can compromise a future UK-EU free trade deal.
The submission scrutinises the 'extreme urgency' exception through which the Department of Transport justified the award of the contracts without prior call for competition.
It argues that both the Department's timing (which was over the 60 days' time limit required) and the additional rationale given by Secretary of State for Transport, who framed the award as an act of support for a new British start-up business, do not adhere to the regulations around 'extreme urgency' procurement.
Furthermore, the fact that contracted company Seaborne Freight (UK) Ltd lacks both experience in operating a ferry line as well readiness of the port infrastructure from which the company plans to operate indicates an "element of risk [which] is inconsistent with the logic and limited parameters controlling the award of the contract under the 'extreme urgency' exception."
"Public information about these awards indicates not only that the awards are likely to be illegal under the applicable UK procurement rules and that they can create additional risks of illegal State aid, but also that the Department for Transport may be pursuing a broader industrial policy that undermines the possibility of an orderly Brexit and a functioning future trade relationship with the EU."
Read the full submission online: Written Evidence to the House of Commons Transport Select Committee in relation to its inquiry "Freight and Brexit"
Further information
Dr Albert Sanchez Graells is a Reader in Economic Law at the University of Bristol Law School. He is a specialist in European economic law, with a main focus on competition law and public procurement. He is also interested in general issues of sector regulation and, more broadly, in the rules supporting the development and expansion of the European Union's internal market. He takes a law and economics approach to his research and is particularly keen on the analysis of the systems of incentives and enforcement mechanisms that law creates or facilitates.
For further information about legal news, events and research related to Brexit please visit the Law School's Brexit Centre website.