View all news
Alumni stories: 'build confidence, resilience and self-reliance' – top tips from Dan Schaffer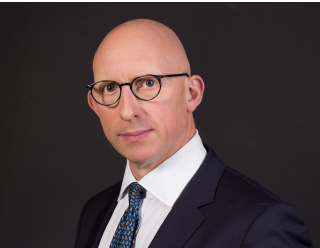 Press release issued: 6 March 2019
Dan Schaffer (LLB 1986, Honorary Doctorate 2016) is the Chair of the University of Bristol Law School Advisory Board and responsible for the establishment of our Distinguished Alumni Lecture Programme. Since graduating from the Law School in 1986 he has gone on to have a stellar career in the world of pensions law, achieving partner status at the prestigious law firm Slaughter and May - the first ever lateral partner appointment made in London.
Dan caught up with us ahead of his upcoming alumni lecture on 12 March, to share his experiences of studying at Bristol, creating and Chairing the Law School Advisory Board and his top tips for making the most of your studies here in Bristol.
How did you feel when you were starting out at Bristol?
I felt intellectually inspired. I was fortunate in having fantastic tutors. I loved working in the Wills Memorial Law library. I had three wonderful years here.
You've been very successful in your career since graduating. How did you get to where you are now?
If you apply the 'but for' test I would not have achieved what I have, but for the excellent teaching that I had in Bristol 1983-86.
Read more about Dan's journey through law here and his Honorary Doctorate speech here.
What are you most proud of amongst your legal accomplishments?
Most proud? That is a difficult one. I am certainly very proud of chairing the Advisory Board here at the Law School. It has made a huge contribution and difference. I am also proud to have beaten Professor Ford QC to the change-over in the cycling-to-running leg of the team triathlon at London Excel. I am also proud of sharing two seminar platforms with Professor Alan Bogg. One at All Souls College, Oxford (Nov 2017) and one at UCL (June 2019).
What advice would you give to a student just starting out at Bristol?
Think hard about how to think better and keep doing it daily. I hosted an event 'Inside an Impressive Mind' in November 2018, discussing methods for achieving exam success and increasing job prospects. The event featured a great panel of alumni – watch the event here.
If you might apply for jobs or vacation schemes in your second year you should start planning for it in your first year and do as well as you can in your first-year exams.
Build confidence, resilience and self-reliance. Go and participate in non-law activities. Widen your circle.
What made you decide to help set up our Distinguished Alumni lecture series?
To foster self-belief by hearing from alumni who have progressed in the same or similar career paths to which students aspire.
Further information
Don't forget to attend Dan's alumni lecture at 11am on 12 March in the Victoria Rooms. No need to book, just come along!