View all news
Shami Chakrabarti appointed Honorary Professor of Law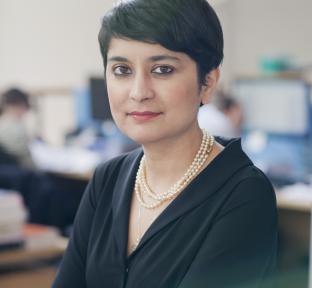 Press release issued: 1 February 2018
The Law School is delighted to announce that Baroness Shami Chakrabarti, Shadow Attorney General, has been appointed an Honorary Professor of the Law School until 2020.
Shami studied law at the London School of Economics and was called to the Bar in 1994 before working for the Home Office. She is currently Shadow Attorney General for England and Wales and was director of Liberty from September 2003 to March 2016. Since 2015, Shami has been coming to Bristol to give an annual lecture to Constitutional Rights students.
On the appointment Shami said:
"Bristol University is home to one of the finest law schools in the country. It is a huge honour to be welcomed into this legal community and I look forward to many happy and boisterous debates with staff, students and activists in this wonderful city."
Head of School, Joanne Conaghan commented:
"Shami Chakrabarti brings a wealth of expertise, particularly in terms of widening participation and access to justice issues. Her appointment will see both the School and students benefit. We are looking forward to strengthening our relationship with her."
Law student, Beth McDade, recalls how she was inspired by Shami in a lecture about the Human Rights Act:
"Shami's lecture was extremely educational with regard to human rights, particularly in relation to the plethora of experience she was able to draw on to illustrate her points. Moreover, with regard to the inequality of women in the legal profession and with attention to my capacity as a woman studying law, I found it very inspirational to see first-hand what it is in fact possible for a woman to achieve from studying law."
On 16th February Shami Chakrabarti will be a keynote speaker at the Bristol Law Conference, a student-led initiative supported by the School. The theme of the conference is "The Age of Terror – a legal response". Find out more.