View all news
Interview with Commonwealth Games gold medal winner, Eboni Beckford-Chambers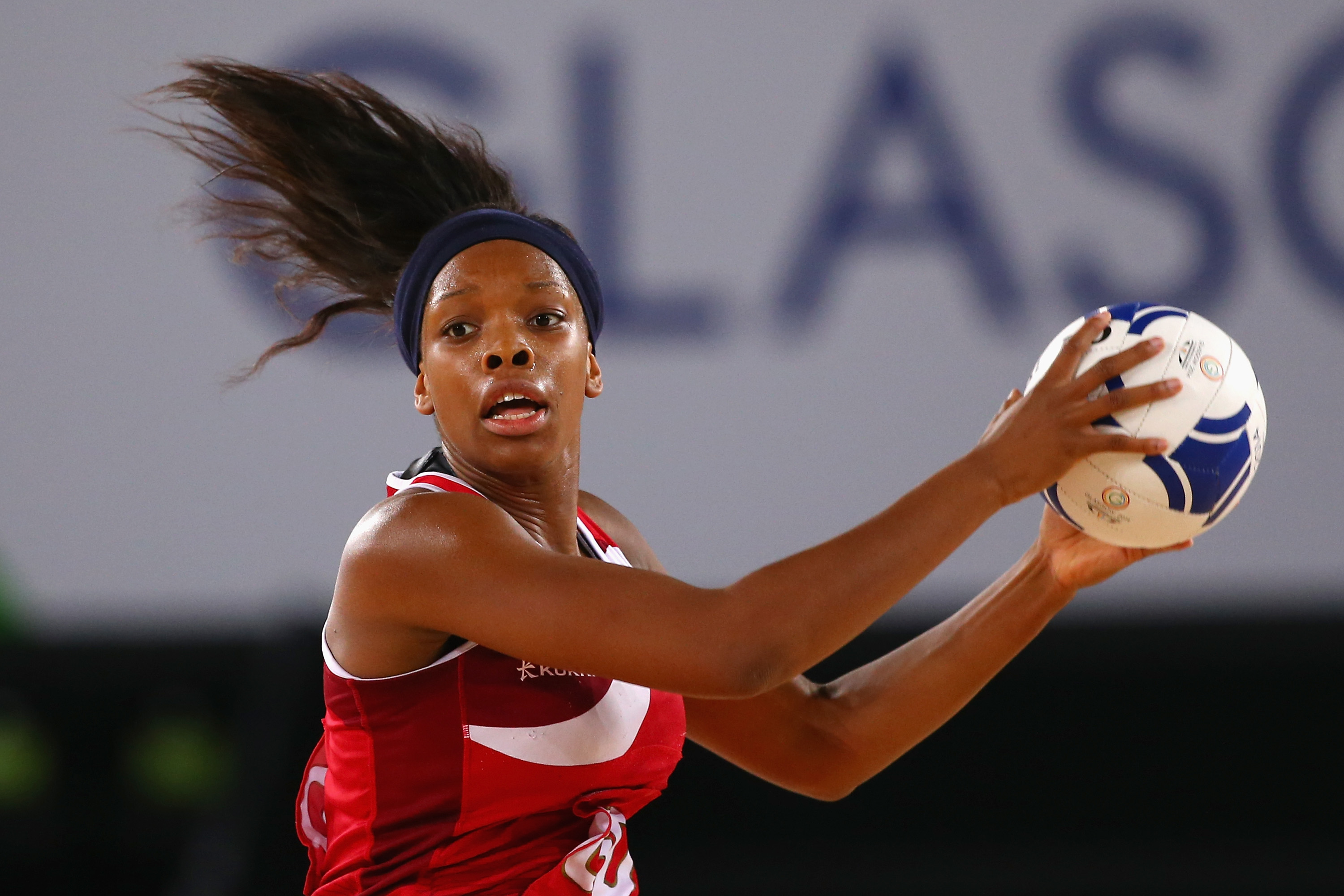 Press release issued: 30 April 2018
Law School alum and England netball player Eboni Beckford-Chambers, returned victorious from the Gold Coast 2018 Commonwealth Games last month following England's historic gold medal win over Australia. We caught up with her as she returned to work at law firm Mogers Drewet to discuss keeping calm under pressure, how she has managed to pursue both a busy sporting and a legal career - and why her mum's her inspiration.
Congratulations, what an achievement. Those last two games, with pressure right up to the last second, how do you prepare for that?
Going into the Games this time was very different for the team. This was my third Commonwealth Games. Although I still had the excitement as if it were my first, I knew I was approaching the competition with more experience. We're a really close team and there's a maturity to our game now. We approached the tournament ready to take that next step forward, to right previous wrongs and do something different. Our goal ahead of the tournament was to get to the finals for the first time, and once we beat Jamaica we started to let ourselves believe that gold was a very real possibility.
You've mentioned disappointment in Glasgow 2014 in the past, how did you rebuild after that?
Ultimately, we had an expansive review. We analysed what objectives had been achieved during the Games but also the factors that had contributed to us falling short. To move forward we knew we needed to look at what would take our game to the next level. We identified that our emotional management at different points in the game was what had let us down in Glasgow, so collectively worked hard to develop higher levels of composure, in turn building confidence in both our own abilities and in what we could achieve as a team.
How was this achieved on the court/off the court?
Tracey Neville (Head Coach) introduced a number of 'World Class Pressure Sessions' which sought to recreate the environment we would experience in major championships during training sessions. We would complete a series of drills and we were challenged and adjudged on our level of execution. If our level of execution fell below a certain standard, we were given a consequence. These sessions allowed us to adopt a 'winning' mindset in a 'safe' environment so that when competing on the international stage, the occasion and practices adopted would appear more familiar.
Many members of the team play, or have played, in Australia. You spent four years playing in the ANZ championship, how did that experience help?
Familiarity with the Australian game definitely helped. The ANZ Championship saw netball become a semi-professional sport in Australia, it was a highly competitive environment with many closely contested and pressurised games. It was daunting at first but when being comfortable being uncomfortable becomes your daily routine, your weekly routine, you find a new level of resilience and calmness which helps keep a cool head when most needed. Playing against the world's best week in week out took mine and my teammates who ply their trade in the Australian league, match 'smarts' to another level.
Law is a notoriously tough subject – did any of the skills you developed as a Law student apply to preparing for competitive sport?
I'd already represented England at junior level by the time I started at Bristol. I was used to being in a competitive environment and dealing with setbacks. As a law student, balancing study with the commitments of competitive sport meant a need to further develop my organisation and time management skills. Rather than worrying about the end result, I learned to look at the processes and break them into more easily digestible chunks. I was doing it all the time in sport, taking a game quarter by quarter rather than looking at 60 minutes to get a result. I had a real appreciation that every minute counts and applied the same processes to writing an essay, meeting a deadline or setting time aside for revision. Studying law gave me that discipline. Everything you are doing in that space of time has to count - it has to have a purpose. You can't rely on extra time!
How did you get on the University's High Performance Program?
Lyn Gunson was the Director of Netball at the University of Bath at the time that I was considering my University options. She was very good friends with Bob Reeves, who established the University's sports performance programme (now the High Performance Program). When I told Lyn I wanted to study law, and was looking in London, she recommended Bristol as a good option for both law and sport. I visited Bristol and fell in love with it. The High Performance Programme team really supported me, helping me access the Sports Science facilities and resources, whilst Bob was instrumental in helping me balance my netball schedule and tours with my academic timetable.
The High Performance Programme is funded by Bristol alumni. How important is that funding for the personal / professional development of those on the programme?
The High Performance Programme supported me throughout my time at Bristol. It allowed me to access Sports Science, nutritional and sport psychology support on a regular basis. Without access to these services I would have found balancing my degree and my sport even more challenging. I am eternally grateful for the support that I received.
From balancing a busy sporting career with your studies, you are now doing the same with your legal career. How easy has that been?
Whilst I was in Australia I was determined to keep a hand in the legal industry. I'd already put in the hard yards getting a law degree, a Masters and had completed the Legal Practice Course so I worked part time for a law firm throughout my time playing in the ANZ Championship. On returning from Australia I was careful to choose a law firm that would be supportive of my sporting career whilst helping me achieve my legal aspirations. In Mogers Drewett, I felt that what I did, who I am and my ambitions were understood and embraced. A legal training contract in general is quite stressful, but the partners at the firm have made it possible for me to fulfil my Team Bath Netball Superleague and England commitments. Of course, my absences can be disruptive – I am very aware of that – so I try to give 150% during the time that I am at work and make sure to exceed my billing targets. I believe sport has given me the drive – the stamina, commitment and passion - to succeed both in the legal industry and on the netball court.
You've clearly met some inspirational figureheads during your time in the sport, from Lyn Gunson and Bob Reeves – to Tracey Neville. What, or who, inspired you to get into law?
My Mum. I really enjoyed debating at school and she suggested that law would be a great career for me. I am from a single parent family and my mum is my 'Shero', my biggest influencer and inspiration.
You have been part of the game at a significant time in its history. What are your dreams for the future of the game?
Firstly, to inspire young girls and women to take up the sport or to continue along the pathways to ensure that the result we achieved at the Commonwealth Games will not be an anomaly. I hope that our achievement inspires the nation to continue to help build a legacy.
Secondly for netball and women's sport in general to receive the commercial and financial investment that it so rightly deserves. Women's Team Sports in the UK are currently thriving from the Rugby, Cricket, Hockey, Football and now the Netball but we are underfunded compared to our male counterparts and yet we are achieving the best results and performing better on the world stage. I hope that over the next few years we see a significant shift in this regard so that the female role models within each of these sports can be celebrated and appropriately recognised for each of their achievements.
So, you've achieved gold. What's next!
The next 12 months are huge. I get married at the end of this year, in January I will become a fully qualified lawyer, and then in July 2019 there's the Netball World Cup in Liverpool – which will be my swansong. I'm getting ready for the next exciting chapter of my life.
Finally, do you have any advice / words of wisdom for students who are currently preparing for their exams?
Break it down into little bits, the enormity of the whole task can be daunting. Take one topic at a time, get to know it well, give yourself a deadline and then move on to the next. And remember to do something to help you relax in between!