View all news
'Refusing to Kill: Bristol's World War 1 Conscientious Objectors' exhibition opens in Bristol Cathedral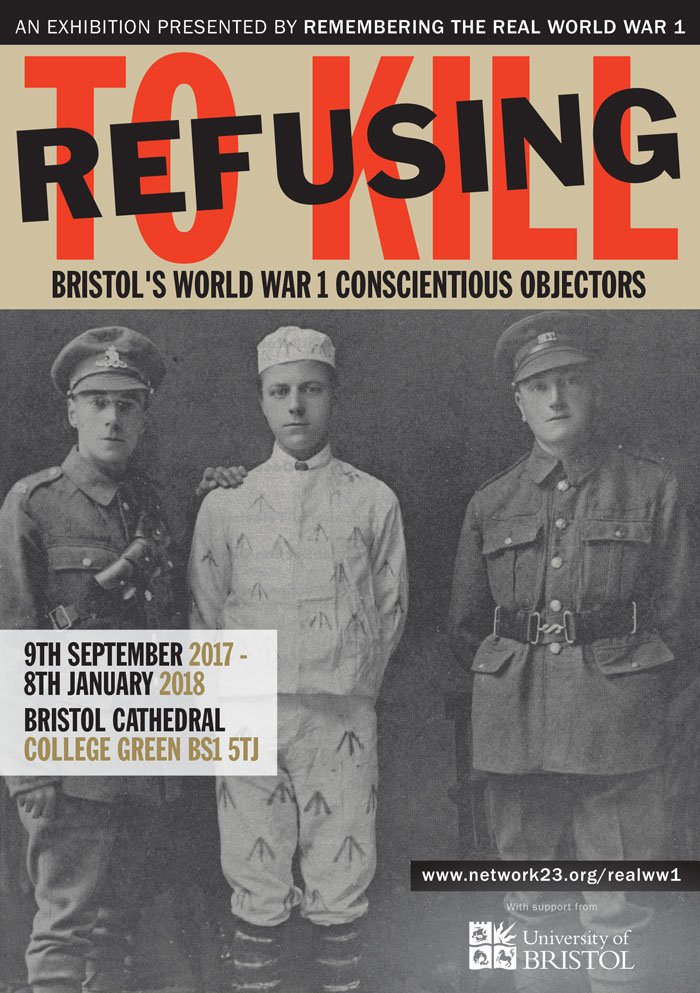 Press release issued: 20 September 2017
Professor Lois Bibbings is one of the curators of 'Refusing to Kill', an exhibition that tells the stories of those who refused to fight in the First World War, as well as those who supported them, running from September 2017 to January 2018.
The exhibition Refusing to Kill: Bristol's World War 1 Conscientious Objectors focuses upon men from the Bristol area who refused to fight in the First World War. The more than 350 local men were part of an estimated 20,000 who claimed the status of conscientious objector for moral, religious and/or political reasons. Some agreed to take non-combatant roles in the military. Some undertook non-military roles, working on the land or in munitions factories, for example. Others spent much of the war in prison, often under harsh conditions.
'Refusing to Kill' gives a general introduction to conscription and conscientious objection in Britain during World War One but centres upon the history of the local area, telling the stories of the conscientious objectors from Bristol and the people in the city who supported them. Rarely seen documents are displayed together with photographs, letters and artefacts, thanks to support from local and national archives, conscientious objectors' relatives and historians.
Curated by Lois Bibbings and other members of Remembering the Real WWI, the exhibition opened on 9 September 2017 and attracted an estimated 1000 visitors in the first week, with comment and feedback forms reflecting a continuing interest in both conscientious objection and the First World War.
To listen to a Radio Bristol excerpt of Lois talking about the exhibition, please visit the BBC iPlayer programme page (2 hours, 12 mins, 20 seconds in).
Further information
Admission is free and all are welcome. The exhibition will run until 8 January 2018. For further information about the exhibition and related events please see the event's Facebook Page, as well as the Cathedral's events' information and opening hours. If you have any questions please contact rememberingrealww1@gmail.com
Lois Bibbings is Professor of Law, Gender and History at the University of Bristol, UK. She has been researching conscientious objection in the context of the military for over two decades and has published widely on the subject, including in Telling Tales About Men: Conceptions of Conscientious Objectors to Military Service During the First World War. Her next book will examine the campaign to pardon soldiers executed during WW1 (the Shot At Dawn Campaign), focusing on social movements, pardoning and miscarriages of justice. She is an Associate Editor of the Journal of Law and Society, on the Editorial Advisory Board of the Journal of Gender-Based Violence, a member of the ESRC and AHRC Peer Review Colleges and a Fellow of the Higher Education Academy.