View all news
Supporting the next generation of researchers in infection and immunity
3 February 2023
The University of Bristol's Infection and Immunity Research Network held its 8th annual Early Career Researchers' Symposium on 1 February 2023. This event offers students, postgraduates, technicians, fellows and others in the first stages of building an independent research career an opportunity to share and discuss their work with a wider audience.
Over 100 people registered to take part in this in-person afternoon event organised by the University of Bristol's Infection and Immunity Research Network, which is supported by the Elizabeth Blackwell Institute for Health Research. The event allows Early Career Researchers (ECRs) the opportunity to write and submit an abstract, go through a competitive peer review process, and deliver a presentation to an audience of students and staff from across the University, both Bristol NHS Trusts, and beyond. The process contributes to the development of a researcher's skill set, be it in the workplace or in other aspects of their life, and allows some speakers to present their work for the first time. The event offers time for wider discussions and networking across disciplines and areas of expertise, allowing all delegates to explore the many and varied projects being undertaking in this space, covering such topics as cellular mechanisms, modelling, vaccines, disease transmission and epidemiology.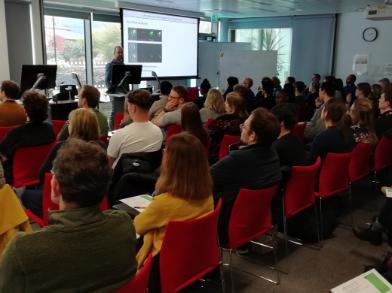 ‌
I‌mage: Ian Cadby, Lecturer in Bristol Veterinary School, delivering his talk on Mechanisms of host subversion by tick-borne Anaplasma
Overview
The programme consisted of 8 oral and 20 poster presentations from four faculties and seven schools across the University (including one speaker who is based at both Bristol and Bath) and included undergraduate and postgraduate students, Academic Clinical Fellows, Research Associates, Research Fellows and new Lecturers. We also welcomed talks from two invited keynote speakers: Dr Charlotte Odendall, a Sir Henry Dale Fellow based at King's College London, and Professor Susanna Dunachie, NIHR Global Research Professor in Infectious Diseases and Honorary Consultant in Infectious Diseases and Medical Microbiology, Centre for Tropical Medicine and Global Health, Nuffield Department of Medicine at the University of Oxford.
View the whole programme on the event's webpage: http://www.bristol.ac.uk/infection-immunity/seminars/2023/ecrsymposium.html.
Feedback on the day emphasised the excellent work and enthusiasm of our early career researchers, and the opportunity such events provide in showcasing new research across many disciplines. The symposium highlighted the fact that working across areas of expertise improves the quality and impact of the research, and that identifying commonalities sometimes requires breaking down mental barriers rather than physical ones.
Our keynotes delivered presentations that explored their career journeys as well as their current research. They explained the challenges they faced and how they overcame, or are still, overcoming them, supported by a network of friends, family and colleagues, all whilst pursuing work that continues to fascinate and engage them.
Various industrial actions on the day resulted in a need for flexibility, and two of our speakers ended up presenting remotely; despite all this, it was almost standing room only on the day.
I‌mage: Delegates browsing through the poster presentations

Prizes
Thanks to generous support from the University of Bristol's Population Health Science Institute and Stratech, we were able to offer a number of best oral and best poster prizes:
Oral prizes:
1st – Abbie Williams, PhD student, Bristol Veterinary School: Microbiome drift predicts metabolic differences in replicate experiments. This prize was sponsored by Stratech and consists of a £50 Amazon gift card.
2nd – Irill Ishak, Postdoctoral Research Associate, Bristol Dental School: Synergistic approach to inhibit bacterial infections on titanium medical implants
Poster prizes: As scoring was so close this year, we offered two joint prizes for 1st, 2nd and 3rd best posters:
1st – Dora Bonini, PhD student, School of Cellular and Molecular Medicine: Regulation of the essential cell wall component lipoteichoic acid by a small membrane protein in Staphylococcus aureus
1st – Sofia Oliveira, Senior Research Associate, School of Chemistry: Dynamical nonequilibrium simulations to investigate regulation effects in the SARS-CoV-2 spike protein
2nd - Irene Bueno, Lecturer in Wildlife Health & Conservation, Bristol Veterinary School: Antimicrobial resistance dynamics and antimicrobial use in wildlife rehabilitation
2nd – Chinelo Etiaba, MScR student, School of Cellular and Molecular Medicine: Checkpoint kinase 1 regulates neutrophil extracellular traps through post translational nuclear modifications
3rd – Ben Mulhearn, NIHR Academic Clinical Fellow in Rheumatology, Bristol Medical School: Translational Health Sciences: Excess giant cell arteritis cases are associated with peaks in COVID-19 prevalence
3rd – Hugo Swift, Placement student / technician, Bristol Medical School: Translational Health Sciences: Tetraspanin-7 autoantibodies are present in more than half of children at diagnosis of type 1 diabetes
All other prizes have been supported by the Population Health Science Institute and are cash prizes of £50 for 1st, £30 for 2nd and £20 for 3rd.
This event was possible thanks to the support of:
Elizabeth Blackwell Institute for Health Research - Nurturing Research. Improving Health.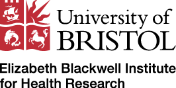 The Company of Biologists - who awarded us a small meeting grant to bring our two keynotes in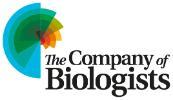 Bristol Population Health Science Institute