View all news
Healthcare: cheap disinfectant could prevent many more deaths of newborn babies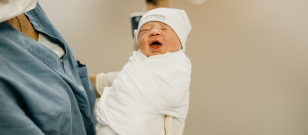 7 December 2022
Community healthcare providers in low-income countries could save more babies' lives by going beyond WHO guidance for sepsis prevention, Professor Christine Valente and Dr Hans Sievertsen's research suggests.
Healthcare policymakers and providers around the world are pouring more time and money than ever before into preventing newborn babies' deaths. And their efforts are paying off: healthcare policies played a major part in bringing down the annual number of neonatal deaths from 4.6 million in 1990 to 2.6 million in 2015.
But the rate of progress is slowing and the figures nonetheless remain a tragedy.
Recent research by University of Bristol economists Christine Valente and Hans Sievertsen offers new insights for health policy and practice that could save even more babies from sepsis, one of the biggest causes of neonatal mortality.
A simple treatment to prevent neonatal sepsis
The study raises the question of whether WHO guidelines on preventing sepsis in newborns go far enough. Sepsis kills 400,000 babies within their first 28 days of life every year – or around 15% of all neonatal deaths. This blood infection is of particular concern in low-to-middle-income countries, where 99% of the world's neonatal deaths occur.
In collaboration with Nepali demographer Mahesh Puri, Sievertsen and Valente evaluated the effects of chlorhexidine, a cheap and simple treatment that prevents sepsis in newborns.
Just one dab of this disinfectant gel applied to a baby's umbilical cord stump on the day of birth helps stop infection from taking hold. A single dose costs as little as US$0.23. The overall cost of application, including overheads, is less than US$3.
The WHO do not recommend giving chlorhexidine to all babies, however. In fact, they advise using it in only the most risky contexts. Until 2022, they only recommended chlorhexidine for homebirths, given the lower hygiene standards than in healthcare settings, and only in regions where neonatal mortality rates are over 3% – or 30 deaths per 1000 births.
These recommendations are due to a lack of scientific evidence that giving chlorhexidine to more babies would have enough benefits to justify the risks of wider use.
"Contrary to popular belief, prevention is not always desirable," Valente explains. In this case, one concern is that the disinfectant could – inadvertently – change parents' caregiving behaviour. "It might lead them to apply other, potentially harmful, substances. Or they may overlook the simple public health message of keeping the cord area dry and clean." Large-scale use also risks taking public funds away from other, potentially more pressing, areas of healthcare.
Indeed, the WHO revised this recommendation in 2022 and now advises using chlorhexidine only in settings where it is common to apply potentially harmful substances to the umbilical stump.
Valente describes how a parallel can be drawn here with the WHO's hesitancy to recommend the use of face masks at the start of the Covid-19 pandemic: "their initial caution was due to concerns over potential adverse effects, such as contamination by handling the masks, or the possibility that they would give people a false sense of security. But their advice evolved as more scientific evidence accumulated."
Evidence from Nepal's national chlorhexidine programme
Could more families benefit from chlorhexidine, however? Healthcare providers in Nepal widely give chlorhexidine to babies. Starting in 2009, the CHX-NCP programme scaled up the use of chlorhexidine to prevent neonatal sepsis across the country. The treatment is given in both home and hospital births and irrespective of local neonatal mortality rates.
The programme allowed the research team to investigate the treatment's effects on neonatal mortality using a quasi-experiment, a statistical approach to evaluating interventions pioneered by economists. This method offers a robust picture of cause and effect in 'real-life' settings that complements evidence from randomised trials.
In this case, the researchers analysed death rates among babies who had received the disinfectant with those for babies who had not.
They show that only 30% of Nepali babies would receive chlorohexidine if healthcare providers followed WHO guidance. This 30% are the babies who are most likely to benefit from chlorhexidine application. Treating them lowers Nepal's overall neonatal mortality rates by 1.1 percentage points, or by nearly a third.
But by using a machine learning algorithm to pick apart the characteristics of those who stand to benefit the most from the disinfectant, the research team also show that as many as two-and-a-half times more babies would have higher chances of survival within their first month of life if they received the disinfectant.
Re-thinking clinical guidelines for sepsis prevention
Valente and colleagues agree that it is too risky to treat all newborns with chlorhexidine due to potential backfiring effects. But their study shows that the proportion of babies who could benefit from the treatment is likely to be much higher than previously believed.
If healthcare providers used a simple targeting approach, based on the availability of antenatal and delivery services, to decide who receives chlorhexidine, 80% of babies in the study's Nepalese dataset could be treated. This would almost double the reduction in neonatal mortality.
"The WHO guidance offers a nice and simple rule," Valente says. For healthcare providers who apply it: "you can be sure you're definitely targeting the 30% or so who would benefit the most and that you're very unlikely to be giving it to anyone who would be worse off from the treatment."
But the rule is "very conservative," she adds. "You should be aware that it probably comes at the cost of missing out on helping many more children."
The WHO advice is based on existing evidence from randomised trials which are likely to underestimate the effect of chlorhexidine on survival. For obvious ethical reasons, even control groups in these trials receive much higher levels of preventive and remedial healthcare than are typical in low-income settings. "As part of these trials, research teams regularly visit the families before and after birth. And they have a protocol, which is that as soon as they detect any sign of sepsis they refer the baby to the clinic or hospital," Valente illustrates.
To further improve our understanding of chlorhexidine's effects, Valente plans to extend the research programme beyond Nepal, including into regions of sub-Saharan Africa where neonatal mortality remains very high.