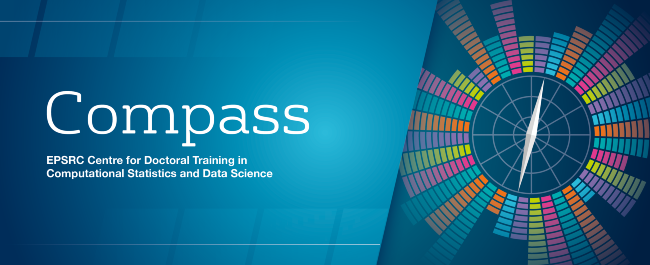 A 4-year PhD training programme in the statistical and computational techniques of data science, with partners from across the University of Bristol, industry and government agencies.
Application Deadline
Applications - September 2022 - NOW OPEN
Please use the 'Apply' pages for details on how to apply. Our next submission date for admission to a fully funded CDT place will be 16th March 2022.
The deadline for international applicants has passed; however you can still apply and be considered in the event that a place becomes available. Please make sure to submit your application before 16th March.
Compass CDT offers the opportunity to join a vibrant student community, while undertaking interdisciplinary research and developing the skills and experience to further a career in data science. Find out more about what it means to be a part of the Compass programme from our students and the opportunities the programme offers here.
Subscribe to our blog for Compass news, events, and the latest research updates direct from our students.
Watch our latest video about the Compass CDT Programme.
The Postgraduate in Artificial Intelligence Link (PAI-Link) brings together PhD students in Machine Learning, Artificial Intelligence and Data Science across the country. Discover more here.

‌