Just how tough is WASH?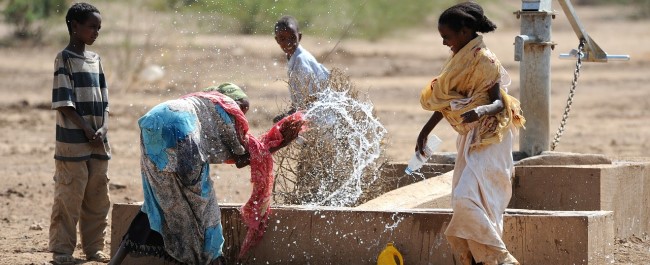 Climate change is making universal access to water, sanitation and hygiene services tougher to deliver. We must be ready to adapt.
The challenge
Access to clean water and sanitation is recognised as a fundamental human right and enshrined in the UN's Sustainable Development Goals. While access is rising globally, climate change is presenting new, as-yet uncertain challenges to the delivery of these essential services.
For those managing the supply of water, sanitation and hygiene (WASH), climate change – often perceived as taking place over extended timeframes – isn't always seen as the pressing problem that it is. More frequent precipitation extremes are already occurring, causing flooding and droughts with immediate and significant impacts on the provision of critical WASH services.
Building resilience to fluctuating water levels in rural areas of low and middle-income countries is far from straightforward. With most services underpinned by simple technologies, supplies are easily contaminated or disrupted by extreme weather. Without appropriate knowledge and protection, communities are at greater risk from a range of diseases.
What we're doing
As the effects of climate change intensify, it's becoming increasingly important to understand and address the public health consequences of limited resilience for water and sanitation services.
At present, there are no reliable measures of WASH resilience to help communities, governments and international agencies respond appropriately to service delivery issues. So we're developing a suite of indicators to assess how well water and sanitation services can cope with climate change.
Working in Nepal and Ethiopia, our project incorporates expertise from a range of different specialisms, such as social science, engineering, climate science and mathematical modelling, to help stakeholders prepare for the future. Studying 20 sites in each country over 18 months, we're analysing existing water and sanitation data and investigating a variety of factors that, together, can enhance ongoing reliability, safety and security of supply.
How it helps
We're collaboratively developing models that delve into the relationship between climate, WASH infrastructure and disease to better understand current resilience and mitigate against potential risks.
In consultation with national bodies and international organisations, the tools and guidance our research generates will point the way to safe, reliable provision of water and sanitation. The framework we're creating scores the resilience of influential activities across key domains, including the environment, service management, community engagement, supply chains and national policy. By producing a single, combined score, our assessment framework helps stakeholders deliver more stable, secure services for the future.
Visit the How Tough is WASH? project page.
Investigators
Professor Guy Howard (PI)
Dr Eunice Lo
Dr Dann Mitchell
Dr Adrian G Flint
Dr Maria Pregnolato
Dr Hermes Gadelha

Lead researcher profile
Professor Guy Howard, Global Research Chair Environmental and Infrastructure Resilience
Partner organisations
Haramaya University, Ethiopia (Dr Abraham Gemerew)
Kathmandu University, Nepal (Professor Subodh Sharma)
Funders
University of Bristol QR GCRF