Outreach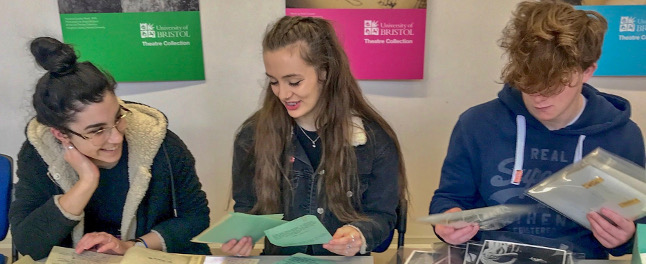 We're passionate about giving school students of all ages opportunities to explore, learn and get enthused about studying the Arts, Humanities and Languages at Bristol.
Subject specific outreach activity
For further information about our subject specific outreach activities please visit our school outreach pages or get in touch via email.
Find out all you need to know about the University of Bristol at one of our undergraduate open days.
Current events
Virtual Platform of Outreach resources
We have created an online platform of resources for students in Year 11 and 12. Register your interest here to gain access to taster sessions on subjects in the Faculty of Arts and our student support sessions on finance, student experiences, study skills, and live engagement opportunities with current undergraduate students.
If you are a teacher and would like to keep updated with all our current outreach activities, please sign up to our Sign up for our Schools Outreach newsletter here.
Online A-Level Platform
We are creating an online platform of resources for A-Level students over the summer term.
Register your interest here
to gain access to our student support sessions, including student Q&A sessions and talks on finance, the student experience, study skills, course-specific taster sessions across all Faculties and live engagement opportunities. This will be regularly updated with new sessions so keep an eye out for new content.
Virtual Undergraduate Open Day
Are you in Year 12 and thinking of applying to Bristol? Visit us at our Virtual Open Day on September 17 to find out more about the University. Register your interest for this event here.