Events
Working together to solve the great poultry industry challenges by 2026
Winterbotham Darby Animal Health and Welfare Day, 7 March 2019
Progressing animal welfare was the focus of the 4th Animal Health and Welfare Day jointly hosted by the University of Bristol Veterinary School and continental meat supplier Winterbotham Darby. This annual event brought vtogether a wide range of people from across the sector
Topics included: technology used in farms to identify welfare issues, psychology of eating meat/dissonance, feed - a sustainable future, freedom farrowing, halal slaughter, labelling - customer attitudes, the cost to manage, enrich and improve environments for farm animals, African Swine Fever, health status of farm animals using volatile organic compounds and fluid borne markers. Delegates had a to tour the pig and poultry facilities and abattoir. See the presentations from the day here
David Houghton, Technical Director for Winterbotham Darby, added: "We are really excited to host this event in conjunction with the University of Bristol. Each year we see our delegate list grow - a testament to the fact that this is the only event of its kind. We want this event to be a facilitator of change and to motivate; we want to raise the profile of the challenges and solutions that we need to face into when it comes to animal welfare. Whilst it is a complex issue we're really pleased that so many delegates are keen to join us."
---
Winterbotham Darby Animal Health and Welfare Day, 8 March 2018
Progressing animal welfare was the focus of an Animal Health and Welfare Day jointly hosted by the University of Bristol Veterinary School and continental meat supplier Winterbotham Darby. This annual event, now in its third year, brought together academics, researchers, NGOs, major retailers, journalists and industry partners across the food sector.
---
Poultry facility opening event, 24 January 2018
New CIEL poultry facility was opened by Dr Sue Armfield from BEIS. Over 40 guests from agritech and retail industries attended the afternoon. After a welcome lunch, visitors were given a tour of all livestock research facilities followed by tea and a special CIEL cake at 4pm after the opening ceremony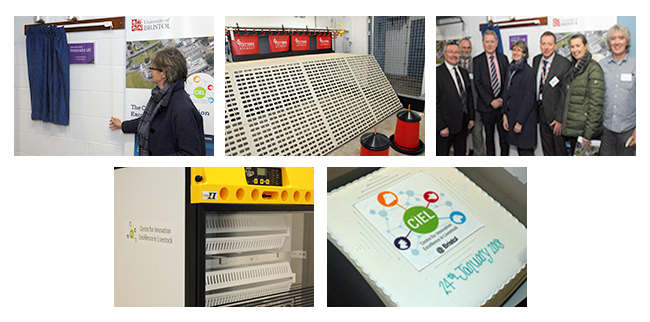 ---
Calf and youngstock meeting, 15 August 2017
Stoneleigh, Coventry. The meeting was attended by both industry and academic CIEL partners to discuss particular issues around calf and youngstock rearing.
---
Nottingham University, 5 June 2017
This event showcased the new CIEL facility for dairy research. The meeting was attended by industry and academic members. The full facility is due to open in March 2018
News article
Event flyer - The future for dairy cow nutrition and health (PDF, 704kB)‌
---
Industry seminar: 26 October 2016 10:30-5pm
Langford Campus @ University of Bristol
This one day industry seminar took place on on 26 October hosted by CIEL Poultry @ Bristol to focus on research needs for an innovative, sustainable and productive poultry industry.
The event was an opportunity for interested parties in industry and academia to share information on the latest research and developments. It also enabled the poultry industry to work with academia, to set the agenda for research designed to solve the big challenges in the industry, over the coming decade. Over 60 delegates attended the event of which over 40 were representatives of all corners of the poultry industry from Feed and equipment suppliers to breeders and major retailers.
The enclosed agenda, event photos, presentations and workshop session notes capture the essence of the event.