View all news
New £1M poultry research facility aims to improve bird welfare and help consumer confidence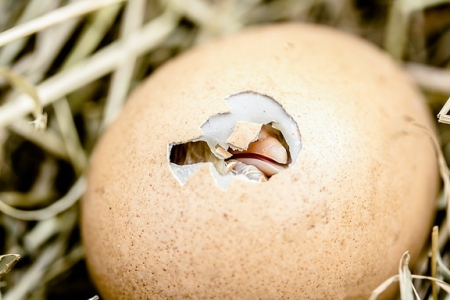 Press release issued: 24 January 2018
A new £1M state-of-the art poultry facility offering specialist, industry-focused research into both laying hen and broiler health, welfare, behavior and productivity, will open today [Wednesday 24 January] at the University of Bristol's Veterinary School.
The new CIEL poultry facility, which features fully-monitored and controlled hatching housing, compliments Bristol's existing specialist facilities for cattle, pig, sheep and aquaculture.
The new facility also forms part of the Centre for Innovation Excellence in Livestock (CIEL), a national consortium comprising 12 research institutes across the UK, funded by Innovate UK, to develop new industry-needed solutions as well as commercial trial farms for real world results.
Professor Richard Hammond, Head of the Bristol Veterinary School, said: "Bristol Veterinary School has world class expertise and over three decades of experience working with industry to help address the challenge of livestock heath and, welfare and production. This new facility marks a step change by providing the very best research facilities to improve poultry welfare and sustainable productivity."
Dr Andy Butterworth, Poultry specialist research lead at the University of Bristol, said: "The unit will help extend our collaborative work on housing design and welfare assessment to develop innovative ways to optimise egg production and business performance through improved health, welfare and nutrition as well as bridging the gap between commercial systems and small-scale experimental units, combining industry standard housing with poultry monitoring, at a flock and an individual level."
The facility will be formally opened by Dr Sue Armfield of the Department for Business, Energy and Industrial Strategy with University of Bristol Dean Jonathan Sandy of the faculty of health at 4 pm on Wednesday 24 January at the Bristol Veterinary School, Langford House, Langford, Bristol BS40 5DU.
Further information
About CIEL
CIEL is one of the UK's four Agri-Tech Centres established as a key pillar of the government's Agri-Tech Strategy. They are funded through Innovate UK, the UK's strategic innovation agency, and are a partnership between industry and academia.
CIEL works with 12 of the UK's leading livestock research institutions, including SRUC, and a group of industry Members spanning the entire food supply chain from farmers to processors and retailers. CIEL aims to use these collaborative partnerships to enhance and accelerate business-led innovation, as well as inspire and identify opportunities that could lead to the development of new products, services and techniques that can benefit the entire supply chain. More information can be found at: www.cielivestock.co.uk
About Innovate UK
Innovate UK helps businesses to identify the commercial potential in new technologies and turn them into the new products and services that will generate economic growth and increase productivity. For further information and to stay updated on our latest news visit www.gov.uk/innovateuk, follow us on Twitter at @innovateuk or subscribe to our YouTube channel at www.youtube.com/InnovateUK.