Type 1 Diabetes TrialNet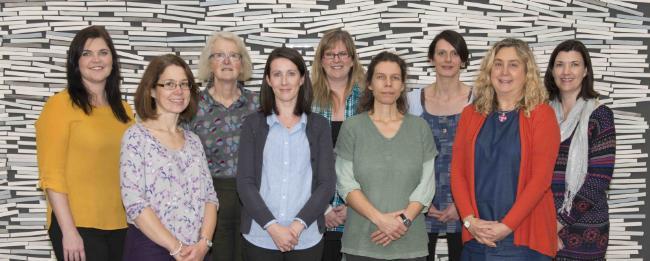 Staff at the Bristol coordinating centre
TrialNet is an international network of sites throughout the United States, Canada, Finland, United Kingdom, Italy, Germany, Australia, and New Zealand. This network is dedicated to the study, prevention, and early treatment of type 1 diabetes.
Bristol is the coordinating centre in the UK, with more than 20 sites including Newcastle, Norwich, Birmingham, Belfast, Cambridge, Bournemouth, Liverpool, Exeter, Sheffield, Leicester, Aberdeen, Manchester, Harrogate, Taunton, East Lancashire, Nottingham, Southport & Ormskirk, Plymouth, Brighton, Hull & London.
TrialNet has three studies ongoing in the UK: the Natural History Study (Pathway to Prevention TN01) The Abatacept Study and LIFT Study.

We are recruiting close family members of people who have diabetes because they are likely to be at higher risk of developing it themselves. The aim of the study is to learn more about how diabetes occurs by looking at early markers of diabetes in the blood.
The study is in two stages:
Screening
You will be told about the study and asked for a blood sample which will be tested for autoantibodies. If these are present further follow up will be offered in the next stage of the study. If no antibodies are present and you are 18 or older, no more participation in the study is required. If you are under 18 you will be offered an annual re-screen.
Monitoring
This is offered to all people who are found to have one or more antibodies at screening. This includes an oral glucose tolerance test and further antibody and genetic testing. Follow up tests will then be carried either every six months or annually (depending on your level of risk assessed from the tests) until the onset of diabetes or the end of the study.
Read our fact sheet (PDF, 506kB) for more information (PDF, 284KB).
For further information regarding the Abatacept and LIFT Studies, please click on the links below:-
Contact the Team
To learn more about the programme, visit the international TrialNet website.
If you would like to find out more about taking part in any of the trials in the UK, contact the TrialNet team.
Email: Trialnet-uk@bristol.ac.uk
Tel: +44 (0)117 41 47920