Medieval Players Archive
Overview
The Medieval Players began life as a student theatre company in the 1970s, the Cambridge Medieval Players (CMP), experimenting with the performance of medieval texts. In 1980 original CMP members Carl Heap and Dick McCaw founded the Medieval Players as a professional touring venture. At the outset the company worked with a number of plays from the English and Continental Medieval and early Renaissance repertoire, including new verse translations provided by poets Adrian Mitchell and Edwin Morgan. The group branched out later into dramatic adaptations of works such as Langland's Piers Plowman and Rabelais' The Marriage of Panurge.
The Medieval Players developed an eclectic artistic policy for an actors' theatre, inspired by the travelling touring ensembles of the late middle ages. Acrobatics, stilt-walking, fire-eating, juggling, singing, dancing, and full and direct engagement with the audience through use of booth and trestle staging were characteristic elements of productions. Another highly experimental feature was the early decision to perform many medieval texts in their original dialect.
Solely a touring outfit, the Medieval Players maintained a strong commitment to finding and entertaining as wide an audience as possible, and performed in venues from the Outer Hebrides to the Australian Outback. By the mid 1980s they had established a reputation for exciting and innovative theatre, and were widely regarded as a highly successful venture. However, despite critical acclaim, as the decade wore on the company found itself in a continual struggle for adequate funds from both the Arts Council and corporate sponsorship. It was wound up in early 1993.
What the collection holds
The archive covers both the business and performance records of the company. The business papers include annual reports, directors reports, financial records, grant applications and correspondence; while the production records include scripts, publicity material (programmes, posters, flyers), stage plans tour information, photographs, and press cuttings.
The online catalogue for this collection can be viewed here:
MP - The Medieval Players Archive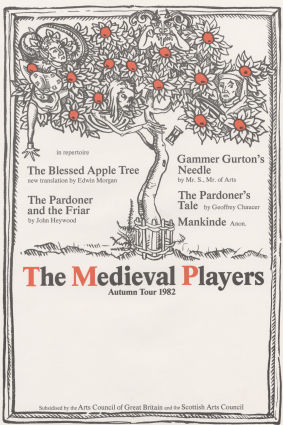 Further information
The University of Bristol Medieval Plays in Modern Performance project "2MP" was formed as an international collaborative research project under the auspices of the World Universities Network to capture the archives of these early theatrical experiments. More can be seen on this project here
Related material in our collection includes:
External sites which are related to this collection include: