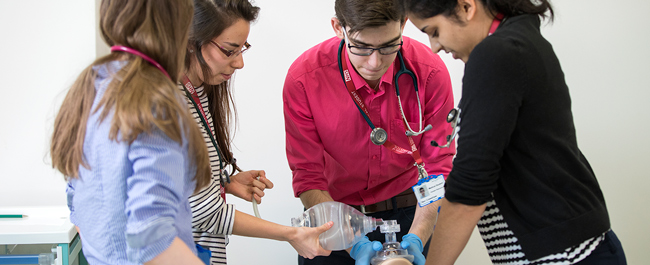 Pathways to Health Sciences is a programme for students interested in studying Medicine, Dentistry or Veterinary Science at university.
Pathways to Health Sciences
What can I expect?
Pathways to Health Sciences will consist of a wide variety of sessions designed to give you an insight into our health science programmes.
You will take part in academic taster sessions, delivered by our leading academics and current students. You will also have the opportunity to practice clinical skills and talk to professionals from your chosen field.
In addition to the academic and professional sessions, the programme will provide you with personal statement and interview workshops to help you prepare for your application to university.
Applying to Pathways to Health Sciences
Applications to Pathways to Health Sciences are now closed and will reopen in September 2020.
Applications for Pathways to Health Sciences are submitted via the Access to Bristol application form. You must ensure you meet the Access to Bristol entry requirements and apply by the advertised deadline.
This is an eighteen-month programme, which means we can only accept students who will be studying at school or college for the next two years. The programme will consist of approximately ten sessions during Year 12, with a further four sessions taking place in Year 13. If you are accepted onto the scheme, you will be provided with a timetable with details of each session.
If you are studying an Access to HE course which is one year in length, we encourage you to apply. If you are selected, the programme manager will talk to you about taking part in a condensed programme.
If you have any questions about the entry requirements or how to apply please contact us at pathways-to-health-sciences@bristol.ac.uk
Guaranteed interviews and guaranteed offers at the contextual level
Successful completion of the Pathways to Health Sciences scheme will entitle you to a contextual offer for all undergraduate courses, which is usually two grades lower than the typical offer.
Applicants to Medicine or Dentistry programmes at the University of Bristol will also secure a guaranteed interview, provided that you meet the minimum entry requirements of the course (this includes your predicted grades meeting the contextual offer grades).
Veterinary Science applicants will receive a guaranteed offer, provided that you meet the minimum work experience criteria and the minimum entry requirements of the course.
Bursary
If you successfully complete the Pathways to Health Sciences programme and firmly accept your offer to study at the University of Bristol you may be eligible for the Access to Bristol bursary, which currently consists of a maintenance bursary of £3,855 for each year of your course.
To be considered for the bursary you need to be a UK Home Fees student with a household income of £25,000 or below. No bursary is paid in any year where you are entitled to NHS funding as part of your course.