View all news
'It's never too late to follow your passion': Imogen on Uni path 13 years after leaving school early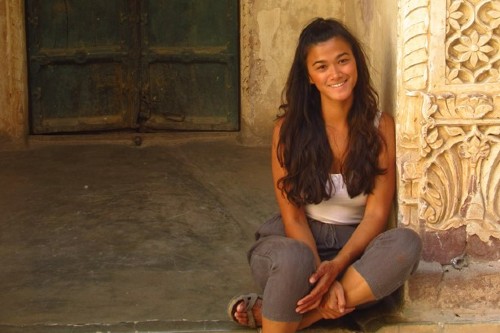 Press release issued: 15 September 2021
A student starting university 13 years after leaving school early says "it is never too late to follow your passion".
Imogen Griffin has praised the power of adult education to transform lives as she prepares to start a degree in social policy and sociology at the University of Bristol.
The 30-year-old put her dreams of university on hold aged 17 after difficult family circumstances meant she had to leave school in Gloucestershire to find a job.
After more than a decade working various jobs, along with a stint travelling through Asia, Imogen decided it was time to reignite her passion for learning.
That is when she found Bristol Scholars, a University of Bristol outreach programme that provides free academic tuition, guidance on applying to university and a range of other support to prospective students in Bristol with academic potential.
Spaces on the scheme are allocated in collaboration with local headteachers based on students' academic potential. This recognises that some people have overcome particular challenges and have every chance of succeeding at the University.
"In many ways I'm glad I didn't go to university at 18," Imogen said.
"If I had I'd probably have studied geography and would not have had the life experience or passion to learn that 13 years in the working world has given me – I just wasn't that studious as a teenager!
"Working instead of going to university is great but I always wanted a job that fitted well with my values – for instance working for an NGO or charity – and a degree can really catapult you toward that."
Imogen quit her comfortable job within the energy industry in July 2020 and took an Access to HE Diploma encompassing history, sociology and english literature at City of Bristol College, a place full of staff who are "amazing and inspiring".
She also got in touch with the Bristol Scholars scheme, where she was given private tutoring and helpful advice on getting into the University of Bristol.
Despite working multiple jobs while studying, Imogen received distinctions in all three subjects, and secured herself a place at the University, where she will continue to be supported by Bristol Scholars.
"After a decade out of education and a pandemic in the background, I can't describe how proud I was when I got my grades," she said.
"If it wasn't for the University's Scholarship programme and the staff at the College I couldn't have done it. The extra tuition was really helpful and the support I was given gave me a lot of confidence.
"It's been an amazing experience finding my way back to education – and I haven't even started university yet! It goes to show that it's never too late to follow your passion. Adult education really is an amazing thing.
"I'm now really excited to start my degree, to find like-minded people, join some of the societies – especially the volunteering and yoga societies - and to just get stuck into university life."