View all news
Bristol Engineering Students Recognised as Inspiring Future Leaders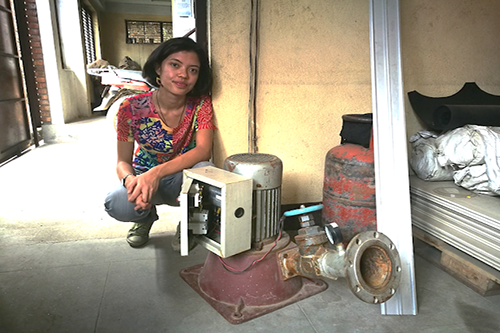 2 May 2019
Nine Engineering students from the University of Bristol have been selected as 'inspirational role models to the next generation of engineers' by the Royal Academy of Engineering (RAEng).
After applying with students from across the UK, Daniel Rodrigues, Sophie Myers, Amy Ruffley, Helen Inman, Topaz Maitland, Alex Reeve, Frances James, Patrick Sullivan and Jack Trevail have each earned one of only 35 prestigious RAEng Leaders Scholarship awards given out annually.
The objective of the RAEng Leaders Scholarship scheme is to allow ambitious, inspiring engineering undergraduates, who want to become leadership role models, to undertake an accelerated personal development programme. In order to help fast track their engineering careers, the winners receive mentoring and £5,000 from the RAEng towards training and experience, over a period of three years.
Following preliminary selection through a written application process, seventy students were invited to the final selection stage at the RAEng Headquarters in London. This involved a day of interviews and problem solving tasks to evaluate both their leadership potential and ability to make a positive impact on society through their future engineering careers.
The students are all studying on the University of Bristol's Engineering Design degree programme, which aims to equip graduates with the skills needed to lead multidisciplinary engineering projects. The course enables students to specialise in Mechanical, Aerospace and Civil Engineering, whilst also undertaking multidisciplinary design projects and industrial placements with a range of companies.
Professor Ian Bond, Dean of Engineering, speaking about the students' success, said: "The quality and ability of all our engineering students never ceases to amaze me. They consistently show dedication and the pursuit of excellence in all their endeavours. These awards are yet another example of how Engineering at Bristol is committed to producing the leading technologists of the future. My congratulations to these RAEng Leaders Scholarship awardees."
The students already have firm ideas on how they'd like to use the award.
Helen Inman and Topaz Maitland are both keen to attend training courses on entrepreneurship to help achieve their goal of developing their own startup companies. Topaz is currently doing a year in industry placement in Nepal, working with a charity to develop a small-scale hydropower turbine for rural communities, and returned to the UK just to take part in the final RAEng Scholarship selection event.
Sophie Myers, Amy Ruffley, Frances James, Alex Reeve and Jack Trevail all plan to attend conferences and training events linked to their interests in international development and sustainability. For example, Sophie plans to attend the summer course on 'Engineering for Sustainability' at the University of Southern Denmark this summer whilst Amy and Frances hope to do overseas placements with international development charities.
Daniel Rodrigues plans to pursue his interests in robotics and automation by attending events such as the Conference on Robotics and Automated Systems to learn about state-of-the-art technologies in robotics and machine learning.
Patrick Sullivan is keen to use the funding to help promote his involvement in STEM engagement.
Speaking about his plans, Patrick said: "There is a pool of untapped engineering talent, aged 16 to 18, at underprivileged state schools, and, alongside my own career aspirations, I aspire to help bridge the skills gap. I will look to communicate the opportunities of an engineering education to A-Level students who are unable to receive any insight of the profession from any family or school staff."
Further information
About the Royal Academy of Engineering
Founded in 1976, The Royal Academy of Engineering promotes the engineering and technological welfare of the country. Our fellowship - comprising the UK's most eminent engineers - provides the leadership and expertise for our activities, which focus on the relationships between engineering, technology, and the quality of life. As a national academy, we provide independent and impartial advice to Government; work to secure the next generation of engineers; and provide a voice for Britain's engineering community.