View all news
University schools win Silver Athena SWAN Awards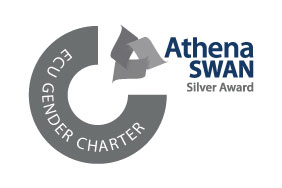 8 May 2018
Three of the University's schools have successfully gained Silver Athena SWAN Awards in the November 2017 submission round, recognising their ongoing commitment to gender equality.
The Silver Award is based on a rigorous review of a detailed self-assessment document, including data on recruitment and retention of staff and students, an action plan and personal case studies. A total of 21 Silver Awards were made to academic departments across the UK; these awards bring Bristol's SWAN total to 10 Bronze and three Silver.
The School of Mathematics has successfully risen from Bronze to Silver this year, thanks to a series of initiatives to support the working environment and career development of female students and staff. Its weekly Women in Maths lunch, introduced in 2002, was recently extended to non-binary people, and the School now funds the national 'Women in Mathematics: Opportunities for the Future' conference, designed to interest female and non-binary undergraduates in PhD study. To increase the number of female role models the School has also set targets for women seminar and conference speakers and ensures balanced representation at undergraduate and postgraduate Open Days. The Mathematics action plan includes initiatives designed to ensure fair outcomes of recruitment processes and to promote work-life balance in the School.
Professor Jens Marklof, Head of School, said: 'This Silver Award recognises the School's clear commitment that all our students and staff must be able to reach their full potential, irrespective of gender and background. This is particularly relevant in Mathematics, where we have a historic under-representation of women. We have set ourselves ambitious targets to achieve this, and I'd like to thank the School's Athena SWAN team for preparing a comprehensive action plan that will serve as a benchmark for our future success.'
The School of Biochemistry has also risen from Bronze to Silver through a range of activities that have positively impacted on the working environment.
Professor Kate Nobes, Head of School said: 'This award matters to us because we take the culture of equality, diversity and inclusion very seriously. The preparation of this award was a true team effort drawing together the whole School with representation from students, academics and professional and technical staff. We used the application as an opportunity to look closely at the culture within the school, celebrating the things we do well and identifying the things we could do better. We have given ourselves a challenging new set of goals to build on this success. We have come to understand that creating a positive work environment sits at the centre of our success, and I look forward to continuing the work of the Athena SWAN legacy over the coming years.'
The Bristol Medical School – created in August 2017 by the merging of the former Schools of Clinical Sciences and Social and Community Medicine (both Silver Award holders) and teaching staff from Medical Education – applied as a new department and was also awarded Silver.
Professor Sarah Purdy, Head of School, said: 'I am delighted that the Medical School has achieved an Athena SWAN Silver Award. We were truly fortunate to have such enthusiastic and motivated members of the self-assessment team to help with this process, from analysing our annual staff and student survey data and organising discussion groups to promoting various equality initiatives within the School, engaging with secondary schools, the general public and external consultancies, writing reports and promoting examples of staff and students with different work patterns and work-life balance. I would like to thank everyone involved and look forward to working with students and staff to deliver our plans to further increase equality, diversity and inclusion within the School'.
Further information