View all news
Seeing isn't always believing: The Impossible Garden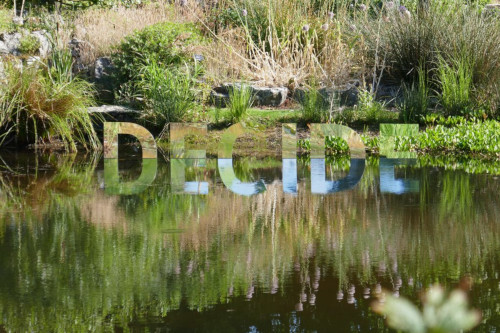 Press release issued: 12 July 2018
The Impossible Garden is a unique set of new experimental sculptures, by artist Luke Jerram, inspired by visual phenomena. The exhibition aims to enhance our understanding of vision and opens to the public tomorrow [Friday 13 July] at the University of Bristol Botanic Garden.
As visitors explore the garden, they will discover 12 engaging art exhibits, designed to help promote understanding and stimulate debate about how visual impairments can affect our perception of the world around us.
The unique idea of The Impossible Garden came about after Luke's nine-month residency at the Bristol Eye Hospital and Bristol Vision Institute (BVI), funded by the Leverhulme Trust. Luke applied for the residency together with Cathy Williams, a member of BVI and a Consultant in Paediatric Ophthalmology at Bristol Eye Hospital. Cathy hopes this exhibition will encourage greater public understanding about the many processes involved in "seeing", because families tell her that lack of understanding is often a barrier to getting support for children with many kinds of visual impairment.
As part of the residency, Luke (well-known for the Museum of the Moon and street pianos artwork Play Me I'm Yours), worked with researchers from the University of Bristol's BVI, Bristol Eye Hospital, Botanic Garden and spent time with visually-impaired children to increase his knowledge of visual perception.
Luke Jerram said: "As someone who is red-green colour blind, I'm fascinated by the processes of visual perception. Over the years, many of my artworks have explored the processes and limitations of vision. The Impossible Garden has allowed me to test new ideas and share my findings with the public."
Professor David Bull, Director of Bristol Vision Institute, added: "The collaboration with Luke is a fantastic opportunity for us to explore the power of visual illusions. Understanding how they work can tell us a lot about the properties and limitations of our visual system."
The Impossible Garden at the University of Bristol Botanic Garden, The Holmes, Stoke Park Road, Stoke Bishop, Bristol BS9 1JG, will be open to the public from Friday 13 July to Sunday 25 November 2018 from 10 am until 4.30 pm, 7-days-a-week, including bank holidays.
Admission is £5.50 (includes 50p gift aid donation) and free to under 18s, Friends of the Garden, University of Bristol staff and ALL students. All organised groups of ten or more must book in advance with the Botanic Garden.
Further information
Arrival at the Botanic Garden
Parking is available on Stoke Park Road and around the Downs (five hours free parking). For Blue Badge holders and those with restricted mobility parking is available in the walled garden car park. For further details on public transport visit http://www.bristol.ac.uk/botanic-garden/visit/find-us/
About Bristol Vision Institute
Bristol Vision Institute (BVI) is the home of vision science research in Bristol and has been successfully stimulating research interaction and collaboration in science, engineering, arts and medicine since its creation in 2008. It brings together some 170 associates from engineering, computer science, biological sciences, psychology, ophthalmology, history of art, film & television and medicine with the aim of addressing grand challenges in vision research.
About Luke Jerram
Luke Jerram's multidisciplinary practice involves the creation of sculptures, installations and live arts projects. Living in Bristol but working internationally for 20 years, Jerram has created a number of extraordinary art projects which have excited and inspired people around the globe.
Luke is known in the city for the giant waterslide 'Park and Slide' he installed down Park Street in 2014 and the flotilla of fishing boats exhibited in Leigh Woods for the Bristol Green Capital 2015. The artwork 'Withdrawn', acted as an events space and installation artwork for the public to explore.
Last year his installation 'Play Me I'm Yours' saw 20 street pianos placed across the city for everyone to play. Currently Museum of the Moon is touring the world. The artwork has just returned from the Commonwealth Games in Australia and touring India with the British Council.
About the University of Bristol Botanic Garden
The Botanic Garden has a strong evolutionary theme and cultivates over 5,000 plant species forming four core collections that illustrate plant evolution, plants from Mediterranean climates, useful plants (including Chinese and Western herb gardens) and rare and threatened native plants to the Bristol area.
Star attractions include an amazing dell demonstrating the evolution of land plants including the dinosaurs' favourite plants: ginkgos, cycads, tree ferns, monkey puzzles and the Wollemi Pine. Other delights include glasshouses, home to giant Amazon water lilies, tropical fruit and medicinal plants, orchids, cacti and a unique sacred lotus collection.
The contemporary design of the Botanic Garden, its strong focus on educational and interpretation of science make it a unique place for the Impossible Garden exhibition.
The Botanic Garden is accessible to wheel-chair users and the brochure will be available in audio and braille.
About Bristol Eye Hospital
Bristol Eye Hospital is one of the country's leading specialist hospitals with an international reputation for the treatment of diseases of the eye, and highly respected as a pioneer in research, education and clinical practice. The hospital, run by University Hospitals Bristol NHS Foundation Trust, is supported by a wide range of staff including 29 consultant ophthalmologists, seven speciality doctors, optometrists, trainee doctors, clinical fellows, pharmacists and nurse practitioners.
Both adult and children are treated at the Bristol Eye Hospital for conditions including age-related macular degeneration, ocular motility, glaucoma, cataracts, uveitis, 440 emergency retinal detachment repairs per year involving children, young people and adults, the treatment of ROP in premature babies and more. Emergency care is given on site seven days a week, in the hospital's accident and emergency department, with an average of 36 emergency surgeries carried out each month.
To find out more about Bristol Eye Hospital, visit their page on the University Hospital's Bristol NHS Foundation Trust website.