View all news
Bristol launches the new Faculty of Life Sciences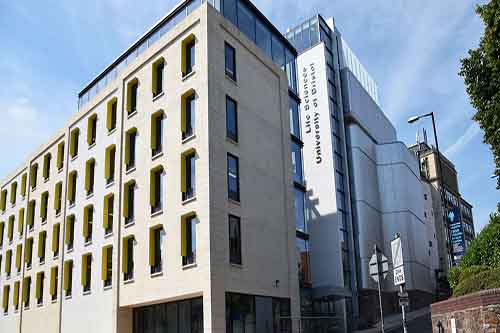 Press release issued: 1 August 2018
The start of August sees the creation of a brand-new faculty at the University of Bristol – the Faculty of Life Sciences.
The new faculty brings together the five Schools of Biochemistry, Biological Sciences, Cellular and Molecular Medicine, Physiology, Pharmacology and Neuroscience and Psychological Science to deliver research and teaching activity at all scales of the life sciences: molecular, cellular, tissue, organ systems, behavioural, social and societal.
Its creation is part of the University's Vision and Strategy to become a life sciences destination for students, academics and research funding.
The Faculty of Life Sciences will deliver a range of challenging, research-focused, undergraduate and postgraduate programmes (both accredited and non-accredited), all taught in the context of world-leading research environments. It will also make significant contributions to three professional programmes (Medicine, Dentistry and Veterinary Science) which are run by the Faculty of Health Sciences, with the two faculties working closely together in their delivery.
Research in the new faculty will address a range of the important challenges in the life sciences. From tackling ecosystem and global change, to innovation in fundamental biosciences for better human, animal, plant and ocean health; from understanding animal and human behaviour and wellbeing to developing future synthetic biotechnologies and so driving the UK's bioeconomy.
Commenting on its creation, Vice-Chancellor Professor Hugh Brady, said: "Bristol has long been recognised as a centre of Life Sciences. The University is at the heart of that, not least because of our world-leading research and the relationships we have with the city's specialist teaching hospitals, but also our close connection with the BBC's Bristol-based Natural History Unit.
"The new Faculty of Life Sciences will stimulate even greater collaboration across all elements of the life sciences, from the cellular and molecular through to the social and societal, enhancing our reputation for research-rich life sciences education and teaching."
The new faculty is host to BrisSynBio, a £13.6M BBSRC/EPSRC-funded synthetic biology centre. Life Sciences staff are also key investigators in other major Centres of Excellence at Bristol including the £10M MRC-funded Integrative Epidemiology Unit and £21M NIHR-funded Biomedical Research Centre. Researchers are centrally involved in the Bristol Neuroscience and Bristol Vision Institute research groupings, as well as being major contributors to three of the seven University of Bristol Specialist Research Institutes (SRIs): Bristol BioDesign, Bristol Cardiovascular Sciences and Bristol Population Health Sciences.
It also has strong strategic relationships with several external partners including the BBC's Natural History Unit, where several academics have contributed to programmes such as Blue Planet.
The new Faculty of Life Sciences will be led by Professor Jeremy Tavaré as Dean. Professor Tavaré is a Biochemist and was previously the founding Director of the Elizabeth Blackwell Institute and the Director of Research (Health & Life Sciences) at the University of Bristol.
"Professor Tavaré is a world-class scientist and a natural leader. He is held in high-esteem by the research and university community and is the most natural choice to lead the new Faculty of Life Sciences and implement this vision for the University," said Vice-Chancellor Professor Brady.