View all news
Wind energy project receives a boost with £1.2 million award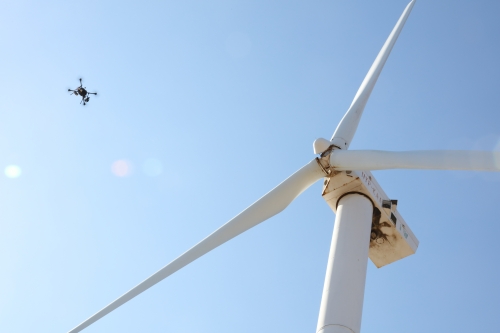 Press release issued: 20 November 2017
A collaboration between University of Bristol engineers and a company founded by Bristol graduates has been awarded a £1.2 million to develop a surface inspection system for offshore wind turbines using drones.
Wind is a key renewable energy resource and the number of wind turbine farms is rapidly increasing. An important element in this expansion is the development of efficient methods for inspecting and maintaining turbines. Up to now, this has relied heavily on labour intensive and costly manual inspection, with inspectors climbing turbines, often in hazardous offshore conditions.
Perceptual Robotics, a company based at the Bristol Robotics Laboratory (BRL), is developing an automated inspection system based on drones fitted with cameras to address this problem. They have teamed up with the University's Visual Information Lab to develop advanced techniques for 3D tracking to support drone navigation.
The consortium, which also includes ASV Global and VulcanUAV, have been awarded £1.2 million from Innovate UK's flagship programme on robotics and artificial intelligence in extreme environments as part of the Government's Industrial Strategy Challenge Fund.
Perceptual Robotics was started by Bristol alumni Dimitris Nikolaidis, Kevin Lind and Kostas Karachalios, graduates in mechanical engineering, and Dr Tom Richardson, Senior Lecturer in Flight Mechanics in the University's Department of Aerospace Engineering. The University research will be led by Dr Andrew Calway, Reader in Computer Vision, and an expert on techniques for localising and navigating autonomous systems.
Kostas Karachalios, Project Manager at Perceptual Robotics, said: "This award will make a significance difference to our development plans by allowing us to expand our systems into offshore operation and using the expertise in state-of-the-art tracking provided by the University team."
Dr Richardson added: "This is a real boost for the company and a good example of the success that can result from the entrepreneurial drive of Bristol graduates."
Dr Calway, from the Department of Computer Science, explained: "Robotics is a fast-moving area, with new advances happening every day. If robotics is to benefit industry, then knowledge transfer through close collaboration between companies and universities is essential.
"This type of partnership also focuses our research activities on challenging real-world problems, which benefits us and the company. It is great to see a company, started by University graduates, working in such a worthwhile area as renewable energy."
Further information
About Bristol Robotics Laboratory (BRL)
Bristol Robotics Laboratory (BRL) is the most comprehensive academic centre for multidisciplinary robotics research in the UK. It is a collaborative partnership between the University of Bristol and the University of the West of England (UWE Bristol), and home to a vibrant community of over 200 academics, researchers and industry practitioners. Together, they are world leaders in current thinking on service robotics, intelligent autonomous systems and bio-engineering. An internationally recognised Centre of Excellence in Robotics, BRL's state-of-the-art facilities cover an area of over 4,600 sq. metres (50,000 sq. feet).
About Visual Information Lab (VIL)
The Visual Information Laboratory at the University of Bristol has an international reputation based on fundamental and applied research and collaborates widely. Within the University collaboration is primarily through the Bristol Vision Institute, the Communication Systems and Networks Research Group and the Bristol Robotics Laboratory. The Group also has a strong track record of collaborating externally with academia and industry, through EPSRC, Innovate UK and EU funding. It combines fundamental research with exploitation, creating impact through patents and licensing.