View all news
Postgraduate researchers share their work with hundreds of visitors at Research without Borders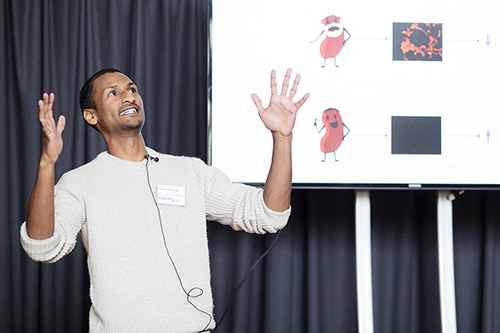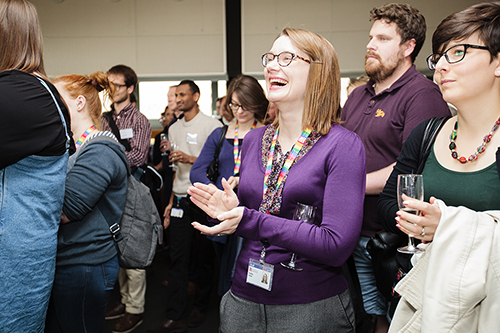 22 May 2017
Almost 100 University of Bristol students took part in Research without Borders 2017, our annual festival of postgraduate research.
Research without Borders 2017 brought postgraduate researchers together across different disciplines to showcase their work through a week-long series of events. The discussions and exchanges that took place also served to strengthen research that is underway.
A discussion series, in collaboration with the University Research Institutes, was led by 16 students working on global challenges from different approaches. The series included a discussion on antimicrobial resistance – one of the major health challenges that we face today – chaired by Dr Matthew Avison.
Professor Rich Pancost, Director of the Cabot Institute, led another discussion on the impact of environmental change, where four students shared their work on sea level rise and the disappearing islands in the South Pacific.
A public exhibition took place in Colston Hall, with students sharing their work through interactive displays, activities, exhibits and live science-based demonstrations. More than four hundred visitors explored the pioneering research taking place at the university.
The 3MT® competition finals saw eight researchers compete to deliver their research findings in just three short minutes. A panel of expert judges selected Alfie Wearn, a second-year PhD student, as the winner for his presentation on predicting Alzheimer's disease.
He said: "I love being able to explain my research to people who are not familiar with the topic. The research being done at the university is extremely exciting, and it's great to be able to share that excitement with others."
Professor Nishan Canagarajah, Pro Vice-Chancellor for Research and Enterprise, said: "From health and disease to climate change, security and social injustice, today's challenges are not confined by borders; geographical, disciplinary or otherwise. These far-reaching issues demand far-reaching solutions. Our postgraduate research students play a key role in developing the latest research underway here in Bristol."
Grace Edmunds, 1st year PhD, Biomedical Sciences, said: "As Post-Graduates we are all guilty of becoming wrapped up in the minutiae of our project from time to time, and Research Without Borders is a fantastic way to escape from that. Engaging with the public and with PGRs from so many diverse fields reminded me about why I love what I do, and the whole event made me proud to be part of this fantastic research community".
Further information
See images from the festival on our Flickr album, read our Storify story, and catch Research Without Borders on this Made in Bristol film.
Three Minute Thesis winners:
Judges Winner
Alfie Wearn,School of Clinical Sciences, Health Sciences, 'Predicting Alzheimer's disease: is a deficit in long term memory consolidation the earliest behavioural sign of dementia?'
People's Choice Winner
Syamir Alihan Showkat Ali, Department of Mechanical Engineering, Engineering, 'Flow and noise: engineering for the better environment'.
Exhibition prize winners:
Winner of Best Communication
Kate Oliver, for her exhibit 'Printing materials that change shape'
Notable mentions for best communication
Grace Edmunds, for her exhibit 'Cancer immunology: the art of cell defence'
Alison Bard, for her exhibit 'The future of veterinary communication: partnership or persuasion?
Jessye Aggleton, for her exhibit 'Hands-on humans: what can hand bones tell us about our use of tools and technology?'
Winner for most engaging display
Samantha Saunders, for her exhibit 'Fighting feline foes: steps towards tackling feline coronavirus'
Notable Mentions for most engaging display
Tina Williams, for her exhibit 'Suffering in silence'
Jade Boyd, for her exhibit 'Colour in Lorca's theatre'
George Hutchins, Jonnie Jenkins, Richard Stenner and Jack Steventon (As part of the Anderson research group), for their exhibit 'Synthetic Biocatalysts: designing artificial enzymes from scratch'