View all news
Researchers to create biomimetic forebrain for 3D-printed robot hands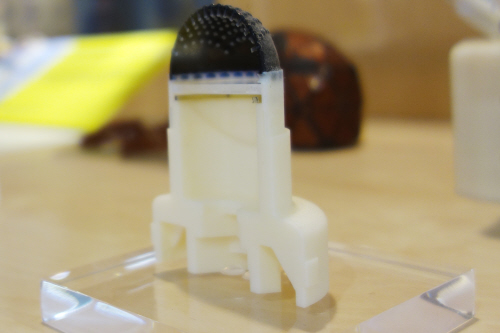 Press release issued: 21 March 2017
A team of researchers is to develop a biomimetic forebrain for controlling 3D-printed robot hands with a sense of touch. They aim to create a biomimetic forebrain based on computer modelling of a mammal's neural system that communicates touch in humans and animals, and use this to perform general manipulation tasks in robots.
The £1 million research project, funded by the Leverhulme Trust under the Research Leadership Award scheme, will be led by Dr Nathan Lepora from the University of Bristol and Bristol Robotics Laboratory (BRL). The five-year research program on 'A biomimetic forebrain for robot touch' will apply leading neuroscience, psychology and philosophy of the brain to develop a biomimetic forebrain embodied on a 3D-printed robot hand, aiming for human-like tactile dexterity.
The development of effective robot hands with a sense of touch is crucial for future technology: without human-like tactile dexterity, robots will not be able to solve the interactive tasks predicted for advanced manufacturing, such as autonomous assembly lines; assisted living, including personal robot helpers; food production, for example picking and sorting robots; and healthcare, such as nursing and surgical robots. Robots currently cannot do these tasks because no one knows how to combine what the hands are feels and how they control their action. Yet clearly, this problem has been solved in the human brain and hand.
Dr Nathan Lepora, Senior Lecturer in Robotics at the University of Bristol and BRL and leader of the Tactile Robotics research group said: "People see a robotics revolution happening but many things won't be achieved if robots don't have hands that they can use to dexterously control the world around them through a sense of touch.
"It's about bringing together tactile hands and algorithms based on how the brain works. Why is it so difficult? The human hand has evolved over tens of millions of years. People's intelligence has evolved in tandem with their hands to give them their unique role in the animal kingdom of being able to manipulate their surroundings so profoundly. So replicating that in a robotic device is both a challenge and an inspiration."
The Tactile Robotics research group at Bristol Robotics Laboratory researches aspects of tactile sensing from hardware design to biomimetic and AI algorithms for perception and control. The group's recent work on an open-source 3D-printed fingertip, which can 'feel' in a similar way to the human sense of touch, won Harvard University's international Soft Robotics competition for its contribution to soft robotics research.
A 3D-printed tactile robot hand from the group is on display in the Robots exhibition at the Science Museum in London.
Further information
About The Leverhulme Trust Research Leadership Awards
The Leverhulme Trust Research Leadership Awards enable the creation of a team whose 'research may significantly change the established landscape in a particular field of inquiry'. One application is selected from each University across the UK to enter the competition, from which 10-15 awards of up to £1 million are made every three years.
About The Leverhulme Trust
The Leverhulme Trust was established by the Will of William Hesketh Lever, the founder of Lever Brothers. Since 1925 the Trust has provided grants and scholarships for research and education; today it is one of the largest all-subject providers of research funding in the UK, distributing approximately £80 million a year.
For more information: www.leverhulme.ac.uk | @LeverhulmeTrust
About Bristol Robotics Laboratory (BRL)
Bristol Robotics Laboratory (BRL) is the most comprehensive academic centre for multi-disciplinary robotics research in the UK. It is a collaborative partnership between the University of Bristol and the University of the West of England (UWE Bristol), and home to a vibrant community of over 200 academics, researchers and industry practitioners. Together, they are world leaders in current thinking on service robotics, intelligent autonomous systems and bio-engineering. An internationally recognised Centre of Excellence in Robotics, BRL's state-of-the-art facilities cover an area of over 4,600 sq. metres (50,000 sq. feet).