View all news
Find out how bees get a buzz out of coffee?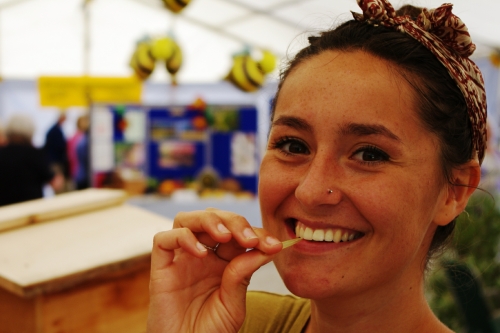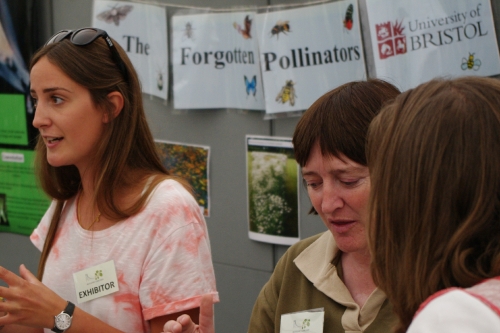 Press release issued: 30 August 2017
Bees, butterflies, moths, bats and birds will take centre stage at the University of Bristol's Botanic Garden this weekend [2 and 3 September] for its annual Bee and Pollination Festival. Visitors to the Garden will have the opportunity to find out how industrious and vital these workers are and how flowers use caffeine, forms of traffic control and floral imposters to attract pollinators.
Current research has shown that plants manipulate their pollinators in many ways, using scent, taste, appearance or even mind-altering chemicals to persuade pollinators to visit them.
At least 1,500 species of insects, including bumblebees, honeybees, hoverflies, wasps, butterflies and moths, pollinate plants in the UK. Insect pollination is important to produce many crops, including apples, strawberries and tomatoes, but these vital insects are under threat from multiple pressures including loss of habitat, intensive farming, pesticides and disease.
Coffee plants contain tiny amounts of caffeine in their nectar which enhances the bee visitors' memory of that taste and encourages them to visit other coffee flowers. Bee orchid flowers, on the other hand, mimic a female bee in scent and appearance to attract the male bee.
Research is also being carried out on the antibacterial effects of manuka honey. Since ancient times, honey has been used as a wound salve and for a variety of other medical purposes. Antimicrobial resistance is an increasing clinical problem and researchers are considering natural compounds for possible alternatives.
Nick Wray, Botanic Garden Curator, said: "Current research into the behaviour and foraging patterns of bees is giving us a new understanding of the life and work these small insects carry out in pollinating our food crops and maintaining healthy ecosystems. Much of this research is done by Bristol researchers, who will be discussing their findings at the Festival.
"Why not come along, it's a chance to meet the talented young people who are finding out new things about how our natural world works, that will ultimately affect our ability to grow enough food for all of us."
The Bee and Pollination Festival is an opportunity for tasting and guessing the origins of different types of honey from around the world. The Bristol Branch of the Avon Beekeepers Association will stage its annual Bristol Honey Festival, with displays of honey and bee products. A live hive will give visitors an insight into the workings of the honeybee along with talks and displays on the importance of keeping bees. While honey is a major feature, exhibitors will also explain the importance of beeswax and other bee products.
An important feature of the weekend is a series of talks in the Linnaeus Study Room. Keynote speakers include Jane Memmott, Professor of Ecology and Dr Marc Holderied from the University's School of Biological Sciences, who together with colleagues are carrying out research on bees along with other vital pollinators including bats, moths and beetles.
The Botanic Garden will welcome to the Festival for the first time members of the Bristol and North Somerset Botanical Painting Society, who will be exhibiting and selling paintings of nectar rich plants that are attractive to native bees.
Other main exhibitors include the School of Biological Sciences, Mad Apple Cider, Avon Wildlife Trust, Avon Organic Group, Kelvin Bush Orchids, Neal's Yard Remedies, nurseries selling insect-friendly plants, wildlife charities and botanical artists.
Demonstrations during the Festival range from beekeeping techniques to learning how to build insect hotels. For children there's a bee trail, a mask making workshop and everyone can try their hand at weaving willow sculptures.
There will also be the opportunity to view the Chatwin: Martin art/science exhibition before it closes on 14 September. The exhibition, entitled 'Every third mouthful'' highlights the fact that our food supply is under threat due to human activity. Wild indigenous bees occupy keystone positions as pollinators and sustain most terrestrial landscapes.
The Bee and Pollination Festival will take place at the Botanic Garden at The Holmes, Stoke Park Road, Bristol, BS9 1JG on Saturday 2 and Sunday 3 September 2017 from 10 am to 5 pm.
Admission is £6 (Gift Aid payment) or £5.40 (non-Gift Aid payment) and includes tours of the Garden and glasshouses; free to University staff and retired staff, Friends of the Botanic Garden, students and children under 18. Refreshments will be available throughout the Festival.
Further information
Please note, on Saturday 2 September there will be road closures due to a concert on the Downs. Full details of travel advice for the Saturday can be found here.
About the Botanic Garden
The Botanic Garden has a strong evolutionary theme and cultivates over 4,500 plant species forming four core collections that illustrate plant evolution, plants from Mediterranean climates, useful plants and rare and threatened native plants to the Bristol area.
Star attractions include an amazing dell demonstrating the evolution of land plants including the dinosaurs' favourite plants: ginkgos, cycads, tree ferns, monkey puzzles and the Wollemi Pine. The glasshouses, home to the giant Amazon water lily, tropical fruit, medicinal plants, orchids, cacti and the unique Sacred Lotus collection. Other delights include the Chinese and Western herb gardens and an inspiring display of plants illustrating floral diversity.
Opening times
Until the end of October the Garden is open from 10 am until 4.30 pm for seven days a week including bank holidays.
Admission is £5.50 (Gift Aid payment)* or £5 (non-Gift Aid payment); free to University staff and retired staff, Friends of the Botanic Garden, students and children under 18.
*The adult gate entry fee of £5.50 includes a 50p voluntary donation which UK taxpayers' can pay, allowing the Botanic Garden to benefit from a 25 per cent refund of tax from the government on each adult ticket
Dogs (except registered disability assistance dogs) are not permitted in the Botanic Garden.
The garden is largely accessible for wheelchairs and mobility scooters with a designated path leading around the garden and glasshouses. Disabled toilet facilities are available on site.
Pre-booked guided tours of the garden for groups of ten upwards are available seven days a week. Please contact the garden for further information. There is a charge for the guide.
Directions to the Botanic Garden
From the city centre go to the top of Whiteladies Road, at the junction and traffic lights go straight ahead across Durdham Down towards Stoke Bishop. At the traffic lights go straight ahead and take the first turning on the right into Stoke Park Road, The Botanic Garden at the Holmes is 150 metres on the right.
Members of the public wishing to support the work of the Botanic Garden should join the Friends of the Garden. For more information go to the Friends of the Botanic Garden or write to Susan Redfern, The Membership Secretary, 24 Dublin Crescent, Henleaze, Bristol BS9 4NA.