View all news
Botanic Garden the place to bee this weekend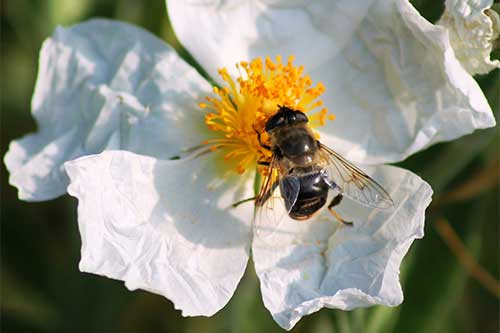 Press release issued: 2 September 2015
Insect pollination is important for the production of many crops, including apples, strawberries and tomatoes, but these important insects are under threat from multiple pressures including loss of habitat, intensive farming, pesticides and disease. A festival this weekend aims to show how people can help the 1,500 species of insects, including bumblebees, honeybees, hoverflies, wasps, butterflies and moths that pollinate plants in the UK.
The Bee and Pollination Festival will take place at the University of Bristol's Botanic Garden at The Holmes, Stoke Bishop, Bristol, on Saturday 5 and Sunday 6 September 2015 from 10 am to 5 pm.
Scientists, councils and conservation organisations in Bristol are aiming to reverse the decline in insect numbers by working together to promote a joined-up approach to pollinator conservation across the city.
Several of these projects are being showcased at this year's Festival and Professor Jane Memmott, Head of the School of Biological Sciences, will be talking about the role of pollinators in the kitchen and all the different foodstuffs that insects need to pollinate before we can eat them.
Partners Avon Wildlife Trust, Bristol City Council (BCC), Bristol Friends of the Earth, Buglife, South Gloucestershire Council, the University of Bristol and the University of the West of England have developed the Greater Bristol Pollinator Strategy, which will provide a mechanism for people to work together to protect existing habitat, increase the amount of pollinator habitat across the Greater Bristol urban area and also raise awareness of the importance of insect pollinators among the public, business and private landowners.
The strategy is part of the Get Bristol Buzzing initiative which will link together activities related to pollinator conservation throughout Bristol's year as European Green Capital and into the future. The initiative builds on many successful projects already underway in Bristol including the University of Bristol's Urban Pollinators Project, which has been researching pollinators in Bristol over the last three years and BCC's Meadow Bristol project.
The Urban Pollinators research has recently been featured in the European Commission's Science for Environment Policy. Their research compared the pollinator communities found in three landscapes: urban areas, farmland and nature reserves. The project collected data on pollinators in and around 12 towns and cities throughout the UK.
Nick Wray, Curator at the Botanic Garden, said: "This event will highlight the important role that bees have in pollinating plants and the numerous ways in which we can help them to carry out this vital role. A world without strawberries, apples and chocolate, which rely on insect pollination, would be bleak indeed."
During the Festival there will be many opportunities for honey lovers to taste and guess the origins of different types of honey from around the world. The Bristol Branch of the Avon Beekeepers Association will stage its annual Bristol Open Honey Show and Festival with displays of honey and bee products. A live hive will give visitors an insight into the workings of the honeybee along with talks and displays on the importance and pleasure of keeping bees. While honey is a major feature, exhibitors will also explain the importance of beeswax and other bee products.
Because orchids have developed such highly specialised pollination systems, two orchid specialists, the Writhlington School Orchid Project and Kelvin Bush orchids will show the relationship between pollinators and flowers in a display of orchids. These highly sought after plants often employ complex, frequently deceptive strategies to achieve success, including mimicry to attract male pollinators.
A variety of nurseries will be selling insect-friendly plants for all types of gardens, from a window box to a mansion, including the garden's corporate member, Cleeve Nursery and its Pickup Pollinators truck planted up with edible plants that rely on bees and other pollinating insects.
The Festival does not just focus on UK issues. In line with the Botanic Garden's mission objectives which are to educate, communicate and conserve, the display by the Bees for Development Trust will demonstrate how it undertakes practical projects overseas to develop people's knowledge of how to create reliable income from bees and beekeeping. A couple of bee colonies can generate income that allows a family to buy essential medicine or send a child to school.
Other exhibitors include: Mad Apple Cider, who will be providing tastings; Riverford Organic Farms; Neal's Yard Remedies; Avon Organic Group; Bristol Naturalists' Society; RSPB; Friends of the Downs and Avon Gorge, garden metalwork sculptor, Willa Ashworth and ceramicist, Renée Kilburn.
This year two well-known artists will be participating in the Festival. Cath Hodsman's intricate art is aimed at celebrating British wildlife, in order to further the cause of its conservation and also to celebrate its beauty and diversity. She is best known for her love of entomology (insects). The accuracy and detail that she achieves in her artwork has also earned her Membership with the prestigious Society of Biology. Her display will include a wide-range of fascinating specimens, microscopes and macro photographs.
Jenny Brooks, a botanical art tutor at the Botanic Garden, became a full member of the Society of Botanical Artists this year. She teaches an annual structured course covering the main elements of line, tone, form, texture, mixing colour, watercolour technique and composition, enabling students to develop their understanding of the creative skills required when drawing and painting from observation of plant form.
On the Sunday [6 September], Mike Feingold of Royate Hill Community Orchard and Bristol Permaculture Group, will be demonstrating apple pressing and mashing and visitors are invited to bring their own apples to make their own juice.
Free demonstrations and talks will take place throughout the Festival that will range from beekeeping techniques and the workings of a live hive, to research projects about urban pollinators, how to build insect hotels and weave enchanting willow sculptures.
Tours will be offered throughout the weekend giving visitors the chance to see and learn something new about the garden which will be ablaze with September colour, including many autumn flowering salvias, anemones, grasses, toad lilies and hardy bromeliads. Light refreshments available.
The Bee and Pollination Festival at the University of Bristol's Botanic Garden, The Holmes, Stoke Park Road, Stoke Bishop, Bristol BS9 1JG, will take place Saturday 5 and Sunday 6 September from 10 am to 5 pm. Light refreshments will be available.
Entry to the festival is £4.50 adults; free to University staff and retired staff, Friends of the Botanic Garden, students and children under-16.
For further information tel 0117 331 4906 or email botanic-gardens@bristol.ac.uk
Further information
About the Botanic Garden
September: Open Monday to Sunday from 10 am to 4.30 pm [except for events].
October: Open Monday to Friday and Sunday from 10 am to 4.30 pm. Closed Saturday.
November and December: Open Monday to Friday from 10 am to 4 pm or dusk if earlier. Closed on Saturday and Sunday except for advertised winter tours.
Admission is £4.50 adults; free to University staff and retired staff, Friends of the Botanic Garden, students and children under 16.
Teas will be available on the terrace until the end of September for Garden visitors, served from the Devers room in the Holmes.
Dogs (except registered disability assistance dogs) are not permitted in the Botanic Garden.
The garden is largely accessible for wheelchairs and mobility scooters with a designated path leading around the Garden and glasshouses. Disabled toilet facilities are available on site.
The garden also offers private day, evening and weekend guided tours for groups of ten upwards and gardening or any other leisure clubs. Please contact the garden for further information. There is a charge for the guide.
Directions to the Botanic Garden
From the city centre go to the top of Whiteladies Road, at the junction and traffic lights go straight ahead across Durdham Down towards Stoke Bishop. At the traffic lights go straight ahead and take the first turning on the right into Stoke Park Road, The Botanic Garden at the Holmes is 150 m on the right.
Members of the public wishing to support the work of the Botanic Garden should join the Friends of the Garden. For more information go to the Friends of the Botanic Garden or write to Susan Redfern, The Membership Secretary, 24 Dublin Crescent, Henleaze, Bristol BS9 4NA.