View all news
Bristol academics support international climate talks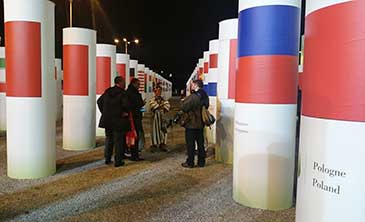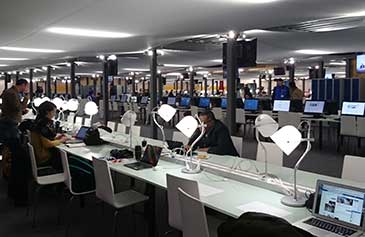 3 December 2015
Academics from the University of Bristol Cabot Institute are representing the University at the Conference of Parties (COP21), the United Nations climate change conference in Paris.
COP21, which runs until 11 December, is reviewing the framework for action aimed at stabilising atmospheric concentrations of greenhouse gases in order to avoid dangerous climate change.
Professor Rich Pancost, Director of the Cabot Institute, is supporting Bristol's Mayor George Ferguson and representatives from Bristol City Council in the Cities and Regions Pavilion in Le Bourget from 4 to 11 December.
The Pavilion is hosted by Paris and Bristol and facilitated by ICLEI – Local Governments for Sustainability, an international association of local governments that have made a commitment to sustainable development. It is acting as a focal point at COP21 for local and regional governments to showcase transformative projects that tackle climate change.
As the UK's first European Green Capital in 2015, Bristol is one of 88 cities and regions in 42 countries to present its ambitious sustainable action projects. A key focus of Bristol's agenda will be to discuss proposed targets for the city to become carbon neutral by 2065.
Professor Pancost said: 'COP21 represents the vital next step in solving our greenhouse gas emission and climate change challenges, but the negotiations alone cannot provide all of the solutions. As a society, we will have to cut emissions faster and deeper than our current commitments. Cities are central to this challenge – they will be charged with delivering on pledges and providing leadership and innovation. Academics and scientists are key partners in helping to develop smarter future planning of cities. That is why I am excited to be participating in the Cities Pavilion with Bristol City Council and the Mayor.'
Professor Pancost added: 'Our participation is not just about research collaboration, however. I am also representing the University's students, staff and leaders. We are all deeply committed to working with the city and others to address the challenge of climate change.'
Other Cabot Institute academics are involved in COP21. Professor Dave Gordon, from the School for Policy Studies, has signed an academic position statement for COP21 on behalf of the University's Townsend Centre for International Poverty Research. This position statement is being supported by the International Social Science Council (the world's governing body for the social sciences under the auspices of UNESCO) and aims to push the case for socio-political and socio-cultural issues to be given greater consideration in the global sustainability debate.
Dr Jo House from the School of Geographical Sciences presented her research on land use and climate at the science–policy interface, and Professor Jonathan Bamber from the Bristol Glaciology Centre spoke on ice-sheet vulnerability at a press conference of the Scientific Committee on Antarctic Research/Arctic Monitoring and Assessment Programme and also in a side event for delegates. Dr House commented: 'We have had scientific consensus for a long time. Now we have political consensus, as 157 countries understand the immediate risks to all people of the world, and have come forward with plans to tackle climate change.'
Bristol alum Kaia Rose is producing a film for a Climate Countdown web series that follows the people who are crafting paths toward a pivotal global climate change agreement at the COP21. Professor Pancost will feature in this series.
The University of Bristol will be covering COP21 throughout the conference period via the Green Capital website.
Follow @cabotinstitute, #COP21, #UoBGreen, #Action2015, #WeAreReady on Twitter for live updates.
Professor Pancost is also providing daily updates via the Cabot Institute blog.
Further information
About Cabot Institute
The Cabot Institute carries out fundamental and responsive research on risks and uncertainties in a changing environment. We drive new research in the interconnected areas of climate change, natural hazards, water and food security, low carbon energy, and future cities. Our research fuses rigorous statistical and numerical modelling with a deep understanding of social, environmental and engineered systems – past, present and future. We seek to engage wider society by listening to, exploring with, and challenging our stakeholders to develop a shared response to 21st Century challenges.