View all news
£150,000 to research impacts of volcanic ash on UK nuclear sites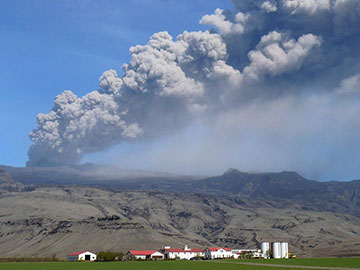 Press release issued: 16 October 2014
The likelihood and potential impacts of volcanic ash on nuclear generating sites in the UK will be investigated by researchers from the University of Bristol in partnership with EDF Energy, thanks to a £150,000 grant from the Natural Environmental Research Council (NERC).
The project will quantify the likelihood of volcanic ash being deposited on UK nuclear sites from volcanoes surrounding the UK, including Iceland, Italy and Greece, and as far away as the Azores and Canary Islands.
The research will characterise the impact of ash on site structures, components and operations, and estimate the transport time of ash to the UK for different weather patterns and conditions.
The University of Bristol team includes staff from the Schools of Earth Sciences and Mathematics, and the Cabot Institute. The EDF Energy team is drawn from Safety, Research and Development and Meteorology specialists.
Project Principal Investigator Dr Jeremy Phillips said: "This project is a truly multidisciplinary exchange of new knowledge between academic scientists and safety and hazard professionals within the power generation sector. The results will help inform preparedness for protecting and maintaining power supplies during future volcanic events."
The project will use volcano history information from previous research initiatives led by Bristol scientists, including the Global Volcano Model project, and computer simulations to predict volcanic ash dispersal. A particular focus will be on understanding the impacts of less-frequent, larger eruptions.
Project Co-Investigator Dr Susanna Jenkins commented: "The project will make use of state-of-the-art numerical simulations, new databases of volcanic activity and expert judgement to quantify the ash hazard for UK nuclear sites and to identify ash thresholds pertaining to adverse consequences. The approach developed will be applicable to other locations and site types in the future."
Paul Tucker from EDF Energy added: "When considering the potential effects of hazards on our plant, we need to think about 'the worst that could happen', characterised by us as a 1 in 10,000 year event. Using the expertise of the Bristol team in volcanology and numerical modelling, along with our own safety and plant experts gives us a fantastic opportunity to characterise such an extreme event. This will help identify appropriate mitigating actions to protect against such an occurrence."
The University of Bristol project investigators also include statistician Dr Jonty Rougier and Cabot Professor of Risk Professor Willy Aspinall. The project will be managed jointly by EDF personnel and members of the University of Bristol Nuclear Research Centre.
About the Cabot Institute
The Cabot Institute carries out fundamental and responsive research on risks and uncertainties in a changing environment. It drives new research in the interconnected areas of climate change, natural hazards, water and food security, low carbon energy, and future cities. Its research fuses rigorous statistical and numerical modelling with a deep understanding of social, environmental and engineered systems – past, present and future. It seeks to engage wider society by listening to, exploring with, and challenging its stakeholders to develop a shared response to twenty-first Century challenges.