View all news
Five Bristol scientists named among "the world's leading scientific minds"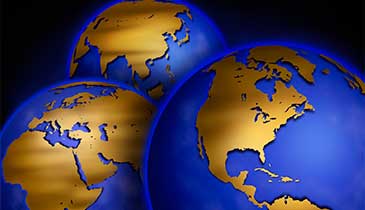 Press release issued: 6 August 2014
Five University of Bristol academics have been named by Thomson Reuters as among the top one per cent of scientists who are "the world's leading scientific minds" and whose publications are among the most influential in their fields.
The five academics listed are:
Thomson Reuters identified the best and brightest scientists by analysing citation data over the last 11 years [2002 to 2012]. The resulting report, The world's most influential scientific minds: 2014, lists 3,200 individuals across 21 fields who have published the highest-impact work that is most frequently acknowledged by their peers. These papers rank in the top one per cent by citation for their field and year of publication. It is precisely this type of recognition by peers, in the form of citations that makes this recognition meaningful.
Thomson Reuters, in their report, said: "The identification of these individuals is rooted in the collective, objective opinions of the scientific community. Fellow scientists, through their citations, give credit to these people and their work."
Professor Nello Cristianini is a current holder of a European Research Council Advanced Grant. He has wide research interests in the area of computational pattern analysis and its application to problems ranging from genomics, to computational linguistics and artificial intelligence (AI) systems. He has contributed extensively to the field of kernel methods. His current research covers the large scale analysis of media content (news and social media), using various AI methods, and the implications of Big Data.
Epidemiologist, Professor George Davey Smith, is the Scientific Director of the Children of the 90s study, also known as ALSPAC, a long-term health research project that enrolled 14,000 pregnant mothers in 1991 and 1992, and has followed the health and development of their children ever since. He is also Director of the MRC Integrative Epidemiology Unit (IEU) that conducts some of the UK's most advanced population health science research. He is internationally recognised as the prime developer of "Mendelian randomization", a now widely used approach that utilises genetic variation to uncover modifiable causes and treatment of disease.
Professor Stephen Mann FRS is Director of the Centre for Organized Matter Chemistry, Director of the Centre for Protolife Research and Principal of the Bristol Centre for Functional Nanomaterials. He is a founder of biomimetic materials chemistry, and is distinguished for contributions to biomineralization and for pioneering the bioinspired synthesis and self-assembly of functional nanostructures and hybrid nanoscale objects. His research interests are focused on the chemical synthesis, characterization and emergence of complex forms of organized matter, including models of protocell assembly.
Dr Wendy McArdle's research projects include the Accessible Resource for Integrated Epigenomics Studies (ARIES) and managing the DNA banks for the Avon Longitudinal Study of Parents and Children (ALSPAC) and the 1958 Birth Cohort (BC) study. ARIES is a BBSRC-funded resource to generate epigenomic information on a range of human tissues at multiple time points across the life course. ALSPAC is a Wellcome Trust/Medical Research Council (MRC) funded long-term health research project for which the ALSPAC families have provided a vast amount of genetic and environmental information over the years. The Wellcome Trust/MRC funded 1958 BC study follows the lives of 17,000 people born in England, Scotland and Wales in a single week of 1958. As Head of DNA collections, Dr McArdle's inclusion in this list underlines the importance of the DNA bank for each of these major genetic epidemiology studies.
Professor Jeremy O'Brien holds the Royal Academy of Engineering Chair in Emerging Technologies and is Director of the Centre for Quantum Photonics. In April he was awarded the 2014 EPSRC RISE Leadership award and last year he was awarded the Institute of Physics Bates Prize for achievements in the field of quantum effects in optical systems. In October 2013 he was identified by The Financial Times as one of the next big names in physics. His research includes developing quantum computers that eventually could outperform the most powerful electronic supercomputers.
To learn more about the methodology behind the listing of Highly Cited Researchers, visit http://highlycited.com/.
Visit ScienceWatch.com to download The world's most influential scientific minds: 2014.
Further information
The academics research can be found at:
Professor Nello Cristianini
Professor George Davey Smith
Professor Stephen Mann
Dr Wendy McArdle
Professor Jeremy O'Brien
About The world's most influential scientific minds: 2014
The report is based on two separate studies, both drawing on data and commentary from Thomson Reuters bibliometric experts viaInCitesTMEssential Science IndicatorsSM, the world's leading web-based research analytics platform. The analysts used a unique compilation of science performance metrics and scientific trend data based on journal article publication counts and citation data from the Web of ScienceTM, the premier web-based platform for scientific and scholarly research.
The first analysis, an annual study performed by Thomson Reuters, spotlights the scientific community's emerging trends and the innovators behind them by ranking the scientists who recently published at least 15 papers with notably higher levels of citations. The 2014 list was identified by tabulating citations that were recorded during calendar year 2013 for papers published between 2011 and 2013.
The second, longer-range study updates the world's most influential researchers listing, also known as the most Highly Cited Researchers. Thomson Reuters collaborated with Shanghai Jiao Tong University and producer of the Academic Ranking of World Universities to create the Highly Cited Researchers listing for 2014.
About Thomson Reuters
Thomson Reuters is the world's leading source of intelligent information for businesses and professionals. We combine industry expertise with innovative technology to deliver critical information to leading decision makers in the financial and risk, legal, tax and accounting, intellectual property and science and media markets, powered by the world's most trusted news organisation. Thomson Reuters shares are listed on the Toronto and New York Stock Exchanges.