View all news
2012/13 Engagement Award winners announced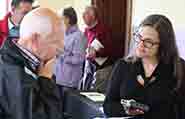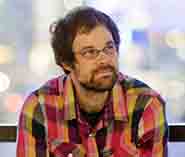 6 June 2013
The winners of the University of Bristol's 2012/13 Engagement Awards have been announced.
The winners of the University of Bristol's 2012/13 Engagement Awards have been announced. The Awards, sponsored by the Society of Merchant Venturers and judged by the Engaged University Steering Group, are given in two categories: Group and Individual.
Last spring 'Know your Bristol' encouraged Bristolians to bring their city's history to life through a series of events across the city in which local people explored the varied histories of their own communities. The initiative grew out of Professor Bickers' involvement with Bristol City Council's Know Your Place community mapping project, directed by Peter Insole. A large team of researchers and students ran a series of roadshows in collaboration with Insole and with local heritage and other groups. Events included a look at the history of Arnos Vale Cemetery, Kings Weston House and its neighbourhoods, about the the Hillfields and Lockleaze estates, and the history of visiting Bristol Zoo. Members of the public were invited to bring along photographs, documents, film and memorabilia as well as their memories and stories, and student and staff volunteers were on hand at each event to record oral testimonies and to photograph the documents and objects brought in. The initiative was funded by the Arts & Humanities Research Council's Research for Community Heritage initiative, and has spawned a series of continuing events.
"We have all learned a lot about the city, but also about what matters to the people who live here,' said Professor Bickers. 'The team is very pleased that its work has been recognised in this way, and would like to thank also the hundreds of individuals and the dozen or so different groups who have worked with us.'
Highly commended in the Group category were:
Individual category joint winners: Dr David Glowacki (School of Chemistry) and Dr Pauline Heslop (Norah Fry Research Centre)
Dr David Glowacki's danceroom Spectroscopy project (dS) is a fully immersive experience that gives people a glimpse of the normally invisible atomic world. Using a suite of algorithms inspired by methods used in quantum dynamics and molecular vibrational spectroscopy (the use of light to obtain information about matter), dS interactively translates the movements of its audience into light and sound. From its beginnings at Bristol's Watershed and Arnolfini (supported by the Engineering and Physical Sciences Research Council), dS has featured in major cultural settings across the world (including the London 2012 Cultural Olympiad, London's Barbican and New York City's World Science Festival), and continues to grow and develop. It recently received support from Arts Council England for a 2013 international tour. Dr Glowacki has also used dS to teach university students about chemical dynamics, and has delivered presentations discussing chemical physics and spectroscopy to non-specialist audiences.
'dS has provided an excellent example of how art can be used to drive engagement with rigorous science, and how science can provide compelling artistic content,' said Dr Glowacki. 'Myself and the dS team are delighted to receive this award as we tour the world in the coming year.'
Dr Pauline Heslop led the Confidential Inquiry into premature deaths of people with learning disabilities (CIPOLD), a three-year project (2010-2013) funded by the Department of Health and tasked with investigating the avoidable or premature deaths of people with learning disabilities. Its aims were to review the patterns of care people received in the period leading up to their death and look at ways of avoiding premature death in the future.
'I am delighted that the University has recognised our work in this way,' said Dr Heslop. 'Although it is an individual award, I feel that the credit must go to the whole of the Confidential Inquiry team, and to everyone who has supported our work in their many and various ways.'
Highly commended in the Individual category were: Tamsin Edwards and Suzi Gage.
Peter Rilett, Master of the Society of Merchant Venturers, said: 'We are delighted to once again support the University of Bristol's engagement with the public. We are always surprised and delighted by the breadth of entries, and we offer our congratulations to Professor Bickers and his team, and to Drs David Glowacki and Pauline Heslop for their amazing work.'