View all news
New Research Chair to develop future aircraft design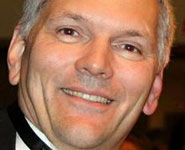 9 November 2012
Professor Jonathan Cooper, who holds the Sir George White Chair of Aerospace Engineering, has been appointed to a prestigious, five-year Royal Academy of Engineering Research Chair, jointly sponsored by Airbus.
The research programme aims to further develop the close collaboration between Airbus and the University, and will investigate a range of technologies required for the design of future aircraft wings. These novel technologies are aimed towards improving performance (reduced fuel burn and emissions) and reducing the risk and cost in the aircraft design and certification process.
'Current aircraft designs have arguably been optimised as far as possible,' said Professor Cooper. 'Any major step changes in performance are likely to be achieved through radical new configurations, such as joined wings or blended wing bodies, integrated with advanced technologies in aerodynamics, structures, propulsion and multi-disciplinary design optimisation of the entire aircraft design process.'
The research programme will cover a range of interrelated themes, including load control, aeroservoelastic design, and better prediction of uncertainties in aircraft design, and will build upon current research activities in aeroelasticity and structural dynamics.