View all news
University of Bristol athletes in Olympic action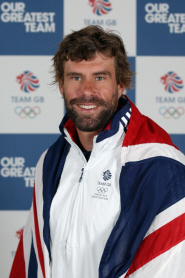 Press release issued: 3 August 2012
University of Bristol representatives will be at the heart of the action at London 2012 over the next few days, standing a good chance of achieving medals in both the sailing and equestrian events.
Sailor
Iain Percy OBE
, 36, along with his partner Andrew Simpson won Silver in the Men's Star Class at Weymouth on Sunday. The former Economics student, who studied at Bristol between 1995 and 1998, won gold at both the Sydney and Beijing Olympics.
Fellow sailor Hannah Mills will also be in her first race of the women's 470 sailing competition. The 24-year-old, who is currently studying Engineering but has deferred her final year to focus on her sailing ambitions, will compete with partner Saskia Clark. The pair are the reigning world champions in the women's 470 class.
Dressage rider Laura Bechtolsheimer, 27, competed yesterday and is currently second in the dressage table. She stands a chance of getting a medal as the team competition continues today. She graduated from Bristol University in 2007 with a BSc in Philosophy and Politics.
Claire Hallissey, 29, who completed a PhD in Immunology between 2006 and 2010, will be competing in the marathon on Sunday.
Hockey player Georgie Twigg, 21, scored in Team GB's match against South Korea in Group A. They beat Belgium last night to maintain their unbeaten record in the competition. They will face China at 4pm on Saturday and the Netherlands on Monday. Georgie has just completed her Law degree.
Hurdler Lawrence Clarke, 22, begins his campaign in the 110m hurdles on Tuesday, hoping to secure a spot in Wednesday night's final. He graduated last year with a 2.1 in Theology and Religious Studies and has since been training in Bath where he's coached by Colin Jackson's old mentor Malcolm Arnold.
For a full schedule of when the University of Bristol athletes are competing, please see the Alumni web pages.