View all news
Skulls shed new light on the evolution of the cat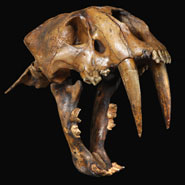 Press release issued: 6 July 2012
Modern cats diverged in skull shape from their sabre-toothed ancestors early in their evolutionary history and then followed separate evolutionary trajectories, according to new research from the University of Bristol published today in PLoS ONE.
The study also found that the separation between modern domestic cats and big cats such as lions and tigers is also deeply rooted.
Dr Manabu Sakamoto and Dr Marcello Ruta in the School of Earth Sciences studied the skull shape of extinct sabre-toothed cats, modern (conical-toothed) cats and prehistoric 'basal' cats (ancestors of modern cats). This is the first time these three different types of cats have been analysed together in a single dataset.
The researchers quantified skull shape by taking various measurements, adjusting these measurements for size differences, then investigating the distribution of cat skulls in shape-space. By estimating ancestral positions through shape-space and time, they investigated patterns of skull shape evolution across the cat family tree.
They found an early and conspicuous divergence between the conical-toothed cats and sabre-toothed cats, with all sabre-toothed cats being more closely related to each other than they were to modern conical-toothed cats.
There was also a marked separation between modern small-medium cats (that is, the domestic cat and its close relatives, the cheetah, puma, ocelot, serval and lynx) and modern big cats (such as the lion, tiger, leopard and jaguar), with a divergence in skull shape early in their evolutionary history. This means that small-medium cats and large cats followed different evolutionary trajectories with respect to skull shape.
Dr Sakamoto said: "Our study is the first to determine the interrelationships between modern conical-toothed cats, sabre-toothed cats, and some basal cats.
"It also highlights how simple measurements can be used not only to investigate shape-space distribution, but also to successfully discriminate and identify different cat species – this could be useful for museums who may have as yet unidentified cat specimens in their collections.
"Lastly, our results show that differences in cat skull shape have deeply rooted evolutionary histories, first between the sabre-toothed and conical-toothed cats, and then between small-medium and large cats."
Paper
'Convergence and Divergence in the Evolution of Cat Skulls: Temporal and Spatial Patterns of Morphological Diversity' by Manabu Sakamoto and Marcello Ruta in PLoS ONE