View all news
Sir Alan Muir Wood 1921-2009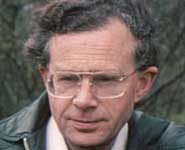 16 February 2009
Sir Alan Muir Wood, FREng, FRS died on 1 February aged 87. Professor David Muir Wood remembers his long and distinguished career.
Alan Marshall Muir Wood was educated at Abbotsholme School and at Peterhouse, Cambridge, where he read Mechanical Sciences. He served as an Engineer Officer in the Royal Navy from 1942-1946.
From 1946-1950 as an Assistant Engineer with the Southern Region of British Railways he worked on remediation of landslips at Folkestone Warren, Kent. He joined Sir William Halcrow and Partners in 1952 and remained with the firm until his death, becoming a partner in 1964 and retiring in 1984 having been Senior Partner since 1979.
His two main areas of speciality were coastal engineering and tunnelling. He was responsible for coastal protection works at various sites around south east England, including schemes for stabilising the foreshore at Dungeness nuclear power station. His book Coastal hydraulics was first published in 1969.
He led the team of engineers that prepared a feasibility report on the Channel Tunnel from 1958 to 1960 and was Project Engineer for further studies in 1964.
Perhaps his most important tunnel design was for the Cargo Tunnel at Heathrow Airport, in the late 1960s. This 10m diameter shallow tunnel in London clay was shield driven 7m below an operating runway and was publicly stated by some engineers to be unbuildable.
In retirement he remained an active consultant with Halcrow. He was an expert witness or member of review panels for many high profile projects.
He published widely, maintaining a perpetual interest in the fundamental mechanics underpinning civil engineering design. His work on Brunel's Thames Tunnel led him to work by Thomas Young on the line of thrust in arch bridges: a paper was published in the Proceedings of the Institution of Civil Engineers just before he died.
He had a healthy desire to keep engineering deliberations in the hands of engineers who were seeking after the truth rather than lawyers whose loyalty was only to their clients.
He was President of the Institution of Civil Engineers (1977-78); founding President and Honorary Life President of the International Tunnelling Association (1973-2009); and Fellow of the Royal Academy of Engineering, the Royal Society, and the Royal Swedish Academy of Engineering.
Further information
There will be a memorial service at St Margaret's Church, Westminster at 1pm on Thursday 4 June 2009.