View all news
Honorary degrees awarded at Bristol today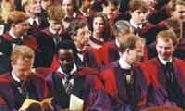 Press release issued: 15 July 2004
Bristol University is awarding Honorary degrees to three prominent people, Mr Peter Owen, Professor Charles Tomlinson, CBE and Mr Francis Powell, at today's [15 July] degree ceremonies in the Wills Memorial Building.
Bristol University is awarding
Honorary degrees
to three prominent people at today's degree ceremonies in the Wills Memorial Building.
Mr Peter Owen, wig-maker and make-up artist, will be honoured with the degree of Master of Arts at the 11.15 am ceremony.
Peter studied French, German and Economics at Bristol University and it was here where he developed his strong interest in Drama. After leaving Bristol he began working in the Costume Department at the Bristol Old Vic. He was later head-hunted by the Welsh National Opera going on to work in the West End, before venturing into film and television.
Peter's talents as a creator of identities, teamed with his extraordinary imagination and vision, provided him with the inspiration to start his own award-winning company, with partners Peter King and Caroline Turner, based in Clifton, Bristol.
Peter has worked with the likes of Bruce Willis, Nicole Kidman, Johnny Depp and Meryl Streep to name but a few. Working on films such as Sleepy Hollow (the headless horseman), Philadelphia (Tom Hanks as the man dying of Aids) along with characters in films such as Dangerous Liaisons, Chocolat, Alien 3 and The English Patient.
He has received worldwide acclaim for his work. Most famously, in February 2002 he was awarded a BAFTA and in March 2002 an Oscar for Best Make-Up in The Lord of the Rings trilogy. Peter was also the first-ever winner of the Hollywood Guild of Make-Up Artists and Hairstylists Award, for Best Character Make-up, for Sleepy Hollow.
Professor Charles Tomlinson, CBE, poet and literary scholar, will be honoured with the degree of Doctor of Letters at the 2.30 pm ceremony.
Born in Stoke-on-Trent on 8 January 1927, Tomlinson was educated at the local high school and went on to read English at Queen's College Cambridge. He spent several years in elementary school teaching, followed by a year in Italy, and subsequently taught at Bristol University for 36 years, first as a lecturer, then as Professor of English Literature.
Charles is known as one of the leading English writers of his generation and has secured an internationally renowned reputation as a poet, translator, artist, critic and teacher.
His early poetry, beginning with his first published pamphlet, Relations and Contraries in 1951, received greatest attention and appreciation in America, and his reputation as a major contemporary British poet was established.
As well as a poet, Tomlinson is known and admired as a translator, and as an editor of The Oxford Book of Verse in English Translation, of collections of critical essays on Marianne Moore and William Carlos Williams, and of Williams' Selected Poems.
He held a one-man show at the Institute for Contemporary Arts in London in 1972, and three years later a selection of his graphic work was published.
Among many honours and awards during his long and prolific career, Tomlinson received the Bennett Award for achievement in literature from The Hudson Review in 1993, and in 2001 was awarded the CBE for services to literature. He was also made an Honorary Foreign Fellow of the American Academy of Arts and Sciences in 1998.
Mr Francis Powell, member of Bristol University staff since 1956 and Accommodation and Audio Visual Aids Officer at the University, will be honoured with the degree of Master of Arts at the 2.30 pm ceremony.
He was 15 when he joined the University as a Technician in the Geography Department in April 1956. He combined working for the University with Royal Air Force Volunteer Reserve training as a potential route into a service career, obtaining his Commission as a Pilot Officer in 1958. However, he stayed with the University, moving from Geography to the Arts Library, then in 1964 taking what was then a bold technological initiative by setting up a Language Laboratory, the first such facility in any British university.
Francis has been at the forefront of change in teaching technology, bringing a succession of novelties to classrooms across different parts of the University, ranging from the first photocopier in the early 1970s to the computerised sophistication of today's multimedia resources.
Alongside his responsibilities as the University's Audio Visual Aids Officer, he is also Superintendent and Accommodation Officer for two Faculties, Arts as well as Social Sciences and Law.
Francis' skills and expertise help the smooth running of a wide range of activities across the University today, from conferences and communications, teaching and research, to degree congregations.
Francis has given a lifetime's service to this University, an uninterrupted 48 years when he retires later this year. In the process he has seen it change dramatically, and has adapted to those changes and the increasingly complex demands they have placed upon him over the years.