View all news
Honorary degrees awarded at the University today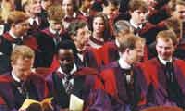 Press release issued: 12 July 2004
Bristol University is awarding Honorary degrees to two prominent people, Alastair Hignell and John Fortune, at today's [12 July] degree ceremonies in the Wills Memorial Building.
Bristol University is awarding
Honorary degrees
to two prominent people at today's [12 July] degree ceremonies in the Wills Memorial Building.
Alastair Hignell, former England Rugby international, broadcaster, journalist, President, (Bristol Multiple Sclerosis Nerve Centre Appeal) will be honoured with the degree of Master of Arts at the 11.15 am ceremony.
Alastair Hignell is an all round sports hero turned sports broadcaster. Born in 1955, he was educated at Denstone College, Uttoxeter and Cambridge University. At Cambridge, Alastair won four blues each in cricket and rugby. He was the first person to captain the University at both sports.
An extraordinarily gifted sportsman he played cricket for Gloucestershire and rugby for Bristol making his first-class debut in both sports at the age of 18 then going on to be selected for the England Rugby Squad two years later. Ten of his fourteen England rugby caps were obtained while still a student.
After four years at Cambridge, Alastair returned to Bristol in 1978 to teach at Bristol Cathedral School during the winter and play cricket in the summer. He enjoyed two more seasons playing rugby but injuries took their toll. In 1979 he played all four matches for England in the five-nations rugby championship, his last major games.
He then taught history and coached cricket at Sherborne School, but the opportunity arose to join the BBC as a Sports Assistant. From 1989, he commentated on World Cups and Lions tours for HTV. He joined Radio Five Live in 1996 covering the Lions Tour to South Africa the following year.
In 1999 as his broadcasting career flourished he was diagnosed with multiple sclerosis. Refusing to be beaten by it and determined to live life to the full, he committed himself to supporting the work of local and national multiple sclerosis charities including the Bristol Multiple Sclerosis Nerve Centre. Money he makes from speaking engagements and other functions is donated to these worthy causes.
John Fortune, actor, satirist, writer will be honoured with the degree of Doctor of Letters at the 2.30 pm ceremony.
Born in 1939, he was educated at the Cathedral School, Bristol. He then went on to read English at King's College, Cambridge. He directed Footlights Revue in his second year and wrote and performed sketches in his third. It was at Cambridge where he met John Bird and began a friendship and professional partnership that has lasted over 45 years.
A founding member of Peter Cook's Establishment Club, he wrote and performed with Eleanor Bron and John Bird, both in England and on tour in America. He was a mainstay of British television's satirical golden age Not So Much a Programme, BBC3 and The Late Show. Since then he has co-written and appeared in many comedy series including Birds and Well Anyway, with John Bird; On the Margin, with Alan Bennett; Where was Spring? with Eleanor Bron; and The End of the Pier Show and In the Looking Glass.
His first novel, A Melon for Ecstasy, was co-written with John Wells. His theatre appearances are prodigious in both comedy and drama, and he is a frequent contributor to the best of television comedy.
He is still performing in Channel Four's hit TV show Bremner, Bird and Fortune a combination of political satire, cabaret and comedy and starred in the films Maybe Baby and Saving Grace, opposite Brenda Blethyn.